Unveil the Beauty of Paris with this Wooden Puzzle: Paris Day Out 500 Wooden Puzzle
With this Wooden Puzzle, you are introduced to a lively Parisian street by the Eiffel Tower. A bustling cafe serves delicious cheese, baguette, and coffee, while children and adults joyfully ride the nearby carousel. The scene also features a small flower pavilion on wheels, and beautiful flowers intertwining on a large arch.
The Themes That Define the Experience
Attractions and Flowers are all key elements that bring this artwork to life. These themes are thoughtfully woven into the picture, allowing both the young and the old to engage and enjoy the experience.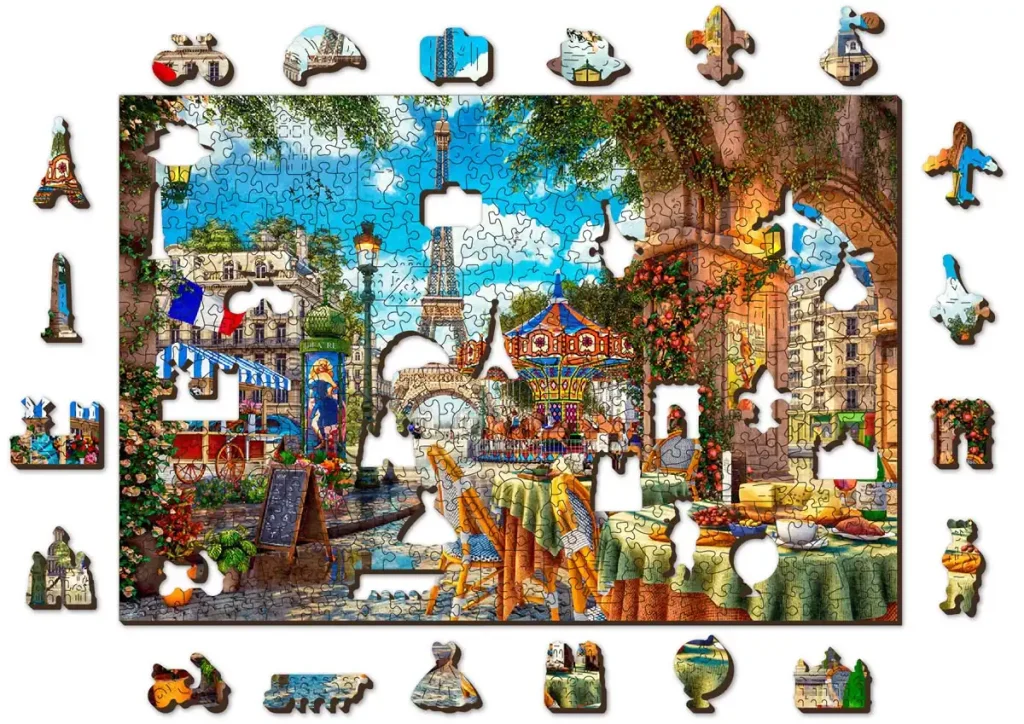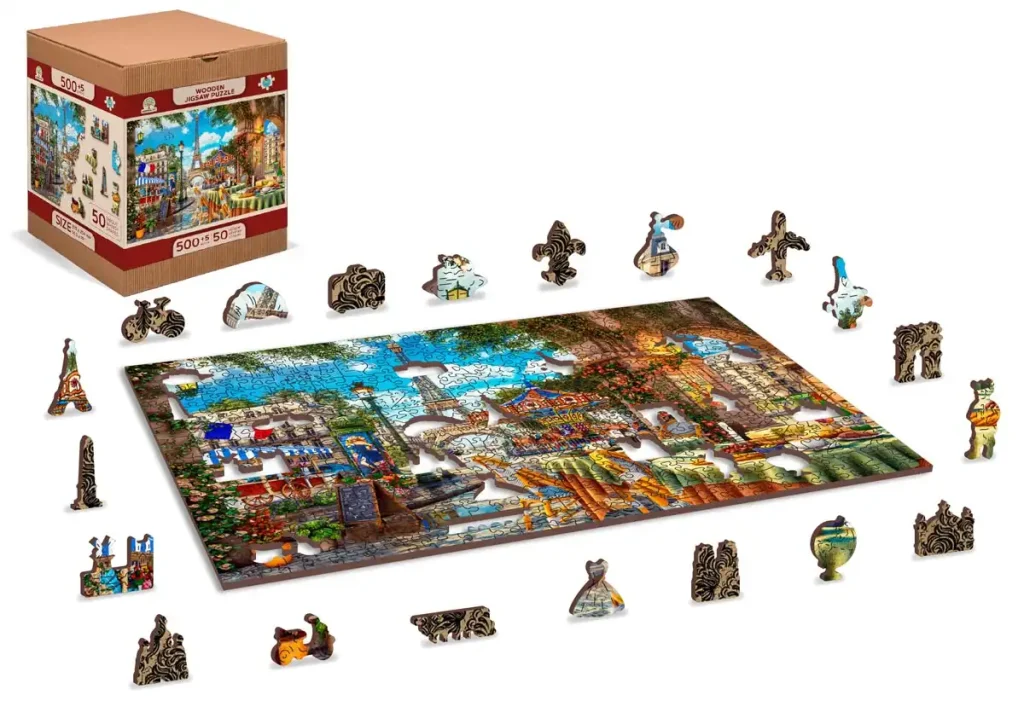 Perfect for the Whole Family
Suited for adults and children over 10 years, the creation not only offers vibrant colors that will please the eyes but also promises a bonding experience for the family. Putting together this scene is an excellent way to spend quality time and create cherished memories.
Unique and Engaging Pieces
Each piece of this 500-piece set has its unique shape, and large thematic cuts are included in the form of animals or landmarks depending on the theme. This will make the assembly process more engaging and exciting for enthusiasts.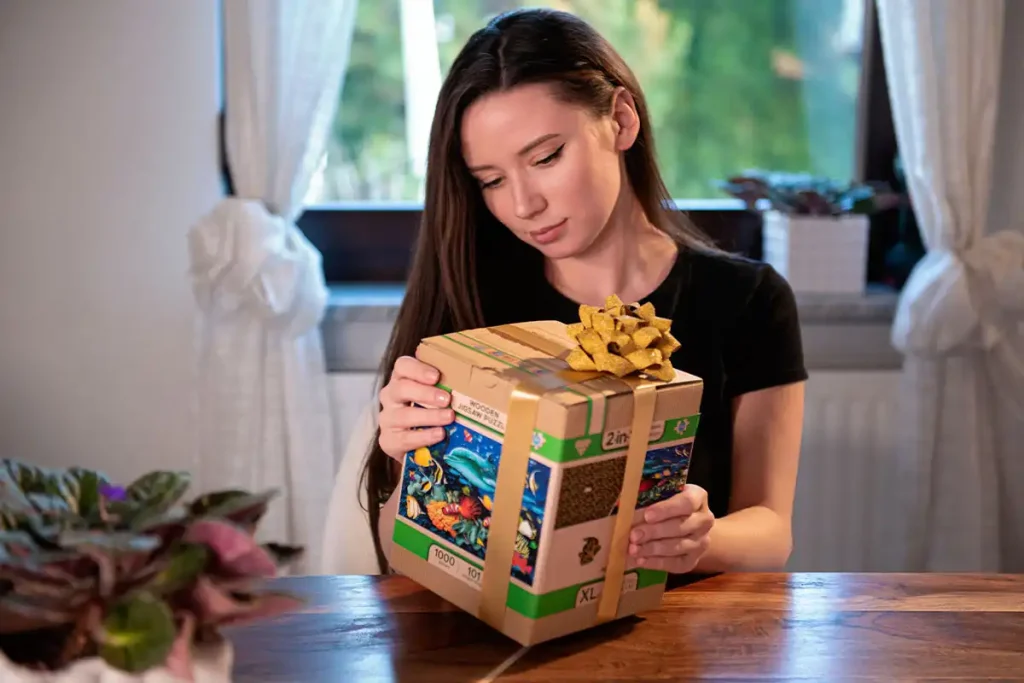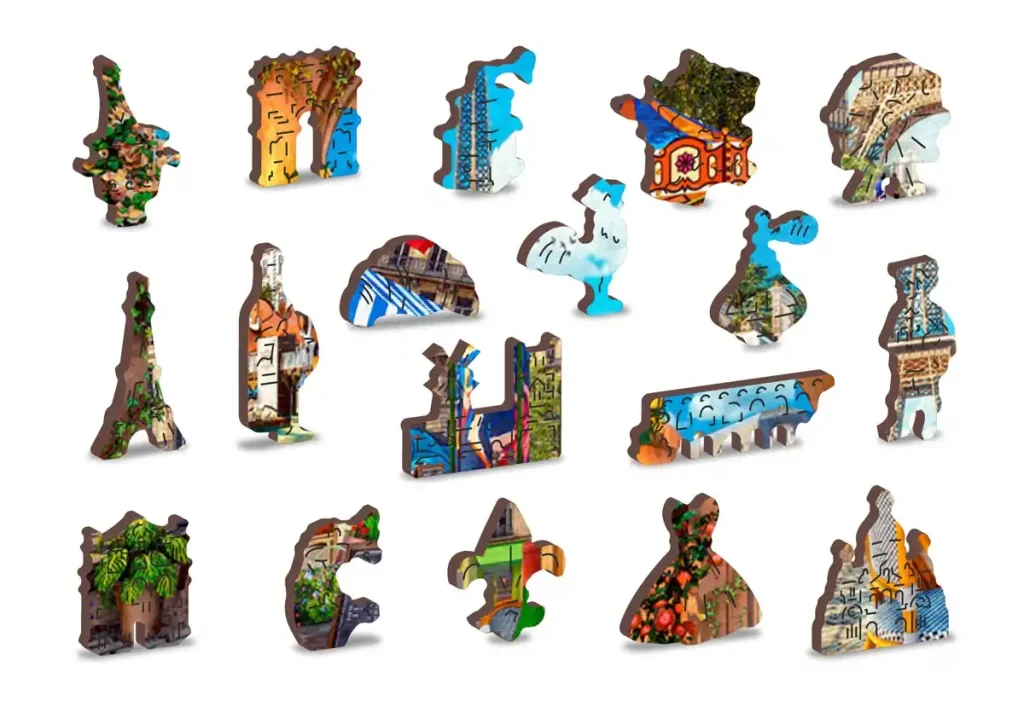 Two-Sided Pieces for Assistance
The set offers two-sided pieces, with patterns on the back that can assist in the assembly. Themed cuts specific to different creations, such as unique animal elements in animal themes and unique landmarks in travel themes, provide additional help.
An Ideal Gift for Your Loved Ones
Looking for the perfect gift that embodies elegance, creativity, and enjoyment? This depiction of a day in Paris serves as a delightful present for friends and family, guaranteeing not just entertainment but a touch of French allure.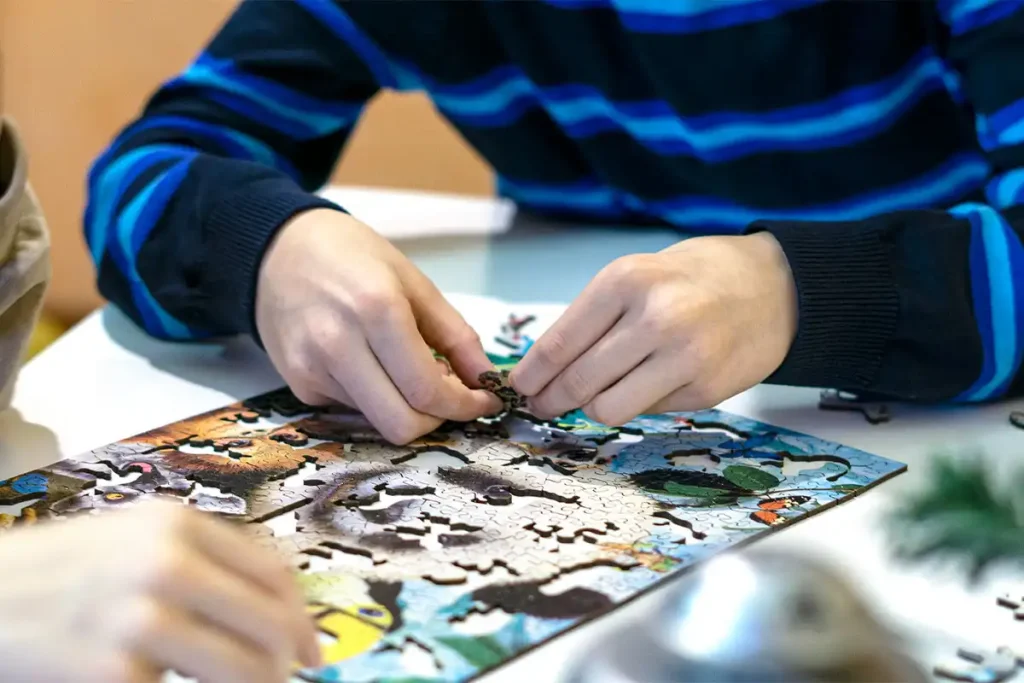 A Lovely Addition to Your Home Decor
Upon completion, this artistic creation can be hung on your wall, adding a touch of Parisian elegance to your living space. The intricate details of the cafe, carousel, and flowery arch are sure to be a beautiful and captivating piece of art in your home.
Characteristics
Series/Article
FR 505-0148-L
Age
10+
Number of elements
500 pcs
Number of whimsies
50 pcs
Assembled size
H: 14,76"(37,5 cm)
W: 10" (25,4 cm)
Packaging size
H: 5,98" (15,2 cm)
W: 4,92" (12,5 cm)
D: 4,92" (12,5 cm)
Packaging weight
0,66 lb (0,3 kg)
Puzzle thickness
0,12" (3 mm)
Assembly time
6 h
Artist
Dominic Davison
Type of Cut
Travel
Back side
A Chance to Dive into the Parisian Ambiance
Immerse yourself in a Parisian summer day, filled with laughter, delectable food, and the iconic beauty of the Eiffel Tower. This experience provides more than a hobby; it's a passage to experience the soul of Paris, all from the comfort of your home. In conclusion, the Paris Day Out 500 invites you into the heart of France, capturing the spirit and splendor of a summer day in Paris. With its vivid details, unique pieces, and thematic elements, it's not just an activity but an experience, a gift, and a beautiful addition to your home. Enjoy the assembly and let the charm of Paris become part of your daily life.