Discover the Beauty of 3D Wooden Puzzle Train Accessories
Embarking on the 3D Wooden Puzzle Train Accessories journey, the Railway Station stands as a beacon of artistry and functionality. Hailing from the pristine forests of Europe, this high-density fiberboard birch model embodies the elegance and sophistication that every train enthusiast dreams of.
The Railway Station is more than just a static model. The intricate figurines of people, impeccably detailed, breathe life into the station. They capture the hustle and bustle, the fleeting glances, the hurried goodbyes, and joyous reunions emblematic of every railway station's heart and soul.
Characteristics that Enchant
Another intriguing facet is its money box function. Hidden within the station is a compartment, perfect for storing small trinkets or saving up for your next big journey. A delightful feature that seamlessly merges utility with art.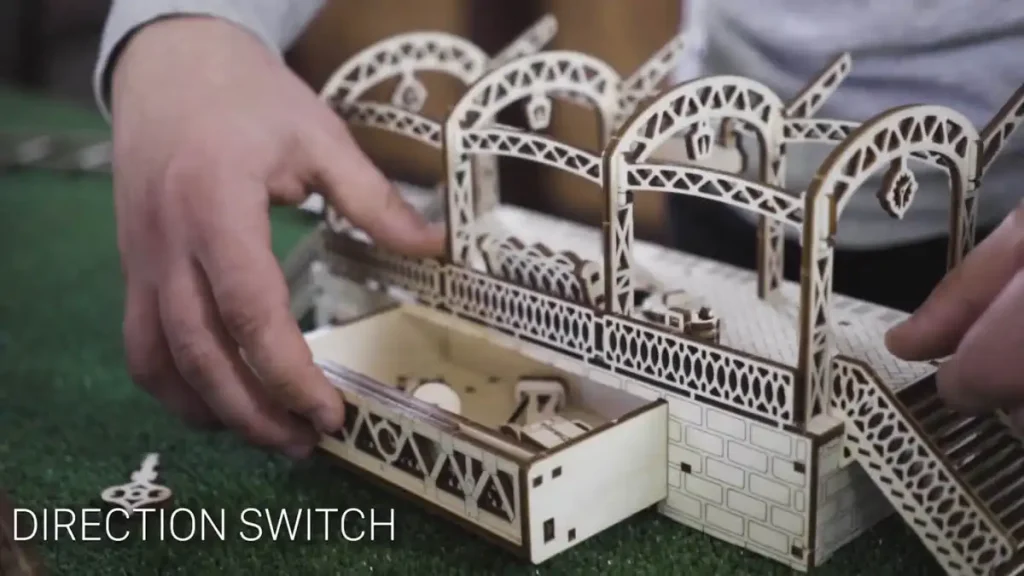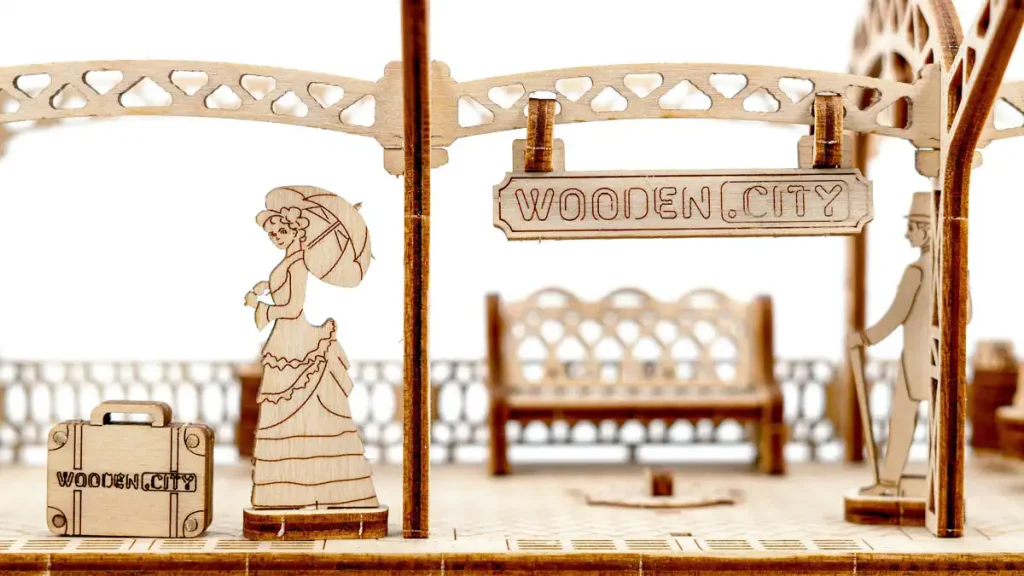 An Artist's Delight
For those with an artistic flair, this model becomes a canvas yearning for color. Personalize it, make it echo your style, and watch as the Railway Station transforms, becoming uniquely yours.
A Gift that Resonates
The Railway Station isn't just a model; it's an experience, a journey through history, art, and personal growth. For enthusiasts, hobbyists, or someone with an appreciation for the finer things, it's the perfect gift. A token that will be cherished, assembled with care, and admired for years to come.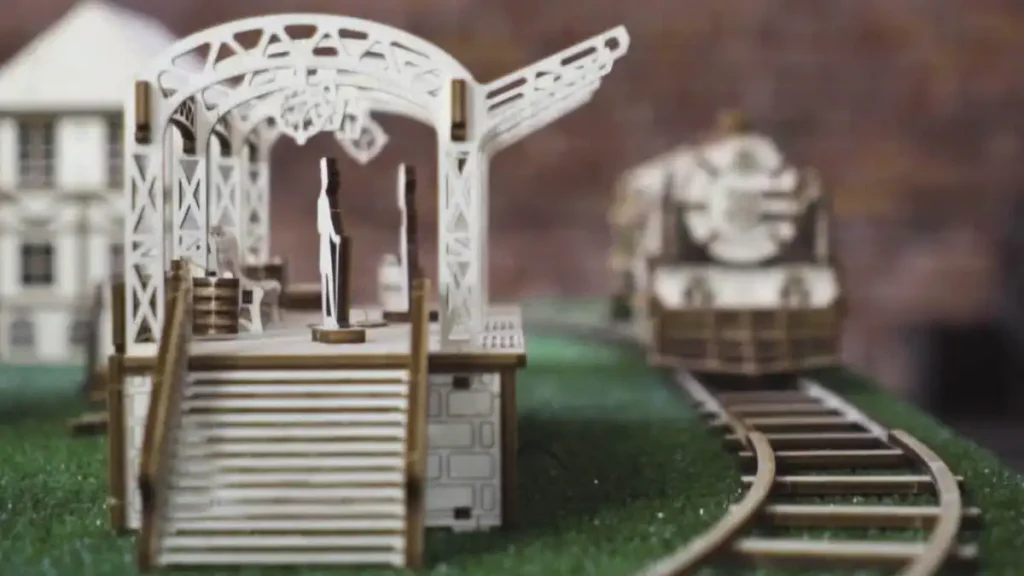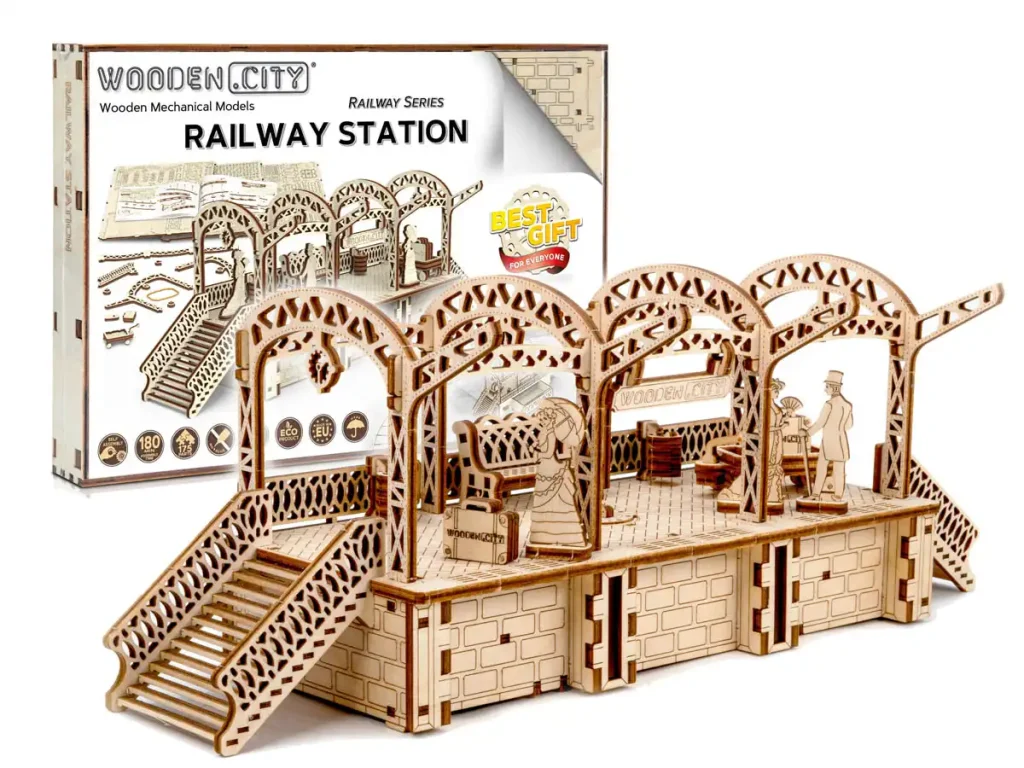 A Decor Piece Par Excellence
Beyond its function as a model, the Railway Station is a statement piece. Positioned in a living room, study, or even an office, it's a testament to European artistry and a passion for trains. The wooden packaging, with a touch of creativity, can be repurposed as a stand, making it a centerpiece that invites admiration and sparks conversations.
All Aboard the Memory Station
Assemble the Railway Station with loved ones and relive moments of anticipation and joyous reunions. Let every piece take you on a journey of heartwarming stories and shared laughter. A station where family ties are the strongest tracks. Dive into togetherness!
Characteristics
Quantity
175
Series/Article
WR-325
Difficulty level
4/5
Assembly time
3h
Model dimensions
H: 14.25'' (36,2 cm)
W: 4.53'' (11,5 cm)
D: 5.31'' (13,5 cm)
Package size, mm
H: 13.97" (35,5 cm)
W: 9.44" (24 cm)
D: 1.57" (4 cm)
Model scale
1:40
Figurine(s) of people included
✔
Money box function (hidden compartment for small items)
✔
Can be a decor element
✔
Age
12+
In Conclusion
The Railway Station is a harmonious blend of art and engineering. It invites you on a journey – not just of assembly but also of history, craftsmanship, and personal discovery. Embrace this journey, treasure each moment, and let your Railway Station tell a story that is uniquely yours.