A Mesmerizing Wooden Puzzle Experience
This Wooden Puzzle brings Santorini's ethereal charm right into your hands. The deep blues of the sea, the pristine white of the architecture, and the magical ambiance of Greece is splendidly captured in each piece.
Unique Craftsmanship
Every element of this product is meticulously designed. Not just regular pieces, but also larger, uniquely-shaped components that echo the themes of the product. Whether it's the iconic blue-domed churches or the local cats lounging about, the distinctive components make the assembly even more engaging.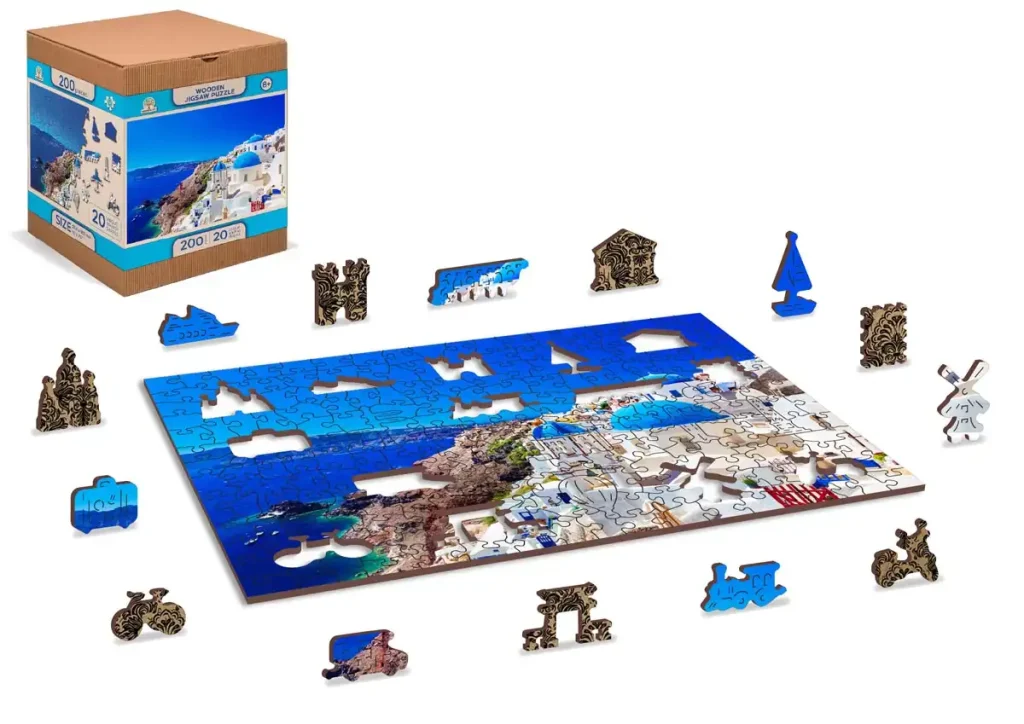 Perfect for All Ages
Children and adults alike, especially those above the age of 10, will find this depiction of Santorini delightful and challenging. The vivid colors not only enhance its aesthetic appeal but also provide cues to position the components.
A Memorable Gift
Looking for a gift that stands out? This depiction of Santorini makes for a perfect present. It's more than just a game; it's a journey through Greece's most picturesque island.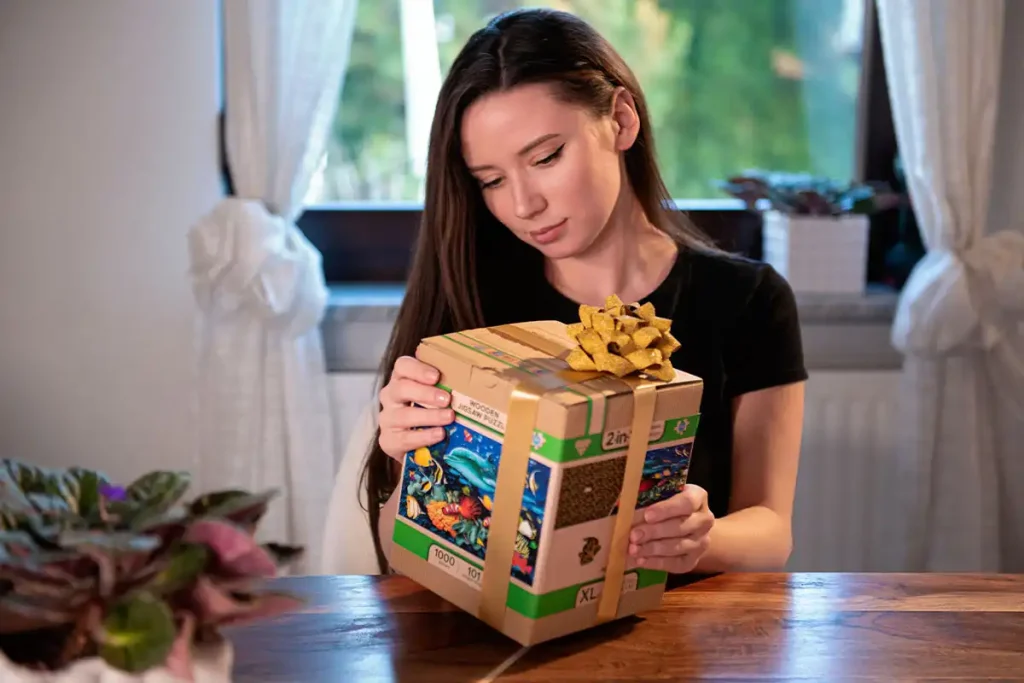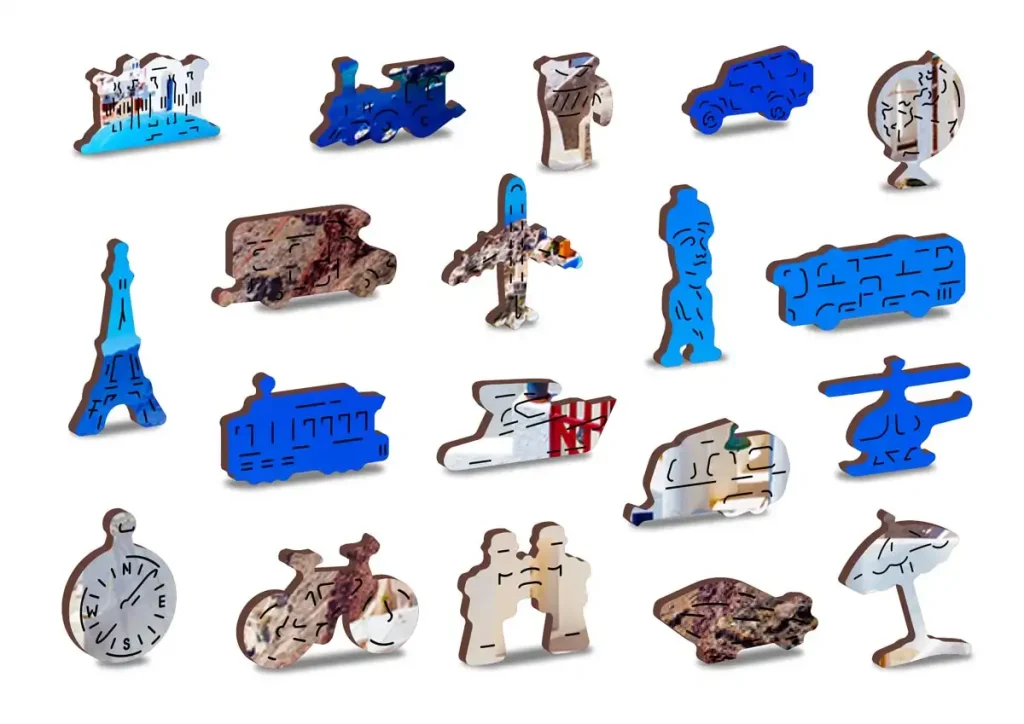 Turn it into Art
Once completed, this portrayal of Santorini doesn't have to be packed away. It can be framed and hung up as a beautiful wall decoration, a constant reminder of the joy of assembly and the allure of Greek landscapes.
Quality Time with Loved Ones
Assembling this depiction of Santorini is not just a solitary activity. It's an excellent way to bond with family members, share stories, and create memories. Together, you can navigate the streets of Santorini, piece by piece.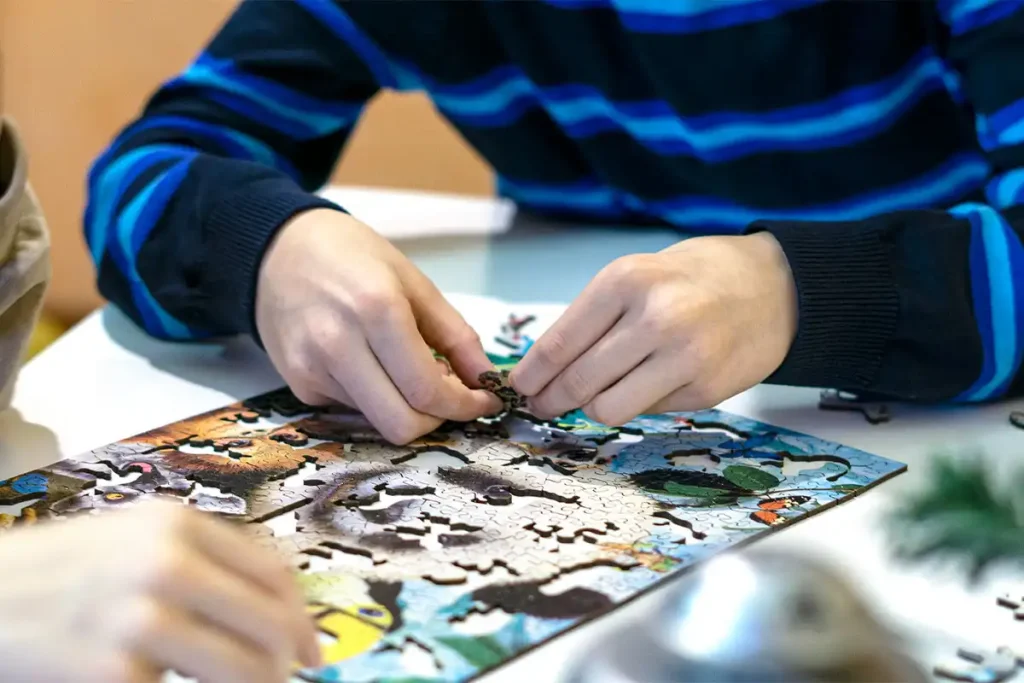 Distinctive Thematic Cuts
Our products pride themselves on their thematic cuts. If you're into animals, you'll find animal-shaped components, and if it's about places like Santorini, expect unique elements showcasing famous landmarks.
Characteristics
Series/Article
TR 0118-M
Age
10+
Number of elements
200pcs
Number of whimsies
20pcs
Assembled size
H: 7,16"(18,2cm)
W: 10" (25,4 cm)
Packaging size
H: 5,98" (15,2 cm)
W: 4,92" (12,5 cm)
D: 4,92" (12,5 cm)
Packaging weight
0,66 lb (0,3 kg)
Puzzle thickness
0,12" (3 mm)
Assembly time
3h
Artist
Adobe Stock
Type of Cut
Animal
Back side
In conclusion, this depiction of Santorini not only offers hours of entertainment but also becomes a cherished keepsake. Embrace the allure of Santorini and the joy of assembly today!