Experience the Rich Artistry of the Howling Wolf 250 Wooden Puzzle
The Howling Wolf 250 Wooden Puzzle will pull you into a world filled with vibrant colors and unparalleled designs. Comprising 250 individual and uniquely cut pieces, this item offers a delightful and mentally engaging way to spend quality time.
Craftsmanship at Its Best
These are not your run-of-the-mill pieces; each is a testament to high-level craftsmanship and artistic design. Forming the striking image of a rainbow-hued wolf, this set invites you to immerse yourself in the joy of assembly.
Quality Time with Loved Ones
Assembling this piece is a fantastic way to enjoy quality time with your family. It serves as an activity that requires both collaborative effort and individual skill, making it ideal for family gatherings or even a unique date night.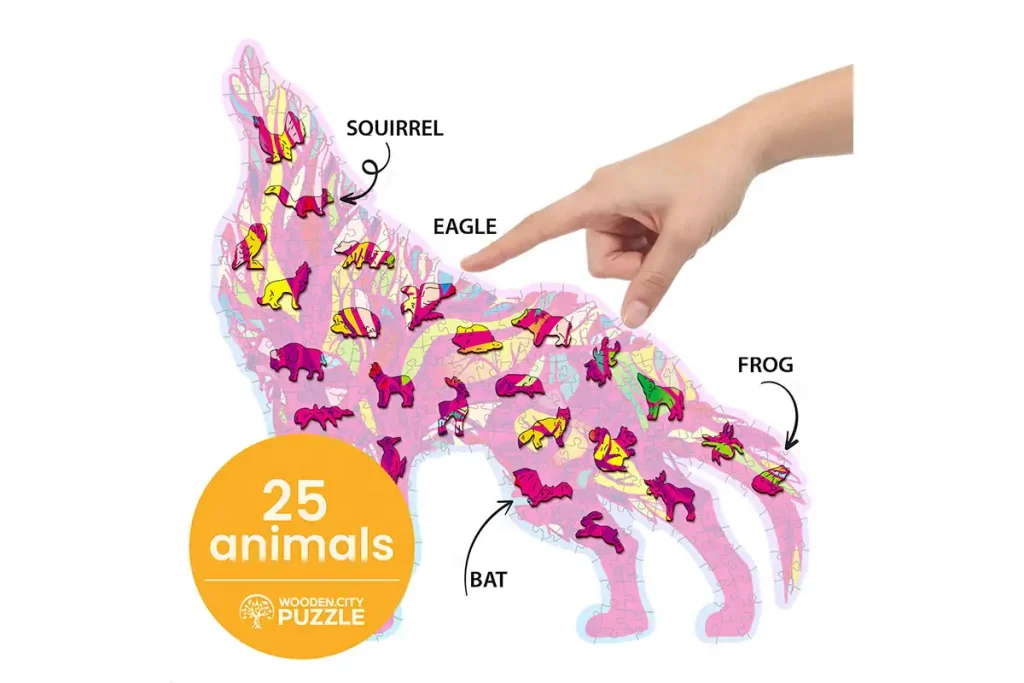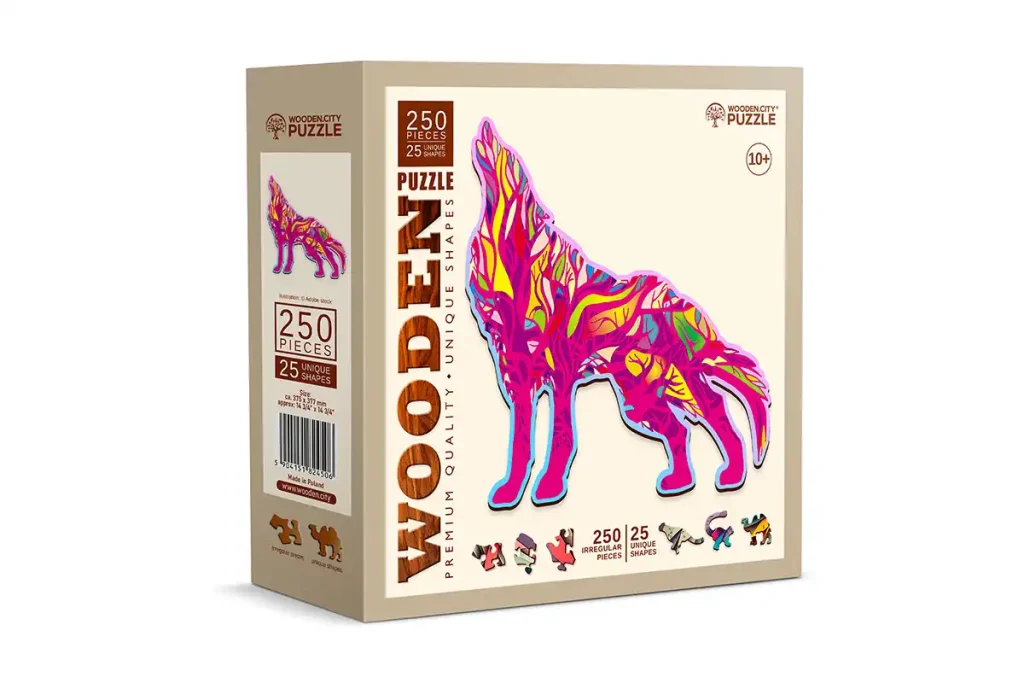 Thematic Distinctions
Every set comes with specific thematic elements. If it's wildlife-centric, anticipate pieces cut in the shape of animals. If the theme is more travel-focused, look for elements featuring renowned landmarks. These unique inclusions add an extra dimension of fun and intrigue.
Two-Faced Intrigue
But the fun doesn't end when one side is complete. Each piece also features a distinctive pattern on its back, offering a secondary level of challenge or assistance—depending on how you approach it.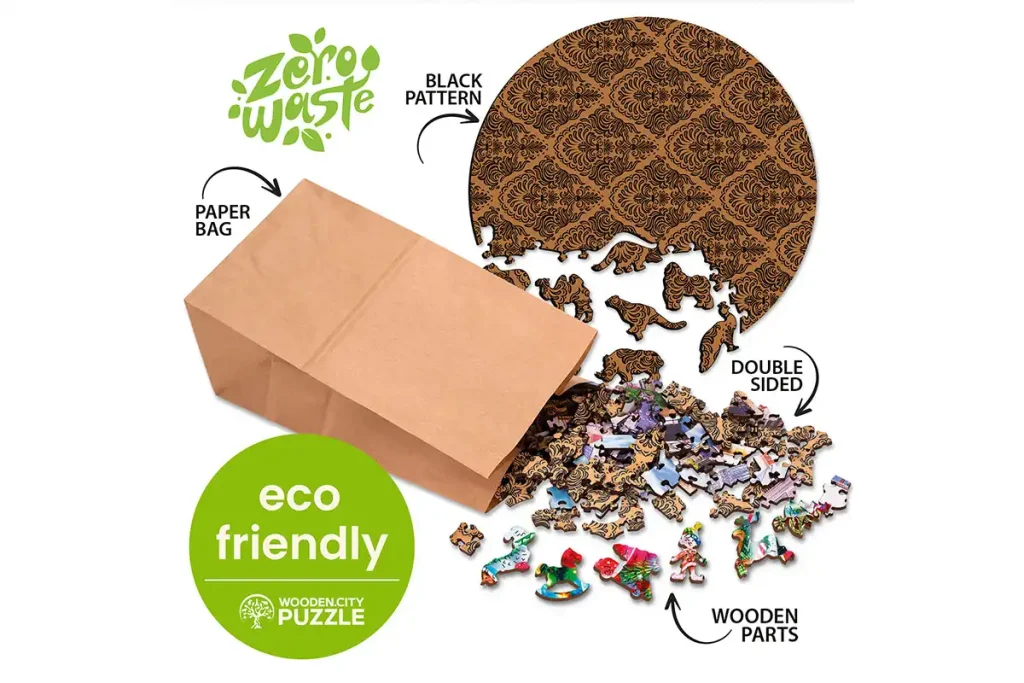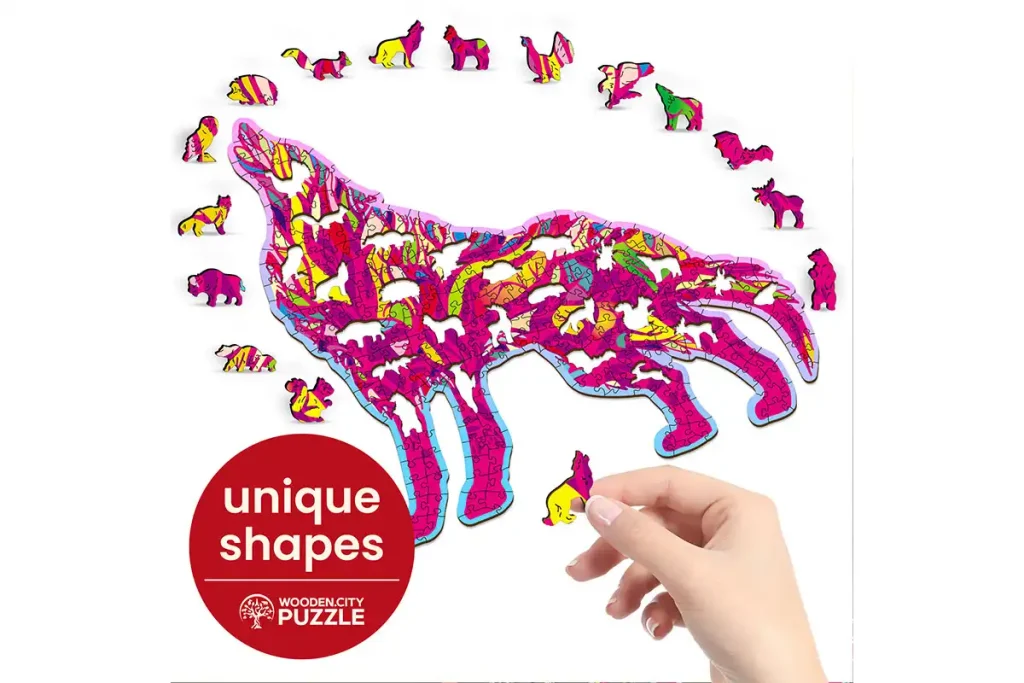 Perfect for Gifting
If you're in search of a gift that leaves a lasting impression, look no further. This finished masterpiece serves as an exceptional choice for any occasion requiring a unique, memorable present.
Transforms into Decor
After the assembly is complete, this set turns into a striking piece of wall art. It serves not only as a testament to your skills but also as a dazzling addition to any room's décor.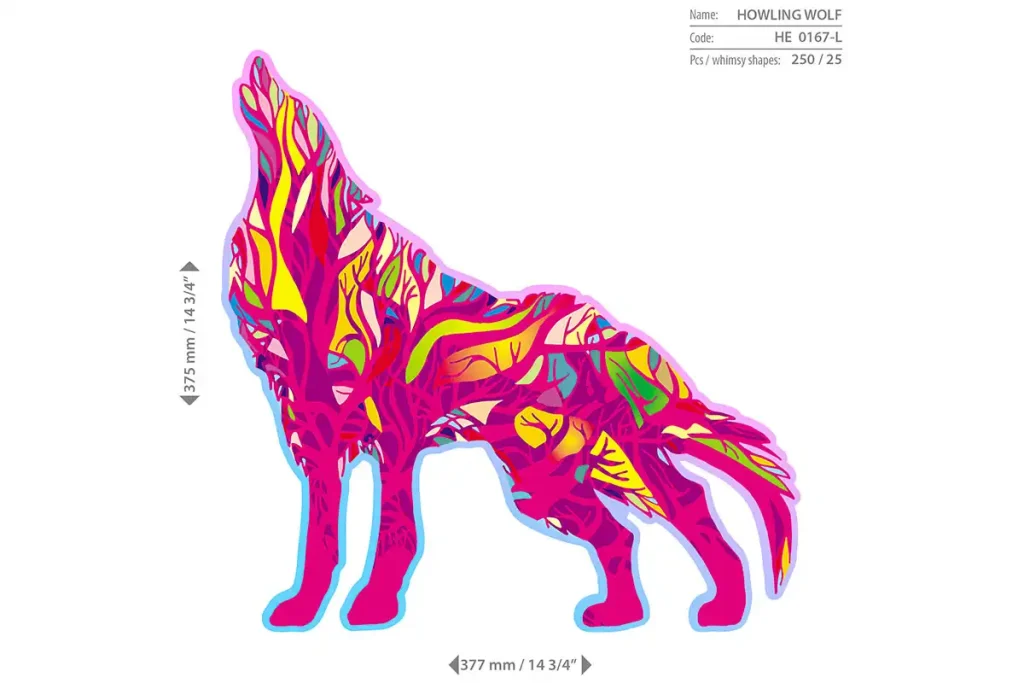 Characteristics
Series/Article
HE 0167-L
Age
10+
Number of elements
250 pcs
Number of whimsies
25 pcs
Assembled size
W: 14,75'' (37,5 cm)
H: 14,75'' ( 37,7 cm)
Packaging size
H: 7.8'' (20 cm)
W: 7.8'' (20 cm)
D: 2.24'' ( 5,7 cm)
Packaging weight
0,88lb (0,4 kg)
Puzzle thickness
0,12" (3 mm)
Assembly time
4h
Artist
Adobe Stock
Type of Cut
Animal
In closing, the Howling Wolf 250 offers a uniquely enriching experience full of vivid colors, thematic elements, and intricate design. It serves as a catalyst for both individual achievement and meaningful familial bonding. Once assembled, it transitions from a project into a striking piece of wall art, enriching any space with its vivid colors and intricate design.