Experience the Artistic Elegance of this Wooden Puzzle
Running Wolf 500 aims to go beyond merely fitting pieces together. Specifically designed for both adults and children over the age of 10, this intricate assembly is crafted to offer a complex yet delightful intellectual challenge.
An Ideal Gift for Many Occasions
Searching for an out-of-the-ordinary present? Look no further than Running Wolf 500. Suitable for both sentimental moments and festive occasions, this set serves as a beautiful and thoughtful gift that offers more than just entertainment—it provides a rich narrative experience for nature lovers and those looking for quality time with loved ones.
Detailing That Captivates
What makes this set extraordinary is its attention to detail. Each component is uniquely shaped, increasing the challenge and intrigue of the assembly process. Additionally, the collection includes large, thematic elements such as animals or landmarks, depending on its theme, adding an extra layer of engagement to the assembly.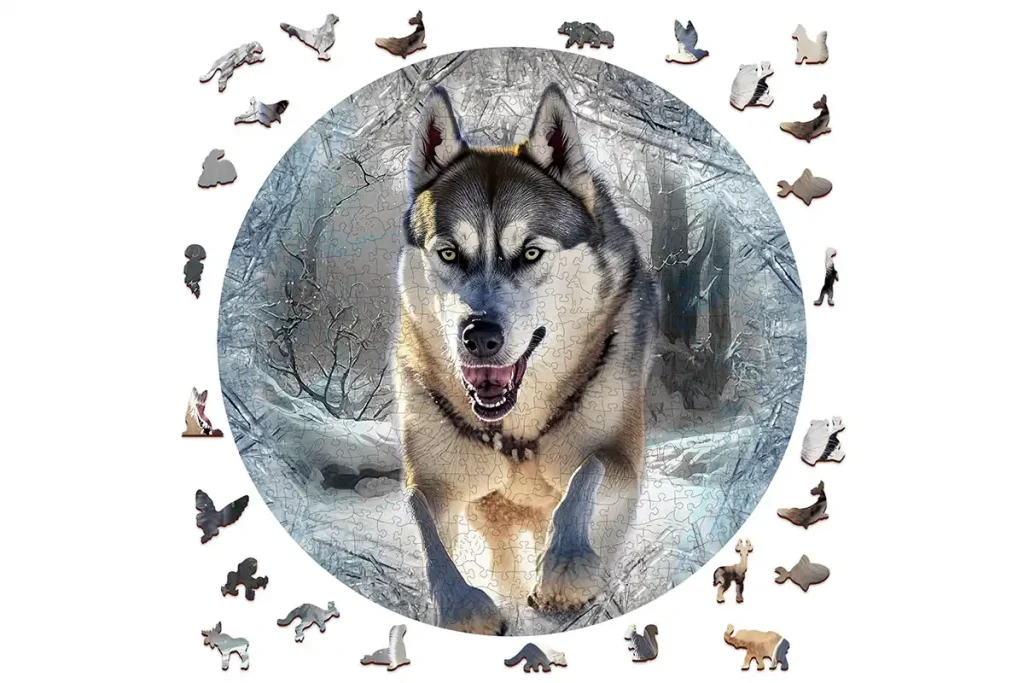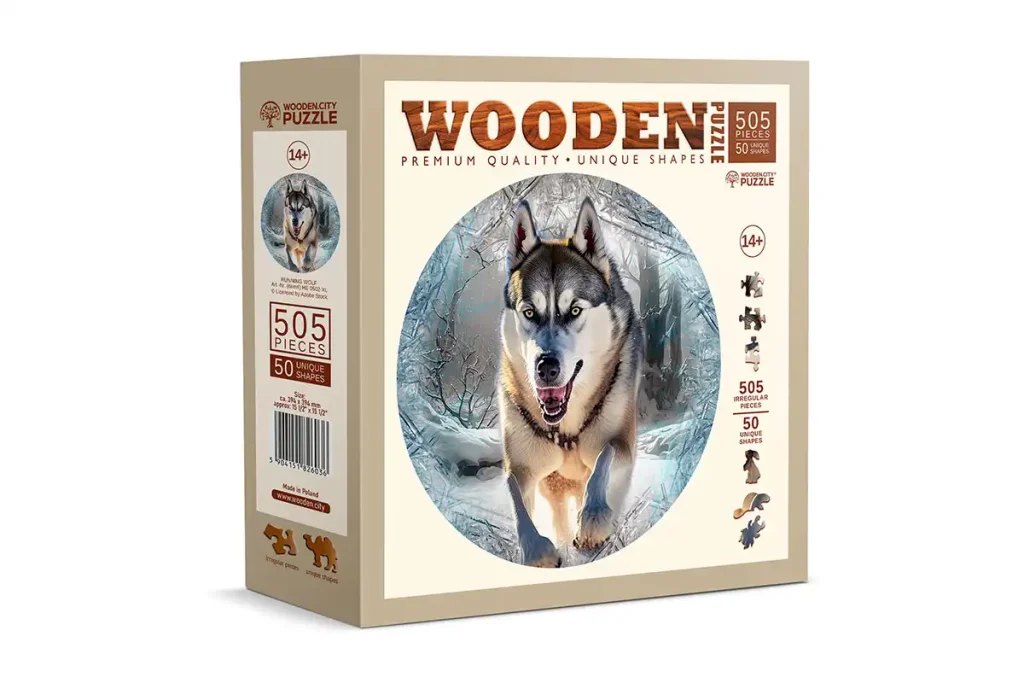 Theme-Related Elements
Every set comes designed with a unique thematic focus. For instance, in this animal-themed set, expect to find special components resembling various fauna. If the focus were on travel, you would find elements shaped like renowned landmarks.
Double-Sided Features
Adding to its complexity and engagement, each piece also includes a pattern on its reverse side. This pattern can serve as a valuable clue during the assembly process, allowing for an even richer experience.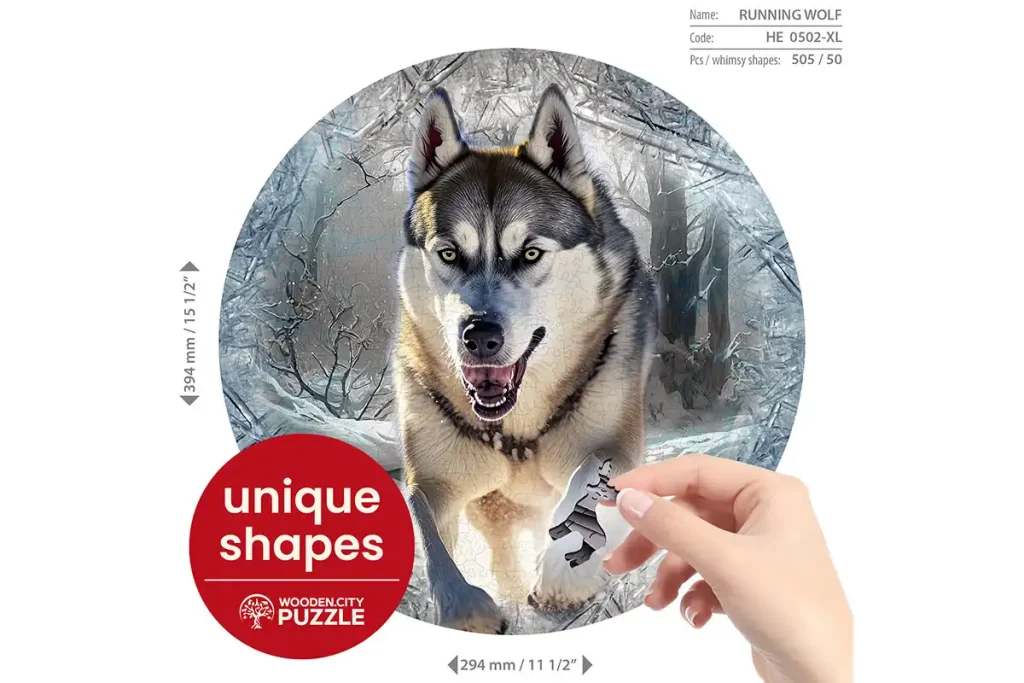 Quality Time for the Family
The assembly of this set provides an excellent opportunity for family bonding. It appeals to both younger and older minds, making it an ideal choice for spending quality time together as a family.
From Challenge to Home Decor
Upon completion, this set not only represents a personal accomplishment but also transforms into a work of art that you can hang on your wall. It serves as a decorative piece that enhances the aesthetic appeal of your home.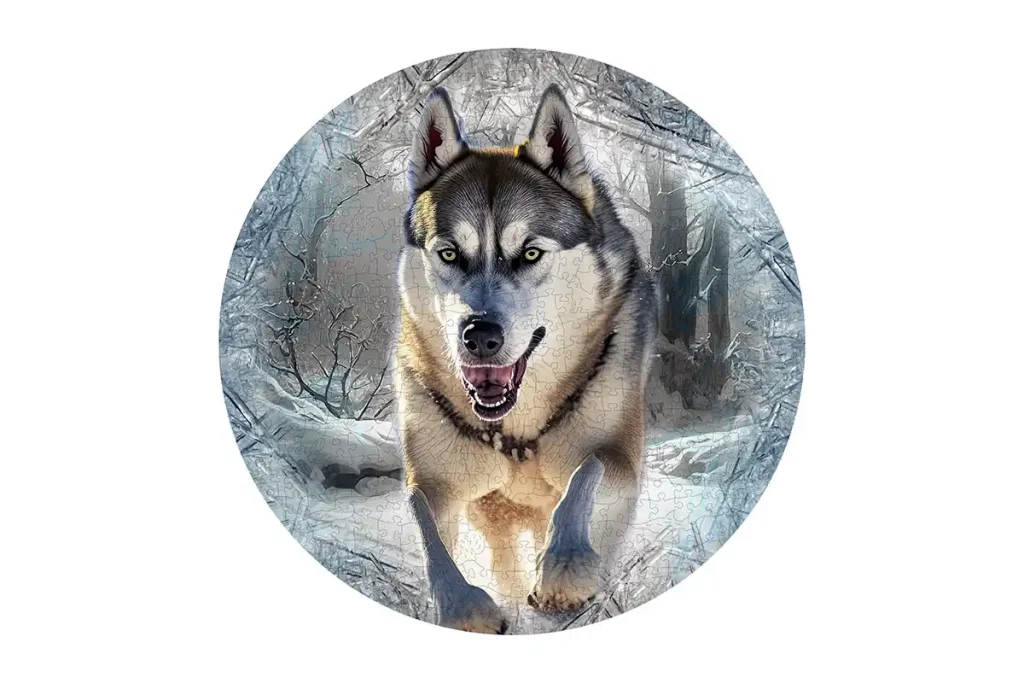 Vibrant and Invigorating Colors
The vibrant colors used in this set breathe life into the winter forest and its wolf protagonist. These hues make the assembly process not just intellectually rewarding but also visually stimulating.
Characteristics
Series/Article
HE 0502-XL
Age
14+
Number of elements.
500pcs
Number of whimsies
50 pcs
Assembled size
H: 15.51″ ( 39,4 cm)
W: 15.51″ ( 39,4 cm)
Packaging size
H: 8.66'' ( 22 cm)
W: 8.66'' ( 22 cm)
D: 2.75'' ( 7 cm)
Packaging weight
1.65 lb (0,75 kg)
Puzzle thickness:
0,12" (3 mm)
Assembly time
13h
Artist
Adobe Stock
Type of Cut
Animal
In conclusion, Running Wolf 500 is not just another set to assemble; it's an experience that offers a blend of intellectual challenge, aesthetic pleasure, and emotional satisfaction. It's an ideal gift, an engaging activity, and ultimately, a beautiful piece of art that enriches your living space.