Experience the Enchantment with This Christmas Street 4000 Wooden Puzzle
In this special product, the Christmas Street 4000 Wooden Puzzle comes to life through 4000 unique pieces, each carrying its own shape and identity. It beautifully captures a bustling Christmas scene, filled with holiday cheer, where people are purchasing gifts, strolling around a Christmas tree, and enjoying the decorations of wreaths and street garlands. In the sky, Santa Claus and his reindeer are seen rushing to deliver gifts, while a snowman stands by the tree, adding to the festive atmosphere.
A Glimpse of Christmas Magic
The themes of Christmas 4000, Retro, Children, and Adults are embodied in this product. It illustrates the essence of holiday celebrations with colorful designs that are sure to please the eye. Suitable for adults and children over the age of 14, this creation represents the joyous activities that bring families together during Christmas.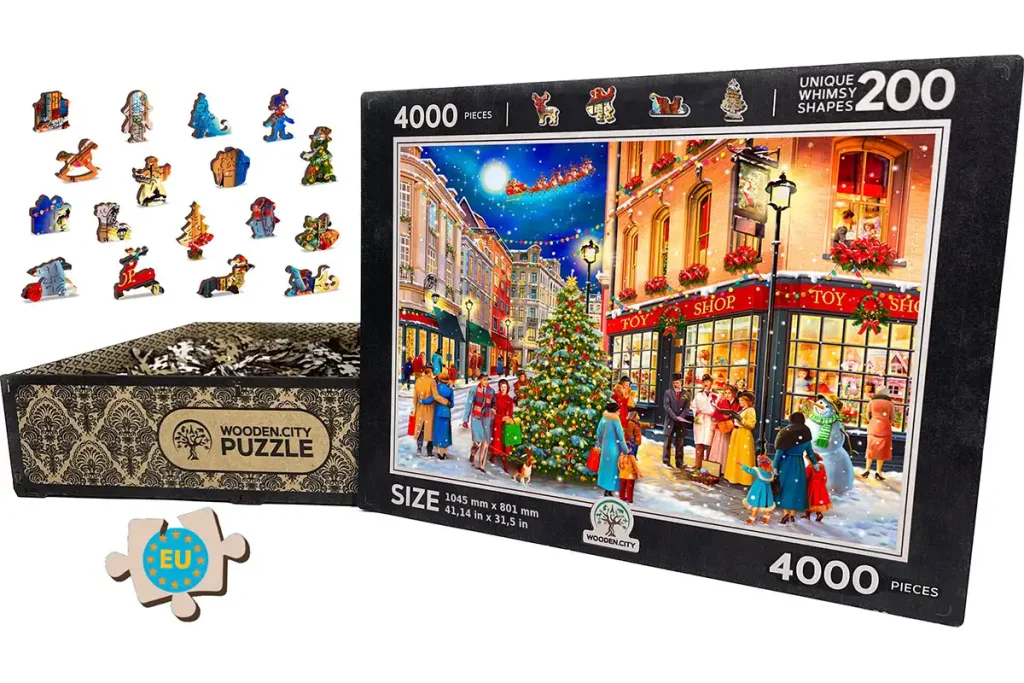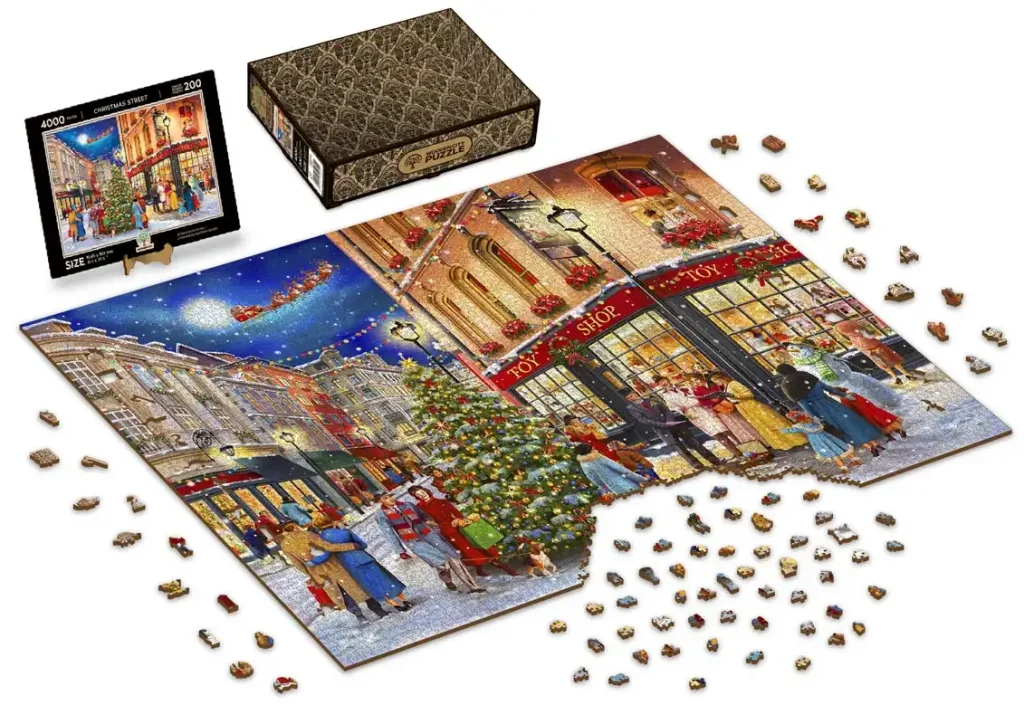 Unique Pieces for an Engaging Experience
Every piece of this item has a unique form, ensuring that the assembly process remains engaging and fun. The inclusion of large thematic elements like animals or landmarks, depending on the theme, adds a layer of intrigue, making the experience more fascinating.
Thematic Cutting for an Immersive Experience
Each piece carries its thematic cutting. In items featuring animals, you will find unique animal elements, and travel-themed ones will incorporate distinctive landmarks from various countries. These elements bring a unique flair to the assembly process.
A Gift that Resonates
Looking for a thoughtful present? This item embodies the spirit of Christmas, making it a perfect gift for loved ones. Its captivating imagery and quality craftsmanship ensure that it's a present that will be cherished and appreciated.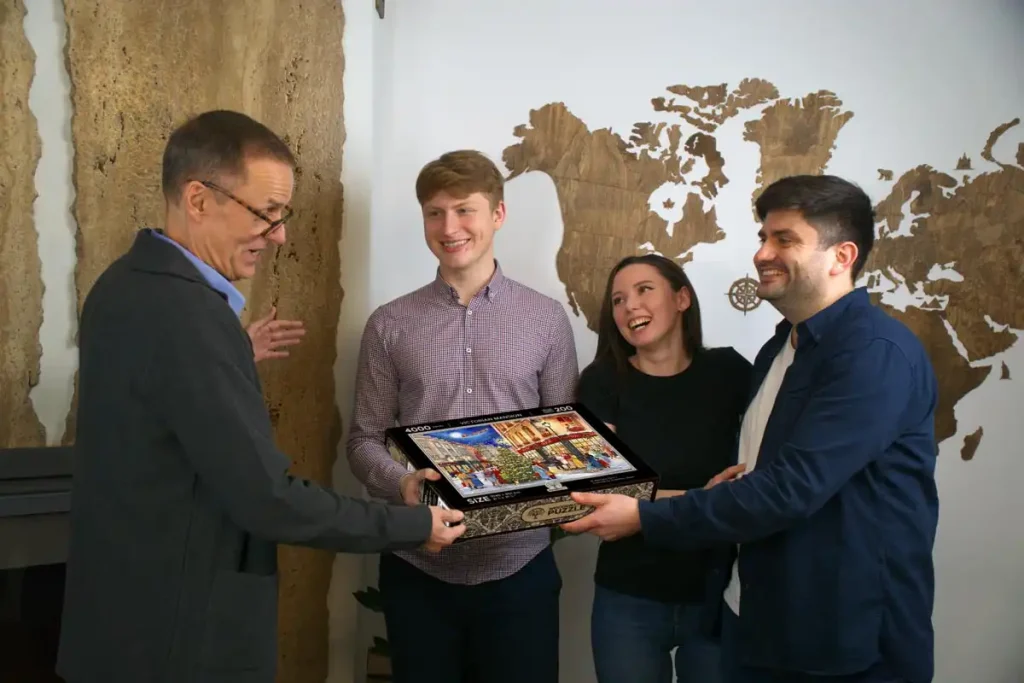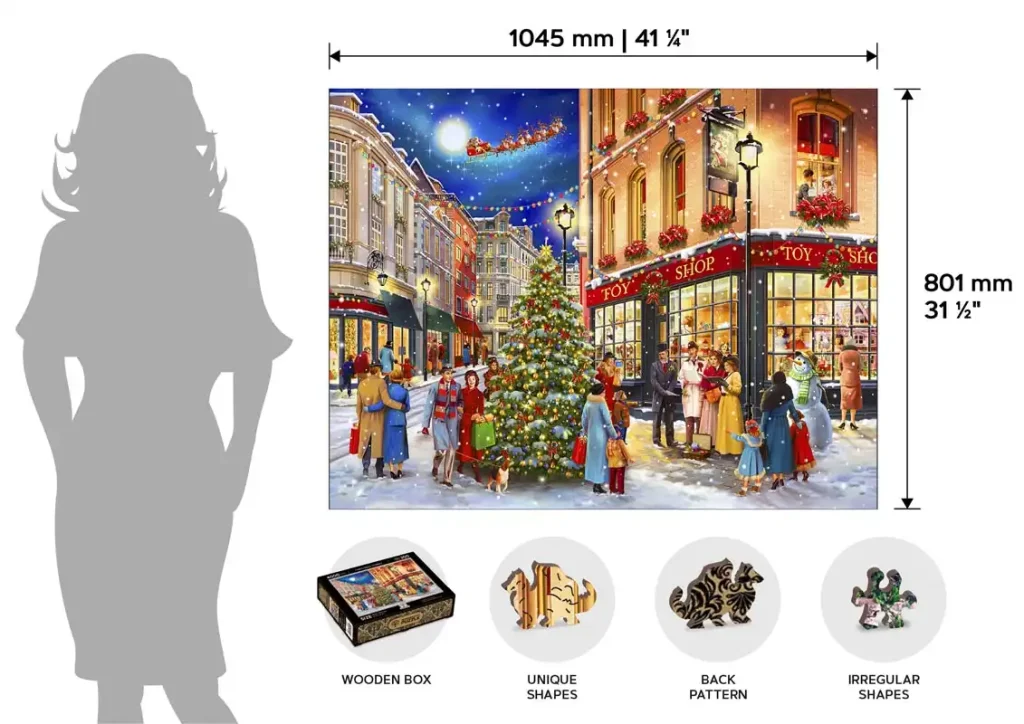 Beautiful Wall Décor
Once assembled, this product can be transformed into a stunning piece of wall art. Its vibrant colors and thematic richness will serve as a delightful addition to your home décor, keeping the Christmas spirit alive all year round.
A Family Bonding Activity
Assembling this creation is an excellent way to spend quality time with family. It's not just a fun activity; it's a journey into the heart of Christmas, filled with laughter, bonding, and memory-making.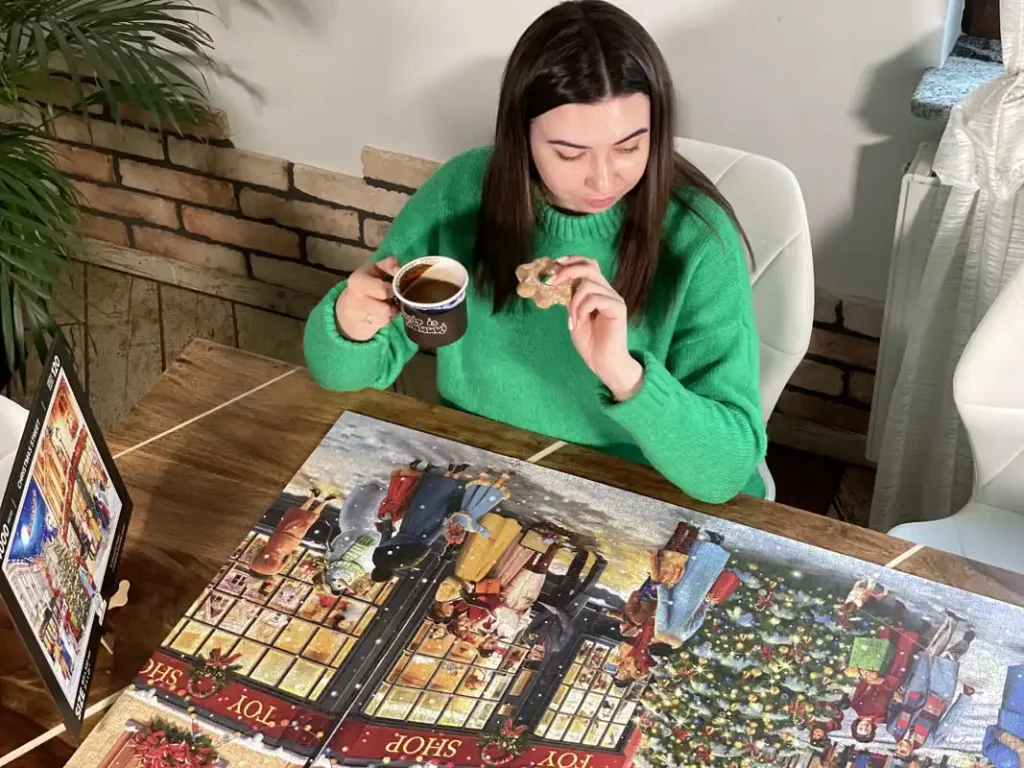 Two-Sided Assistance for an Enjoyable Assembly
On the reverse side of each piece, a pattern is present that can assist in the assembly. This thoughtful touch adds a layer of convenience and fun, ensuring a smoother building experience.
Characteristics
Series/Article
XM 4000-0050-XXXL
Age
14+
Number of elements.
4000 pcs
Number of whimsies
200 pcs
Assembled size
H: 30,0″ ( 76,1 cm )
W: 41.14″ ( 104,5cm )
Packaging size
H: 14.57″ ( 37 cm )
W: 11.02″ ( 28 cm )
D: 3.94″ ( 10 cm)
Packaging weight
7.385 lb (3,35 kg)
Puzzle thickness:
0,12" (3 mm)
Assembly time
36h
Artist
Simonetta Pirola
Type of Cut
Christmas
In conclusion, the Christmas Street 4000 celebrates the joy and beauty of the holiday season through its artful design and quality craftsmanship. As a gift, a piece of art, or a family activity, it offers an enriching experience that resonates with the warmth of Christmas.