Discover the Art of 3D Wooden Puzzle Gun Assembly
Step into the arena of the 3D Wooden Puzzle Gun, where the joys of assembly merge with the thrill of action.
A Trio of Tactical Treasures
The Action Widgets set introduces you to three distinct pistol models, each echoing the timeless designs of renowned firearms. Crafted with precision from top-quality birch, these miniatures not only capture the essence of their real-life counterparts but also function with a playful twist.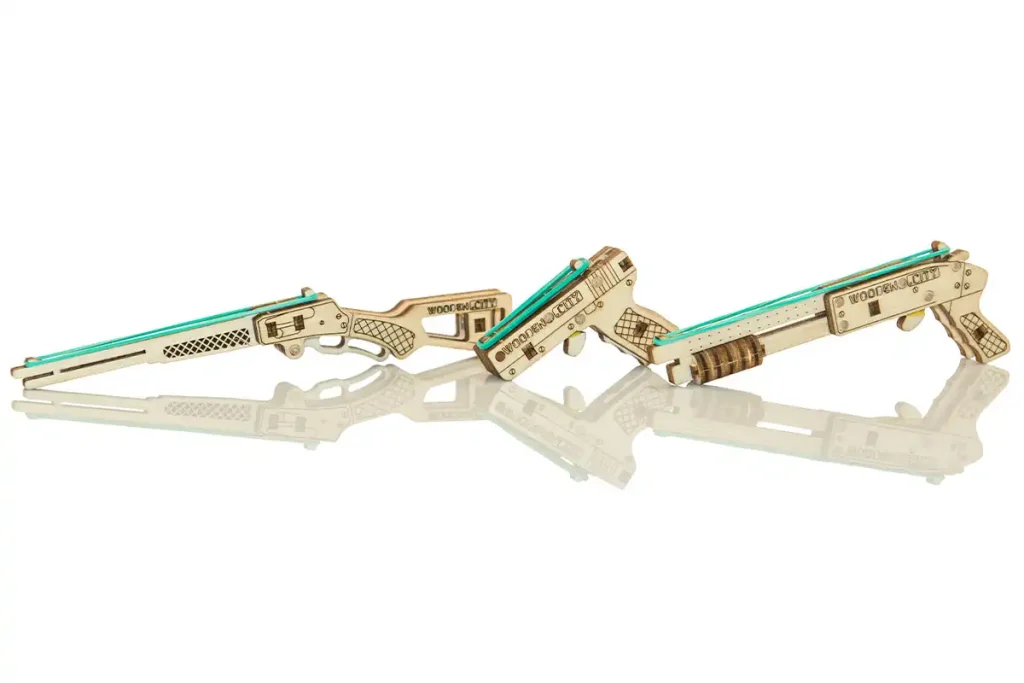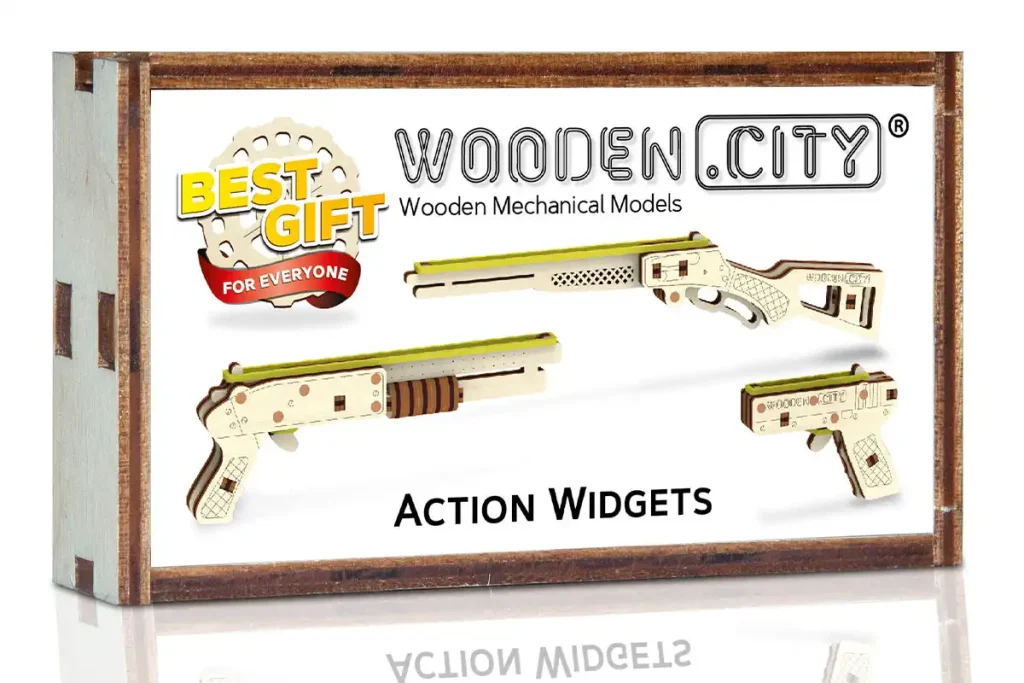 Not Just for Show
These aren't mere decorative pieces. Each pistol is equipped with rubber bands, allowing you to experience the playful side of these meticulously designed miniatures. Aim, shoot, and revel in the harmless fun, all while appreciating the detailed craftsmanship of each piece.
The Perfect Gift
Gift-giving is elevated to an art when it combines novelty with function. The Action Widgets set promises not just hours of assembly fun but also serves as an interactive toy, making it an ideal present for enthusiasts of all ages. Whether it's a birthday, anniversary, or just because, this set promises a unique experience that resonates.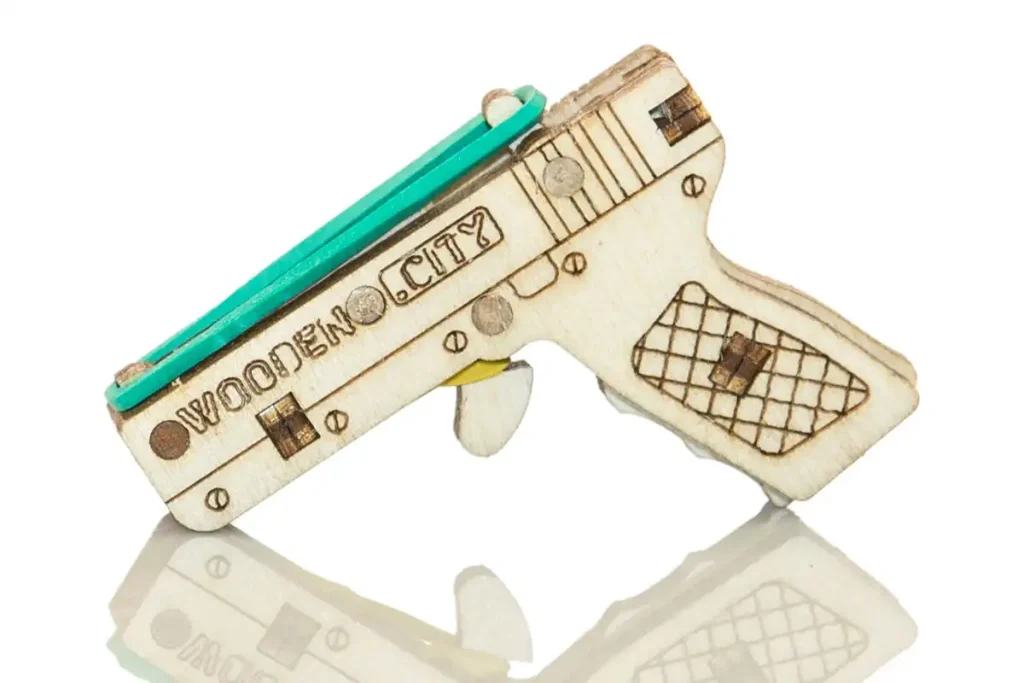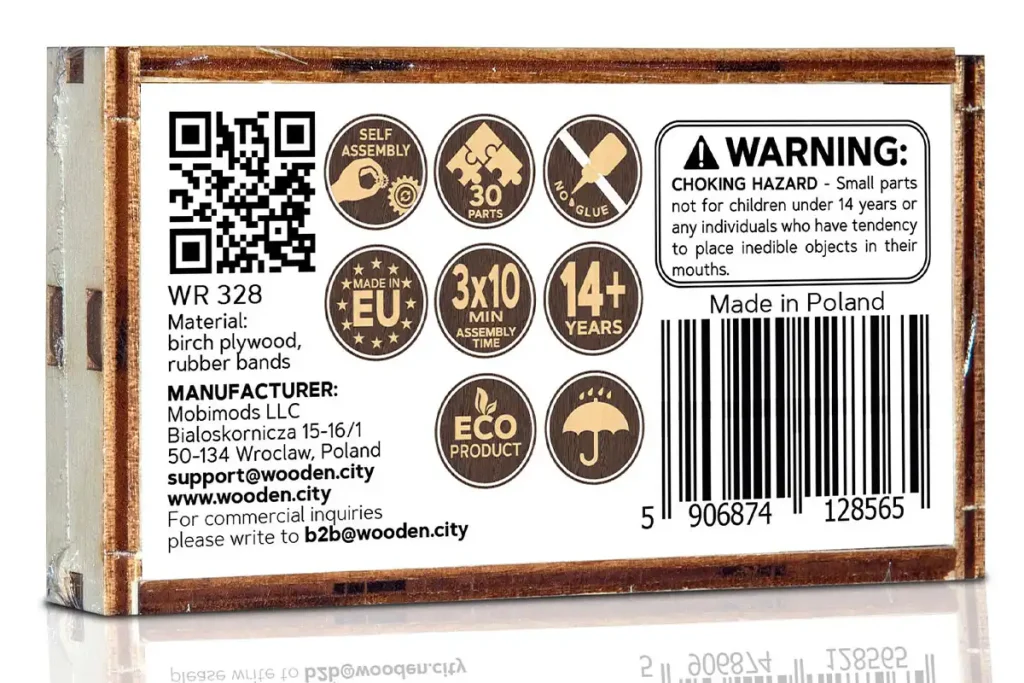 Dynamic Family Adventure Awaits
Gather your crew and dive into the world of Action Widgets! Embark on a thrilling journey of creation, teamwork, and storytelling. Perfect for family bonding, it promises hours of imaginative play and shared memories. Ready, set, assemble!
Characteristics
Series/Article
WR 328
Assembly time
3х10min
Skill level
1/5
Number of parts total
30
Model dimensions 1
H: 5.63'' (14,3cm)
W: 1.29'' (3,3 cm)
D: 0.47'' (1,2 cm)
Model dimensions 2
H: 20.86'' (5,3cm)
W: 1.49'' (3,8 cm)
D: 0.47'' (1,2 cm)
Model dimensions 3
H: 4.17'' (10,6cm)
W: 1.49'' (3,8 cm)
D: 0.47'' (1,2 cm)
Packing size
H: 4.17'' (10,6cm)
W: 2.32'' (5,9cm)
D: 0.66'' (1,7cm)
Rubber bands
✔
Imitation of the recharge mechanism
-,✔,✔
Can be a decor element
✔
Possibility of hand painting
✔
The packing box is made of wood.
Inside there is an instruction on how,
after assembling the model, you can also
assemble the box into a demonstration stand.
✔
Age
14+
Exquisite Decorative Elements
Beyond their interactive appeal, these miniatures can adorn any space with an aura of elegance. Be it an office desk, a living room shelf, or even a study, the Action Widgets serve as sophisticated reminders of the beauty inherent in detailed craftsmanship.
In conclusion, hailing from the rich traditions of Poland in the European Union, the Action Widgets represent more than just toys. They epitomize the blend of art, play, and engineering, offering a tangible testament to the wonders of design and imagination.
*In the characteristics table below the image, the size of the largest widget is written.