3D Wooden Puzzle Gun: An Artistry to Behold
The 3D Wooden Puzzle Gun you see before you isn't just any ordinary model. Crafted in the heart of Poland, this exquisite piece embodies the true essence of European elegance and ingenuity. From the dense birch forests of Poland comes a marvel that merges traditional craft with modern mechanics.
The Marvel of Mechanics
At the core of this masterpiece is a symphony of moving parts. The Judgment Day RMT-870 isn't just a static showpiece. Its mechanism allows for the firing of rubber bands, with a true-to-life imitation of the recharge system. With the included magazine for ammunition, trigger safety lever, and rubber band ammo, it offers an immersive experience that's second to none.
More Than Just a Model
Post assembly, this marvel doesn't need to be stowed away. It stands as an elegant piece of décor that effortlessly complements any space. The wooden packaging that houses this beauty isn't just protective, but can be transformed into a stand, showcasing the model in all its glory.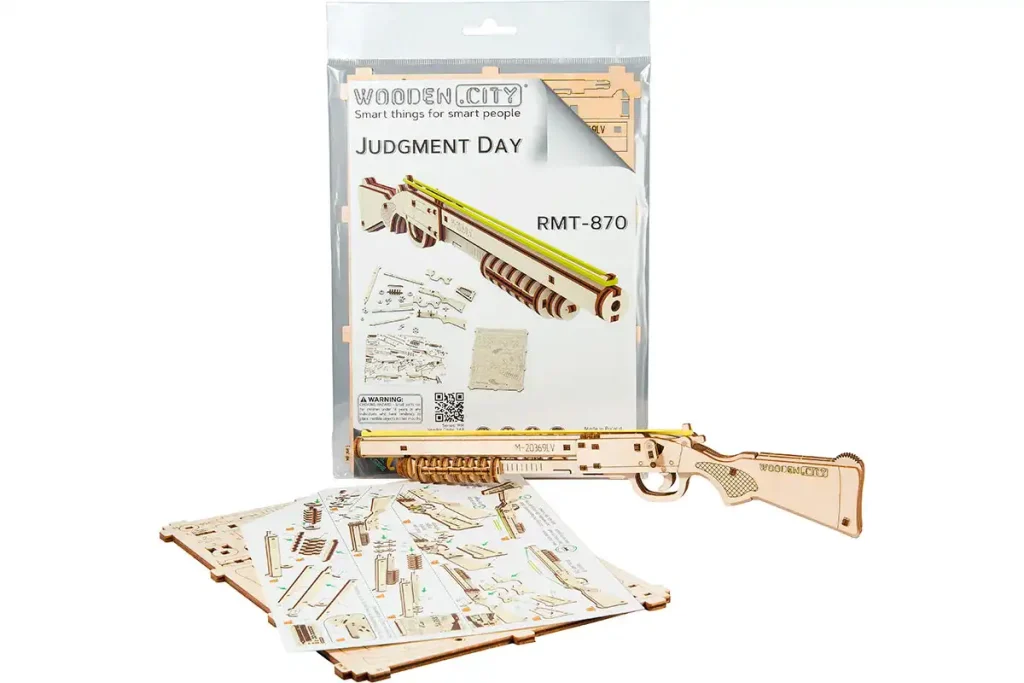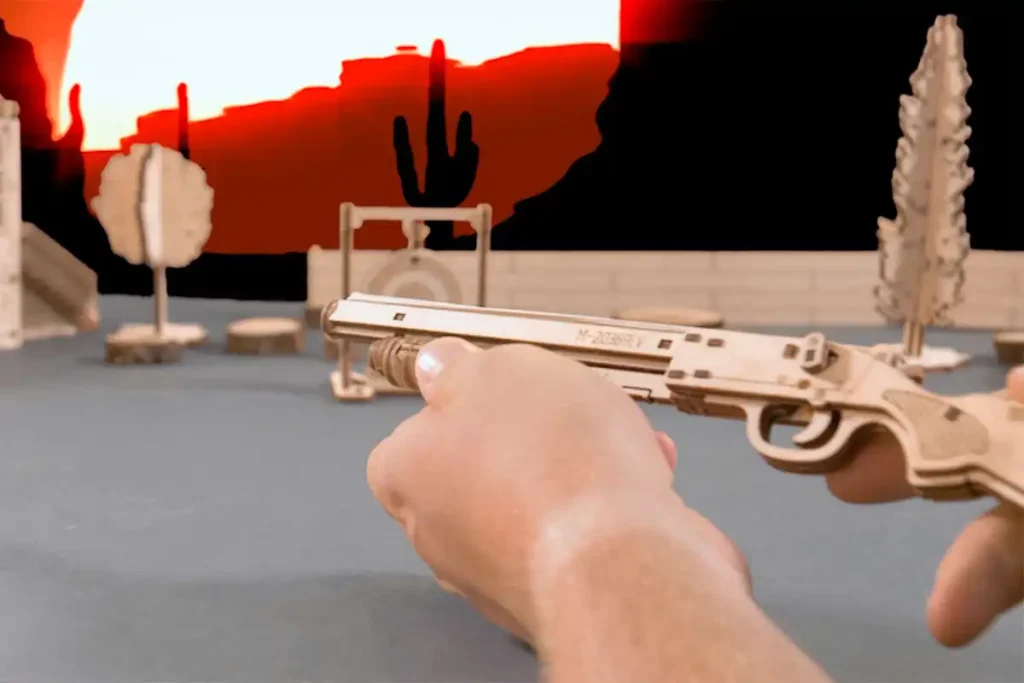 The Touch of Personalization
While the Judgment Day RMT-870 is a beauty in its raw wooden form, it lends itself to personalization. Unleash your creativity and paint it to make it truly yours, reflecting your style and passion.
A Perfect Gift
Gifting is an art, and what better way to express your sentiments than presenting this work of art? It's not just a gift but an experience, a journey that the receiver embarks upon, making it a memory that lasts forever.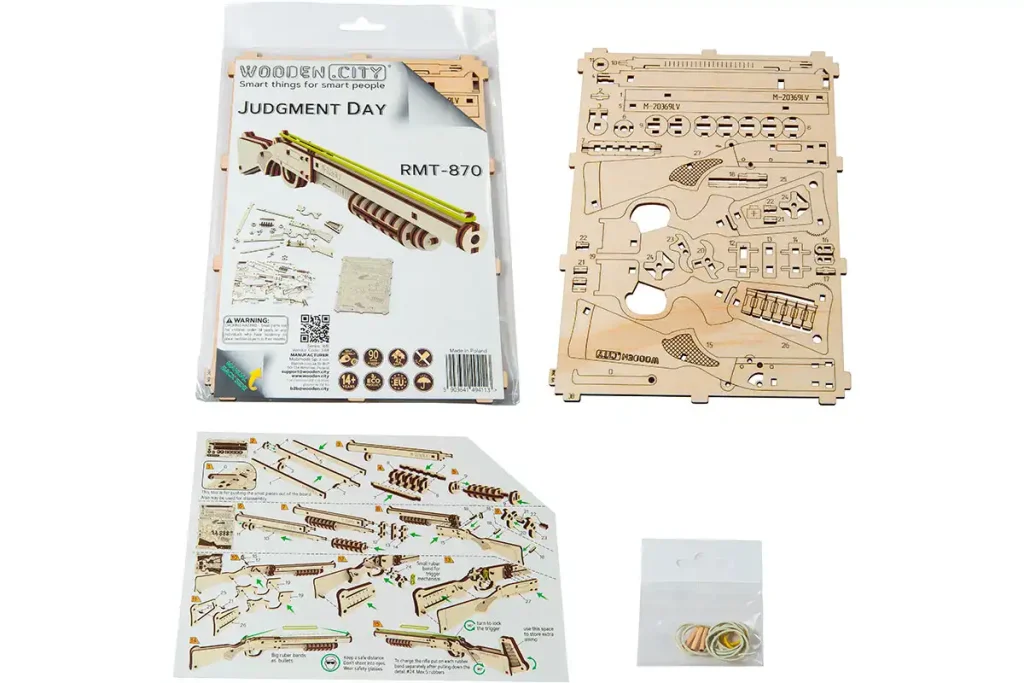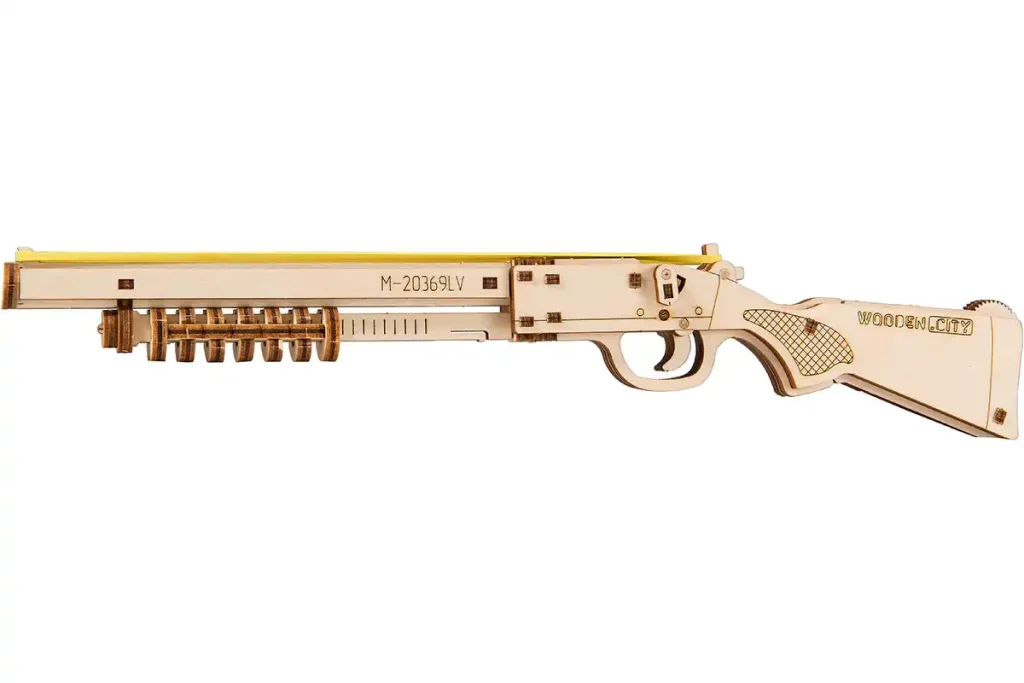 Relive Historic Battles Together
Join hands with family to craft the iconic Judgment Day RMT-870. Immerse yourselves in history, strategize, and share stories of legendary battles. An assembly project bringing generations closer, offering both fun and education. Dive into the past as a team!
Characteristics
Quantity
40
Spare parts
3
Series/Article
WR-348
Set
Assembly instruction
Rubber Band 1.5х1.5 D15 L20 – 1+1;
Rubber Band 1,5х1,5 d30 L40 – 5+3;
Axle 15,6 – 3+1
Difficulty level
2/5
Assembly time
1,5 h
Model dimensions
H: 11.57'' (29,4 cm)
W: 0.82'' (2,1 cm)
D: 2.4'' (6,1 cm)
Package size
H: 9.44" ( 24cm)
W: 6.89" ( 17,5cm)
D: 0.27" ( 0,7cm)
Magazine for ammunition
✔
Trigger safety lever
✔
Ammo included (rubber bands)
✔
Imitation of the recharge mechanism
✔
Can be a decor element
✔
Possibility of hand painting
✔
Age
10+
From Craftsmanship to Décor
Once assembled, its elegance becomes a talking point, a centerpiece that attracts attention and admiration. Its intricate design and mechanical features make it a splendid décor item, ensuring that it doesn't just occupy space, but elevates it.
To own the Judgment Day RMT-870 is to own a piece of European heritage, a testament to the skill and passion of Polish craftsmen. It's not just a model; it's a story, an experience, a journey into the world of impeccable craftsmanship. Don't just buy a product; invest in a legacy.