Delving Deep into the Realm of 3D Wooden Puzzle Excellence
Embarking on the journey with this 3D Wooden Puzzle offers a captivating experience like none other. Meticulously crafted from premium European birch, this model hails from the revered traditions of Polish craftsmanship, ensuring a unique blend of quality and design.
One glance at the Monster Truck 1, and it's clear – this is not just any truck. With enlarged wheels dominating its design, it is a symbol of power and majesty.
A Beast on Wheels
Ready to roll forwards and backwards, the movement is as smooth as it is impressive. Adding to its authentic appeal are the imitation lights, capturing the essence of real monster trucks and illuminating imaginations.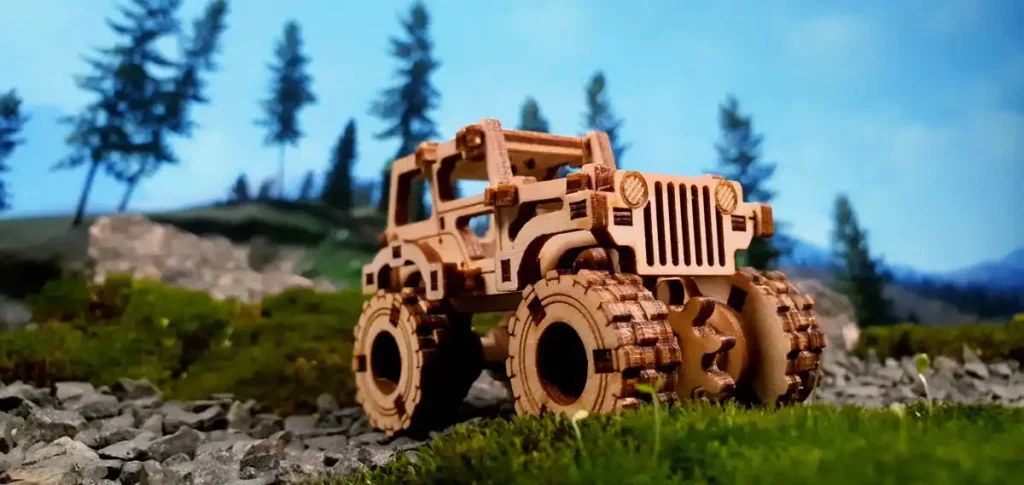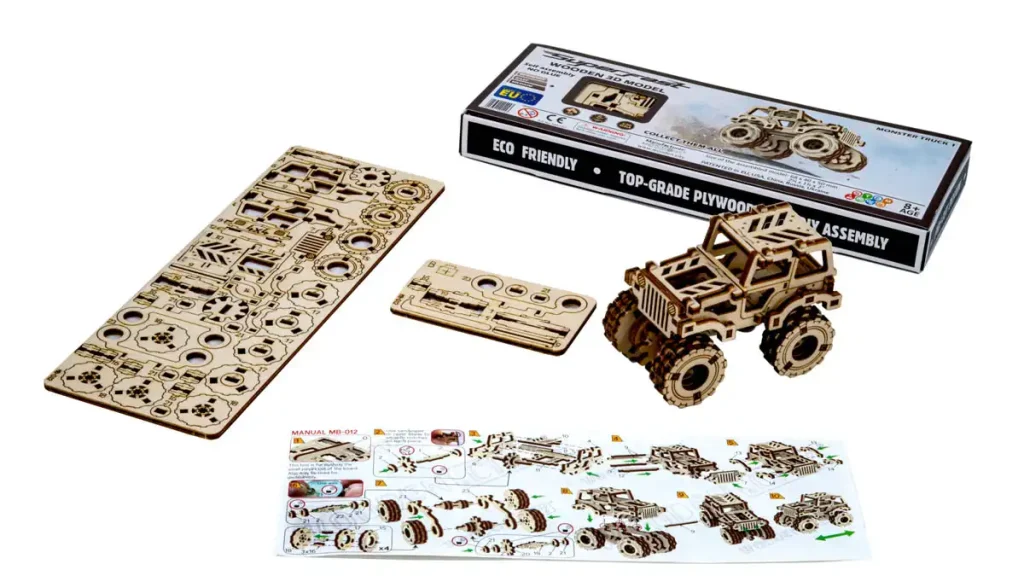 An Artist's Canvas
Beyond its mechanical allure, the Monster Truck 1 serves as a blank canvas for the artists at heart. With the freedom to paint and personalize, it's an invitation to bring one's vision to life, adding a touch of individuality to the model.
Gift an Experience
Beyond simple items, real gifts are experiences, memories, and moments. Monster Truck 1 as a gift is an unforgettable journey full of creativity and admiration. Ideal for hobbyists or those who simply appreciate high craftsmanship.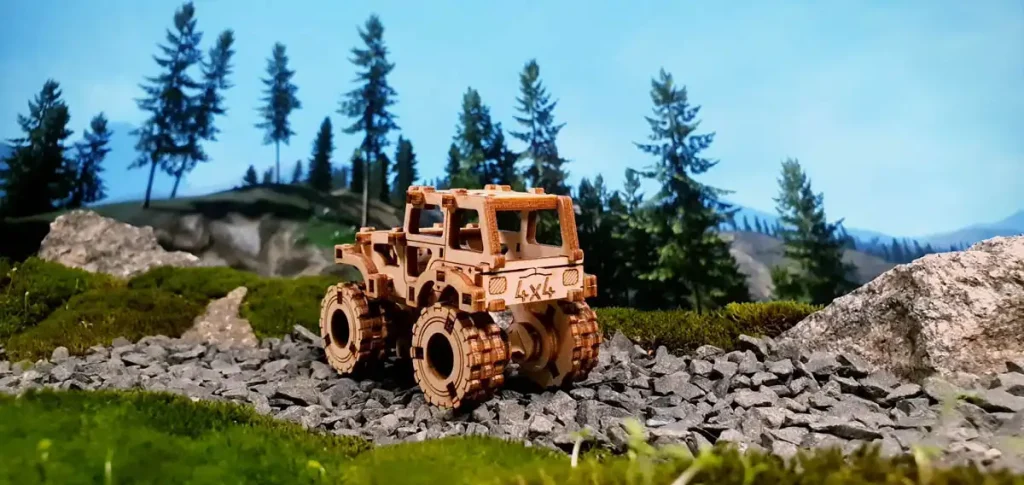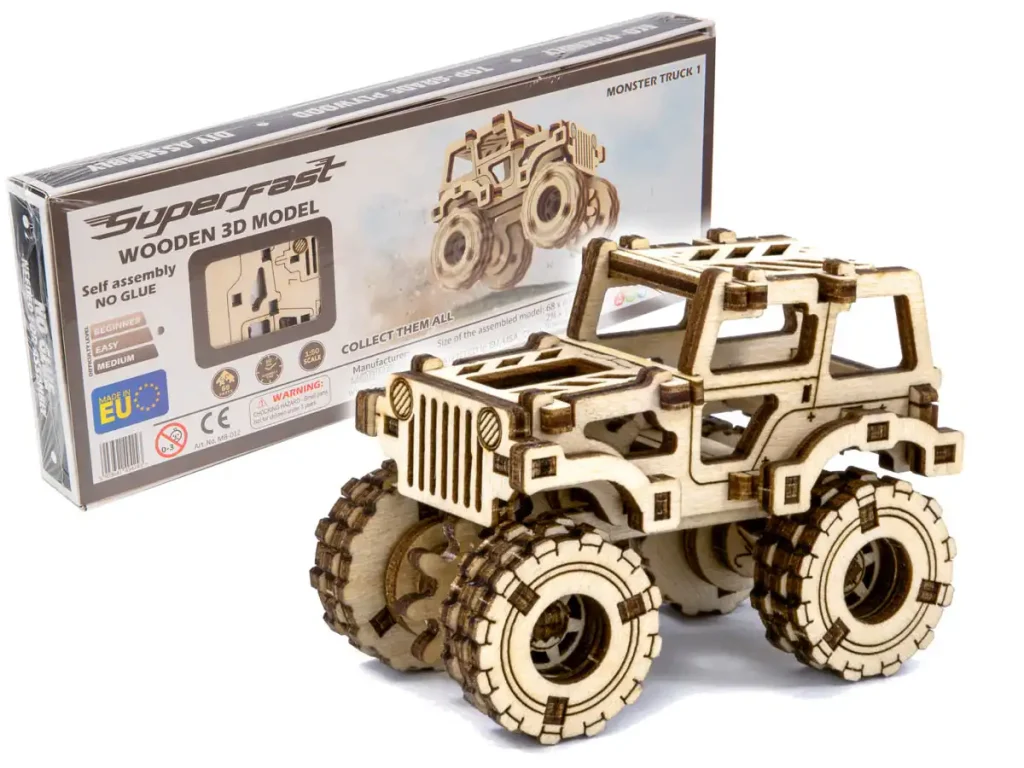 Family Thrills with the Monster Truck 1 Adventure
Unleash the excitement of towering wheels and mighty adventures with the Monster Truck 1! Dive into a collective endeavor, where family tales become as epic as the truck itself. Relish shared challenges, cheer on each success, and navigate through playful imaginations. It's not just about building—it's about climbing peaks of joy and bonding. Start your roaring family escapade now!
Characteristics
Series/Article
MB-012
Model Scale
1:50
Quantity
58
Set
2 sheet of plywood,
Assembly instruction
Spare parts
11
Difficulty level
3/5
Assembly time
1 h
Model dimensions
H: 2.68" ( 6,8 cm)
W: 1.58" ( 4 cm)
D: 1.97" ( 5 cm)
Package size
H: 3.54" (9cm)
W: 9.52" (24,2cm)
D: 0.99" (2,52 cm)
Imitation lights
✔
Enlarged wheels
✔
Can be a decor element
✔
Possibility of hand painting
✔
Age
8+
Decorative Excellence
Beyond its assembly, the Monster Truck 1 gracefully transitions into an exquisite décor piece. Whether gracing a living room shelf or an office desk, its presence is bound to evoke admiration and curiosity, all while adding a touch of European elegance to the space.
Dive into the world of mechanics and beauty with the Monster Truck 1. It's more than just a model; it's an emblem of passion, precision, and Polish perfection. Whether you're assembling, painting, gifting, or displaying, it promises an experience that resonates and endures.