Discover the Intricacies of the 3D Wooden Puzzle Gun
Embrace the challenge of piecing together this 3D Wooden Puzzle Gun, a true testament to the blend of engineering and art. Crafted from premium birch, each piece is meticulously designed to fit seamlessly into the next, ensuring a smooth assembly process and a durable finished model.
A Mechanical Marvel
The Guardian GLK-19 isn't just a static model. Every component, from the magazine for ammunition to the trigger safety lever, has been carefully designed to interact in a functional, mechanical manner. Test your skills by firing at the included target using the provided rubber band ammunition. The precision and detail involved in this creation make it a genuine mechanical marvel.
More Than Just a Model
The unique nature of The Guardian GLK-19 extends beyond its assembly. The wooden packaging, in which it arrives, can be repurposed into a sleek stand for the model, emphasizing its elegance and sophistication.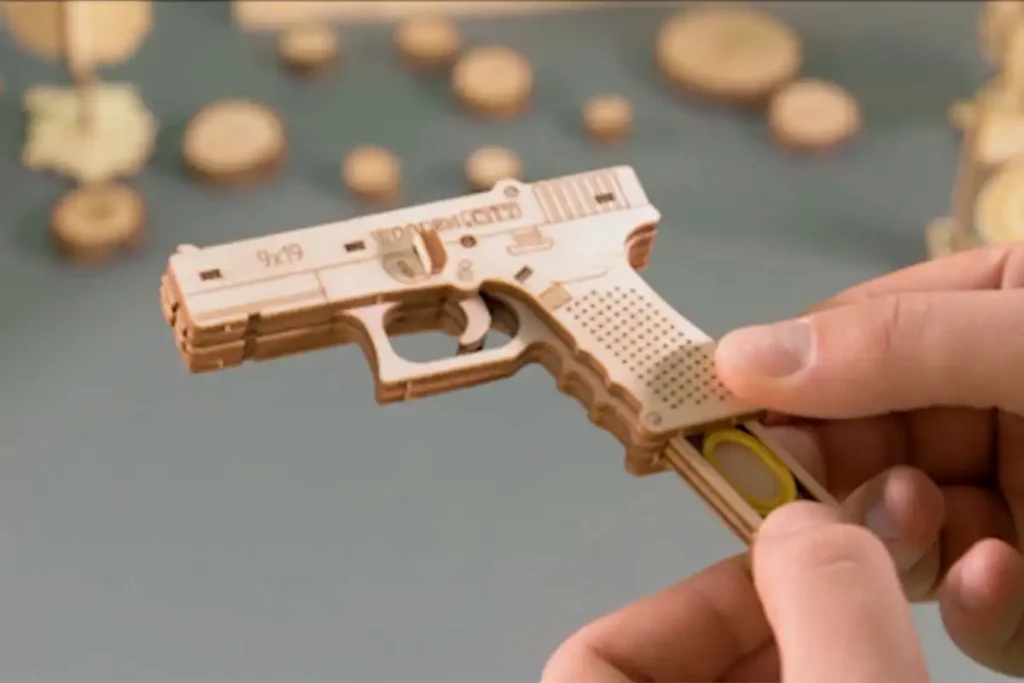 Unleash Your Creativity
The Guardian GLK-19 is more than a model; it's a canvas. With the flexibility to paint and customize the model as you see fit, you have the freedom to make this iconic gun truly your own, adding a personal touch that further enhances its charm.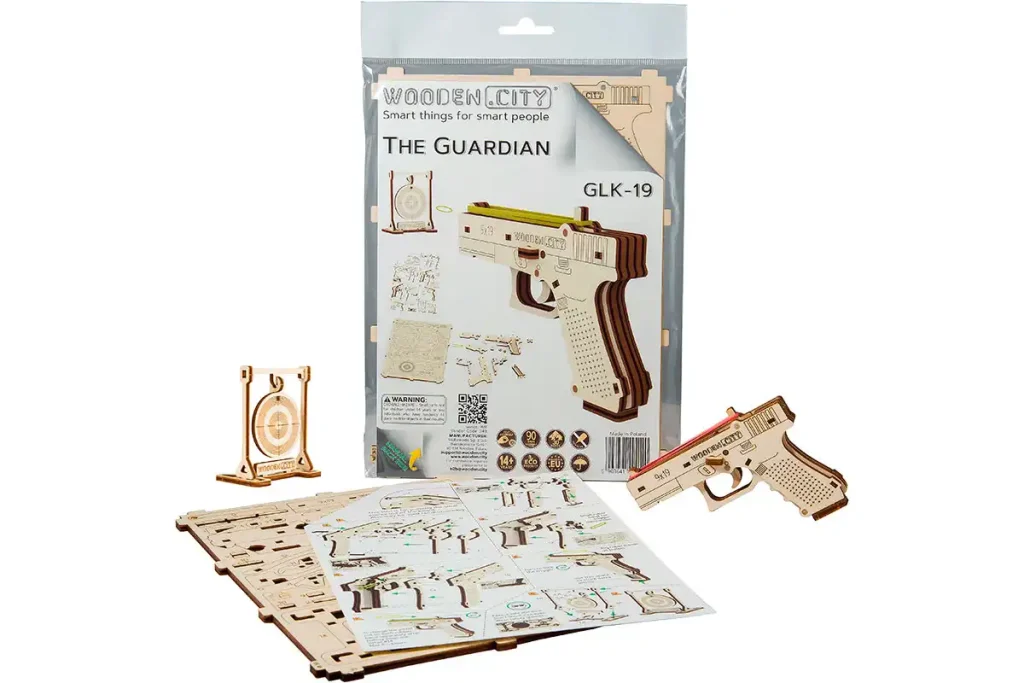 The Perfect Gift
Searching for a gift that combines creativity, challenge, and a touch of nostalgia? Look no further. The Guardian GLK-19 is an exceptional choice for both young adults and the young at heart. Its blend of functionality and artistry ensures it's a gift that will be cherished and admired for years to come.
Not Just a Toy, But a Decor Piece
Upon completion, The Guardian GLK-19 serves as an eye-catching decor piece, reflecting its owner's dedication, precision, and love for art. Display it with pride, and it's bound to become a conversation starter, impressing guests with its intricate design and mechanical functionality.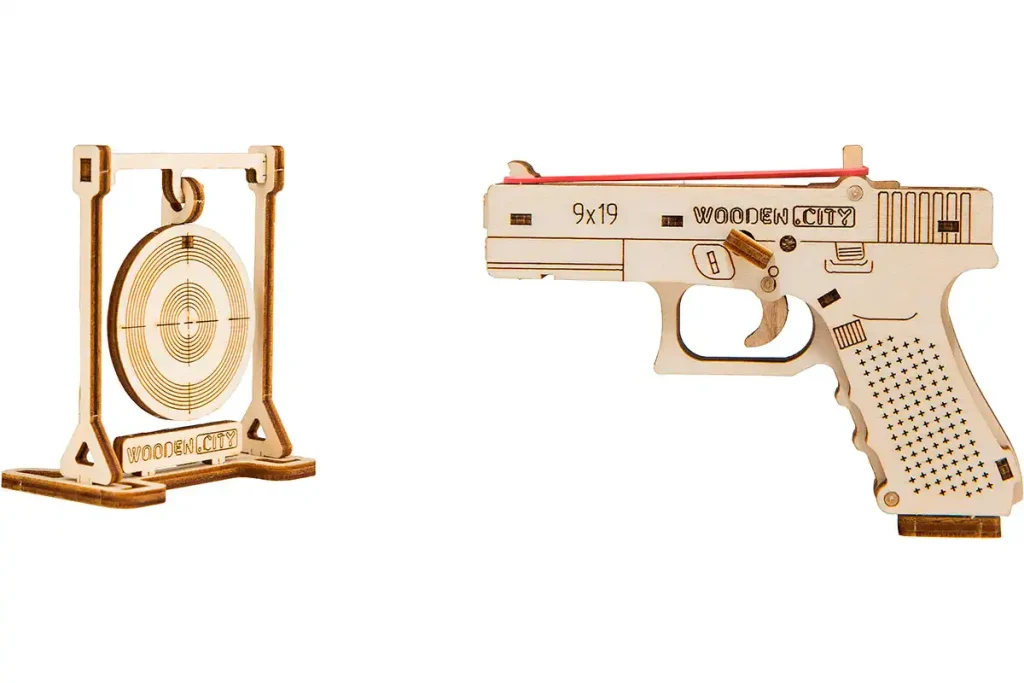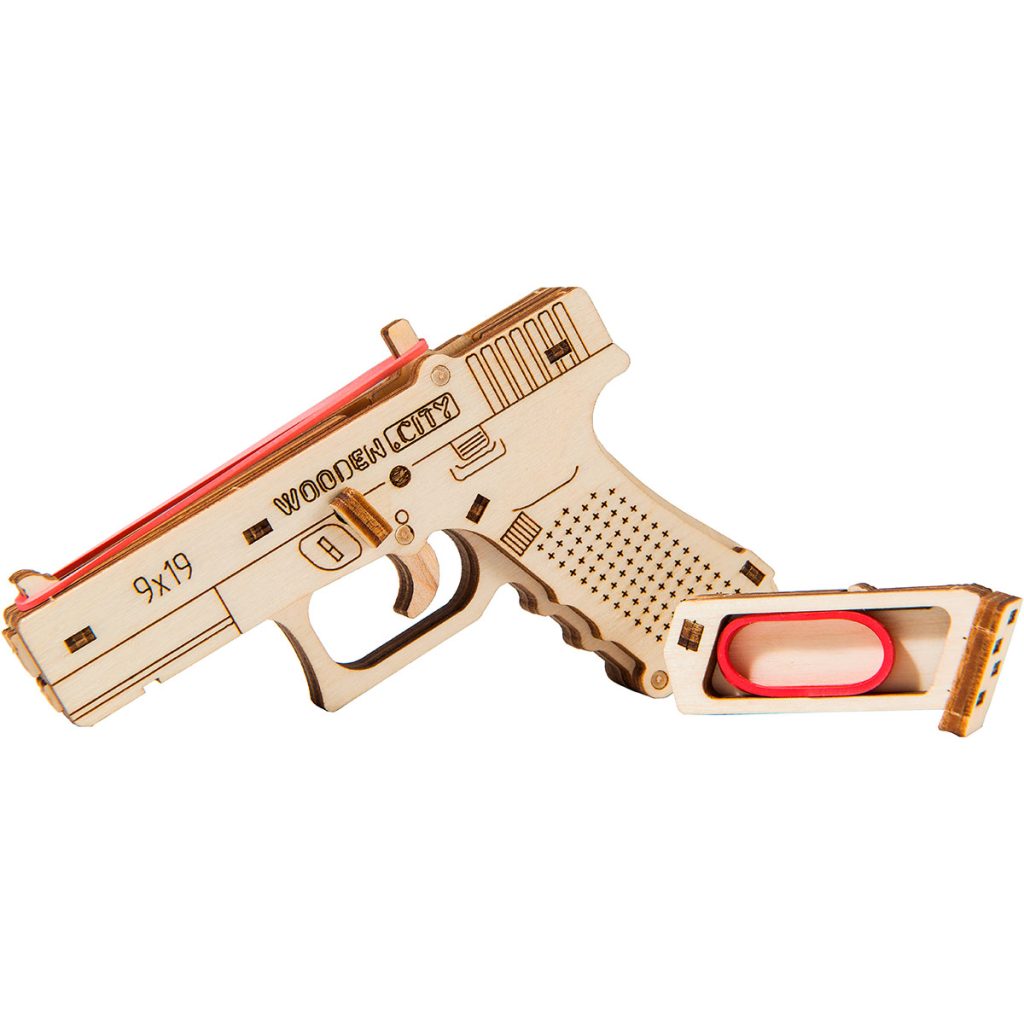 Family Bonding With A Bang
Dive into The Guardian GLK-19 adventure! Bring your family closer as you collaborate, craft, and create. A perfect blend of challenge and fun, it's a unique way to spark creativity and teamwork. Dive into memories, one piece at a time.
Characteristics
Quantity
30
Series/Article
WR-349
Set
Assembly instruction
Rubber Band 1.5х1.5 D15 L20 – 1+1;
Rubber Band 1,5х1,5 d20 L30 – 5+3;
Axle 15,6 – 3+1″
Difficulty level
2/5
Assembly time
1,5 h
Model dimensions
H: 4.25'' (10,8 cm)
W: 0.78'' (2 cm)
D: 3.03'' (7,7 cm)
Package size
H: 6.89" ( 17,5cm)
W: 9.44" ( 24cm)
D: 0.27" ( 0,7cm)
Skill level
✔
Magazine for ammunition
✔
Trigger safety lever
✔
Target included
✔
Ammo included (rubber bands)
✔
Can be a decor element
✔
Possibility of hand painting
✔
Age
10+
Wrap Up
The Guardian GLK-19 is more than a pastime; it's an experience. From the moment you begin its assembly to the time you place it on display, this model promises an engaging, fulfilling journey. Whether you're gifting it or indulging in a personal project, it promises hours of fun, creativity, and admiration. Embrace the challenge and build a masterpiece.