Experience the Magic of 3D Wooden Puzzle Train Accessories
Beginning the voyage with 3D Wooden Puzzle Train Accessories, one is immediately entranced by the Round Rails + Crossing. Crafted meticulously from high-density fiberboard birch, it is the perfect amalgamation of European precision and passion.
Detailed Features and Functionalities
Not just another puzzle, the Round Rails + Crossing model is brimming with functionalities. An additional function, activated by a lever, ensures the smooth raising of the barrier, allowing for a realistic simulation of train crossings. This mechanical marvel takes you closer to a lifelike railway experience.
To complete the scenic panorama, a railroad ring is included, paving the way for countless hours of assembly fun and play. Moreover, the possibility of opening and closing the barrier adds a touch of realism, making every assembly a journey through a bustling European railroad.
An Artistic Canvas
The model stands as a blank canvas, awaiting your creative touch. Unleash your inner artist and bring vibrant life to the birch pieces. Whether it's a splash of color or intricate patterns, make this model uniquely yours.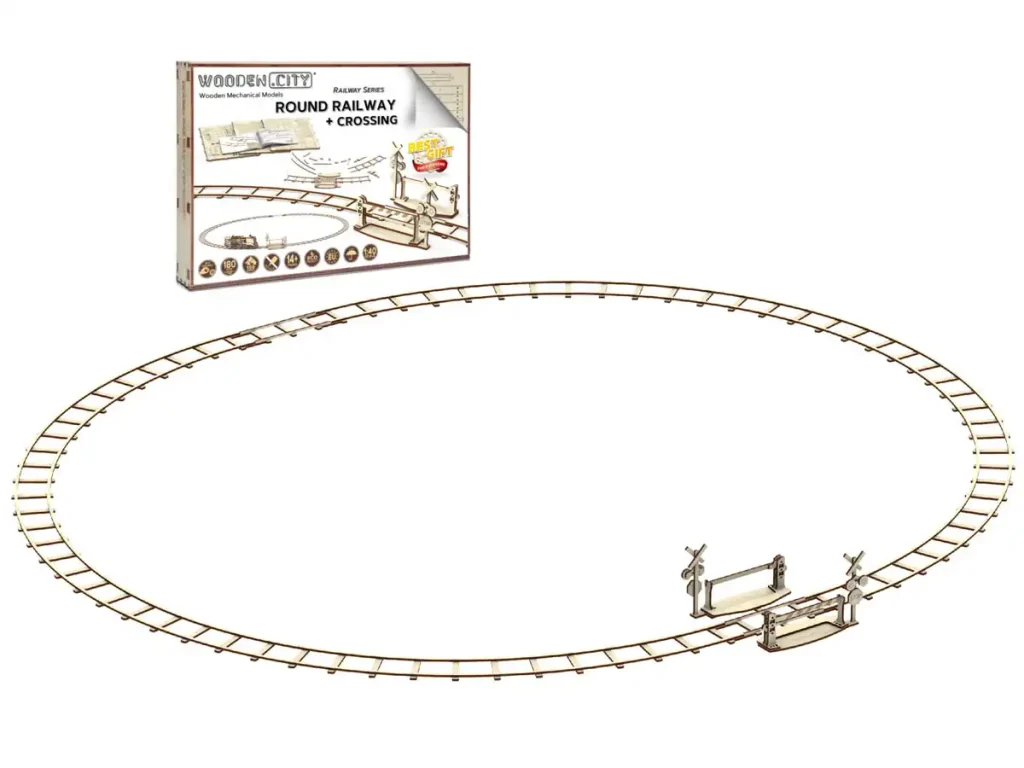 Gift a Journey
Gifting is not just about the present but the experience it offers. Round Rails + Crossing is more than a model; it's a ticket to countless hours of assembly, imagination, and joy. Perfect for train aficionados, puzzle enthusiasts, or those with a penchant for art, it promises memories that last a lifetime.
Decorative and Delightful
Beyond its mechanical allure, the model seamlessly doubles as a decorative piece. Whether gracing your living space, study, or even an office, its intricate details and functionality are sure to spark admiration and conversations. And the birch packaging? Repurpose it into a stand to showcase this European marvel.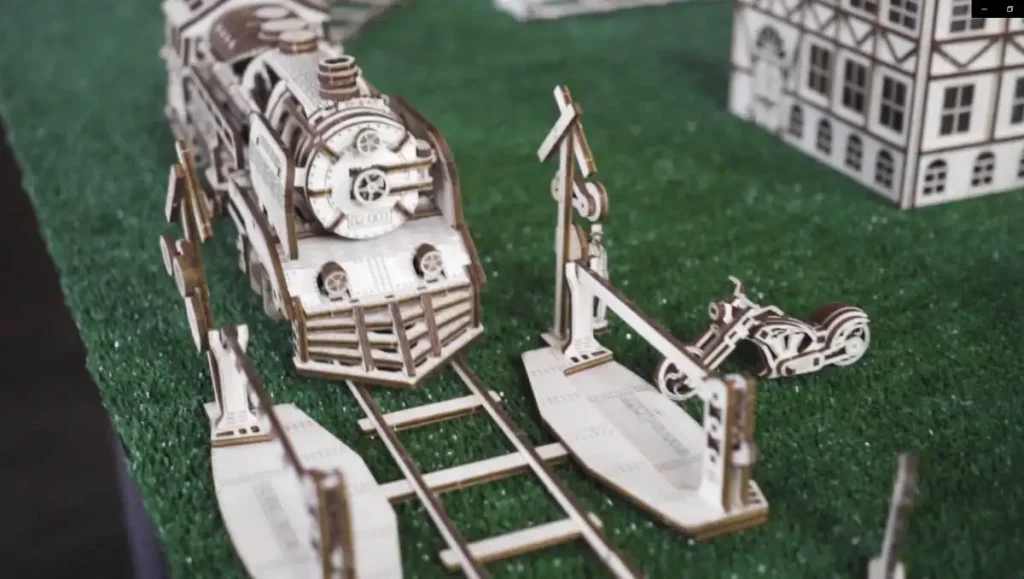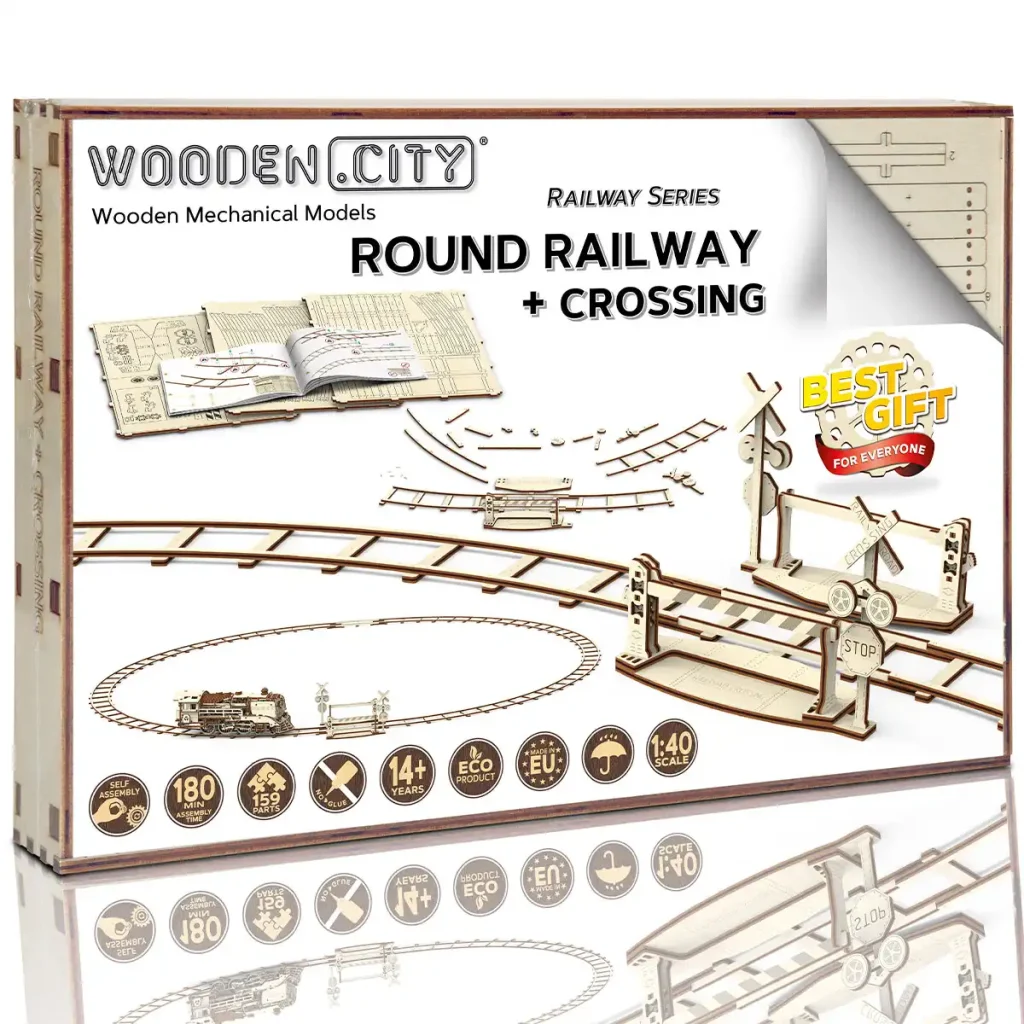 Choo-Choo Through Memory Lane
Introducing the Round Railway + Crossing, a journey back to simpler times. Assemble with family, letting each piece kindle stories of yesteryears. Every track laid, every crossing made, evokes laughter and cherished moments. All aboard for a nostalgic family adventure!
Characteristics
Quantity
159
Series/Article
WR-324
Difficulty level
3/5
Assembly time
3 h
Model dimensions
H: 64.56'' (164 cm)
W: 58.66'' (149 cm)
D: 4.65" (11,8 cm)
Package size
H: 13.97" (35,5 cm)
W: 9.44" (24 cm)
D: 1.57" (4 cm)
Model scale
1:40
Additional function activated by lever
(raising the barrier)
✔
Railroad (ring) included
✔
Possibility of opening/closing the barrier
✔
Can be a decor element
✔
Possibility of hand painting
✔
Age
14+
Concluding Notes
The Round Rails + Crossing model is a testament to passion, precision, and perfection. It invites you to relive the golden era of railways while allowing a personal touch. Embark on this journey of assembly, imagination, and discovery. It's not just about reaching the destination but cherishing every twist, turn, and track along the way.