Experience Tranquility with the 3D Wooden Puzzle
The 3D Wooden Puzzle proudly presents "Widgets", a set designed to be the perfect antidote to your everyday stress. This unique collection offers not just an engaging activity but also a sense of serenity and focus.
Functionality Meets Aesthetics
While these Widgets can provide a soothing spin or hold your keys, their mechanical intricacies remind us of the company's hallmark: where vehicles move, clocks count the time, and helicopter blades dance in the air. Their multifunctional nature makes them more than just simple toys; they are expressions of artistic and engineering prowess.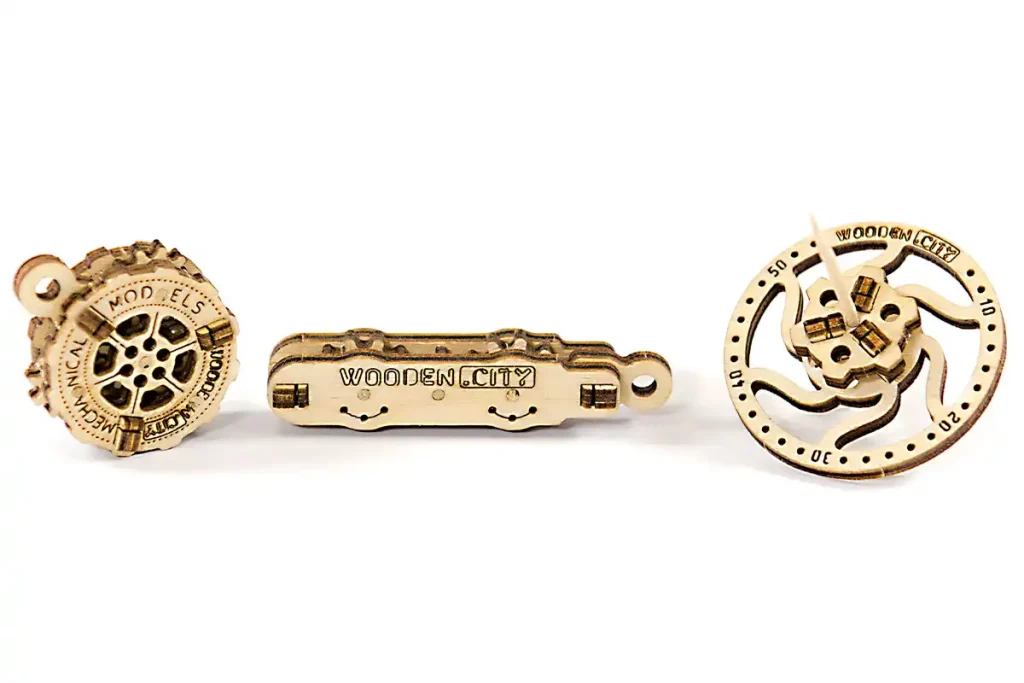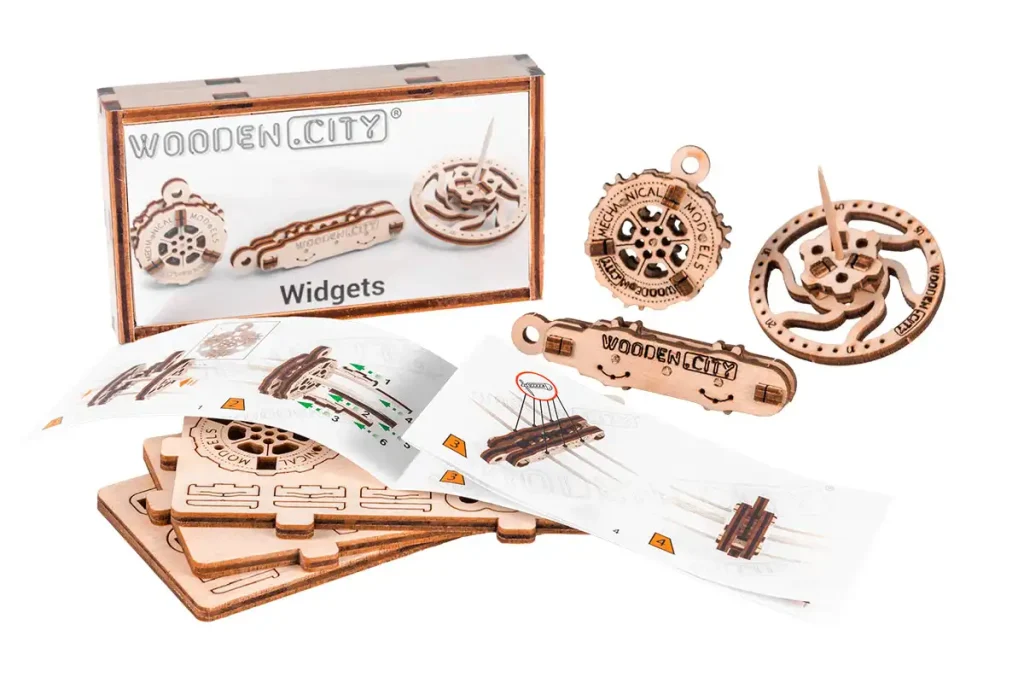 Personalize Your Widget
Though each widget is a masterpiece in its raw form, they beckon personal touches. Whether it's a splash of color or a hint of glitter, they can be transformed into bespoke pieces reflecting your individuality, making them even more special.
A Gift of Serenity
In our increasingly busy world, what better gift than a moment of calm? The Widgets set makes for a thoughtful present, offering both the joy of assembly and the tranquility of its use. Perfect for those who appreciate fine craftsmanship and moments of Zen in their day.
Characteristics
Series/Article
WR305
Assembly time
3х10min
Skill level
1/5
Model dimensions 1
H: 1,49''(3,8cm)
W: 1,1''(2,8cm)
D: 0,23''(0,6 cm)
Model dimensions 2
H: 1,65''(4,2cm)
W: 1,65''(4,2cm)
D: 1,92''(5,9cm)
Model dimensions 3
H: 2,48''(6,3 cm)
W: 0,43''(1,1 cm)
D: 0,35''(0,9cm)
Packing size
H: 4,17''(10,6cm)
W: 2,32''(5,9cm)
D: 0,66''(1,7cm)
Number of gears, pcs
4,3,-
Can be a decor element
✔
Key ring
✔,✔,-
Possibility of hand painting
✔
The packing box is made of wood.
Inside there is an instruction on how,
after assembling the model, you can also
assemble the box into a demonstration stand.
✔
Age
14+
Enrich Your Space
Beyond their soothing function, these widgets can serve as sophisticated decor elements. Display them on your work desk, coffee table, or bedside, and they'll not only captivate eyes but also narrate tales of European artistry and innovation.
In conclusion, emerging from the heart of Poland, a beacon in the European Union, these Widgets are more than just products. They are stories of passion, precision, and peace – treasures that resonate with both heart and mind.
*In the characteristics table below the image, the size of the largest widget is written.