Experience a Vibrant Marine Odyssey with Our Wooden Puzzle
This Wooden Puzzle takes you on a breathtaking underwater journey. At the heart of this seascape, dolphins with glistening smiles capture the essence of joy, as they pose for a delightful underwater selfie. They are not alone. An array of fish dash past, rendered in brilliant hues, alongside intricate coral formations and drifting seaweed.
Distinctive Pieces for a Unique Assembly
Each piece boasts its own distinct shape, ensuring a captivating assembly process. Moreover, thematic cuts make the experience even richer. With animal-themed sets, expect distinctive animal pieces; while travel-oriented ones will surprise you with unique landmark pieces.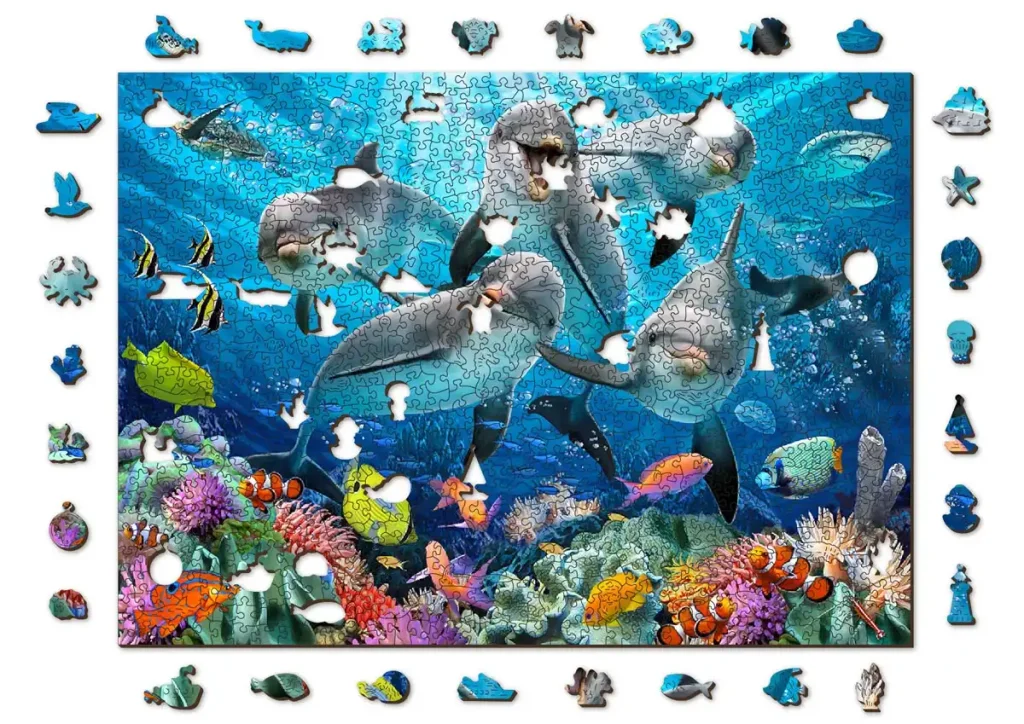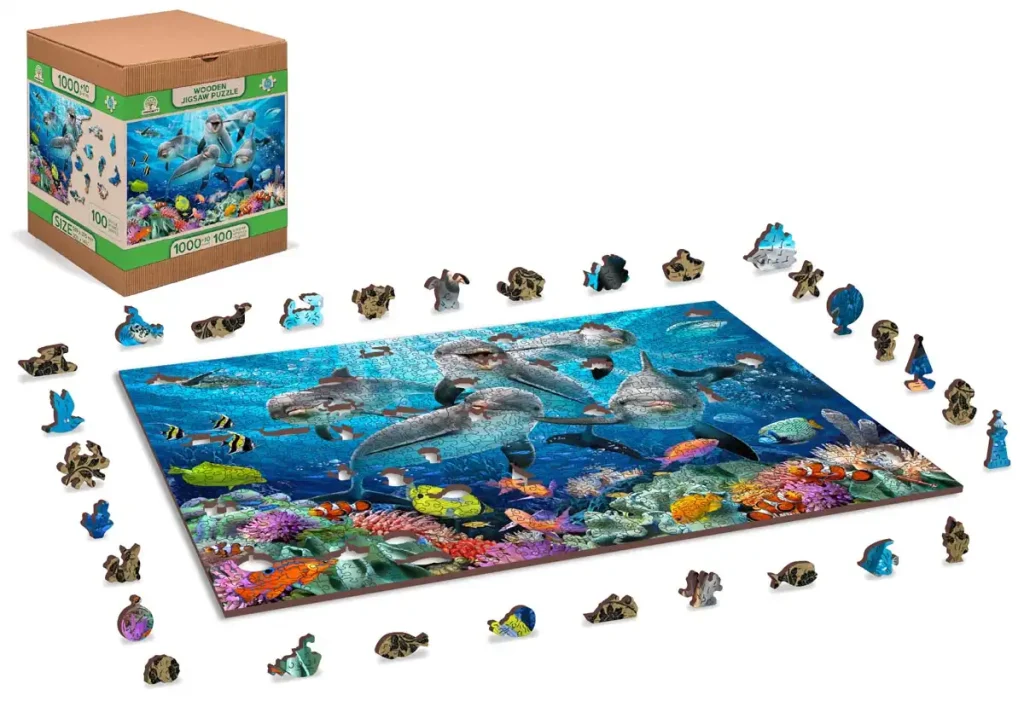 Double the Fun with Dual-Sided Details
Flip any piece, and you'll find a patterned underside that serves as a helpful hint in your assembly journey. This dual-design feature not only challenges but also fascinates, adding another layer of depth to the solving process.
A Gift That Echoes
Thinking of a memorable present? The Happy Dolphins set serves as a perfect choice. Suitable for adults and youngsters over 14, it promises hours of engrossing fun. It's not just a mere pastime but an artwork that speaks volumes.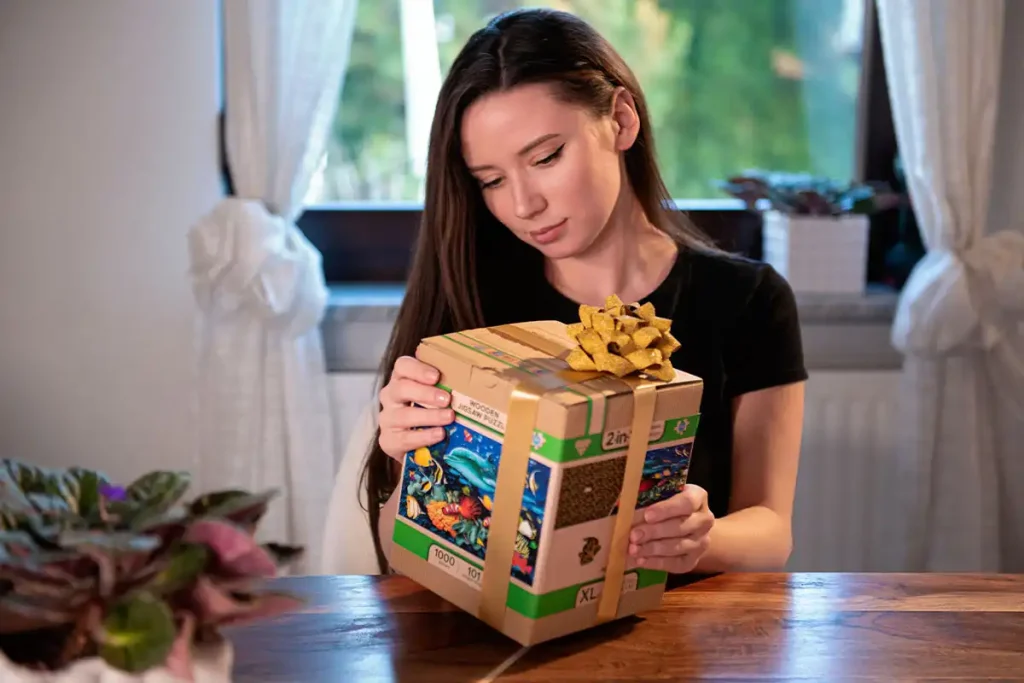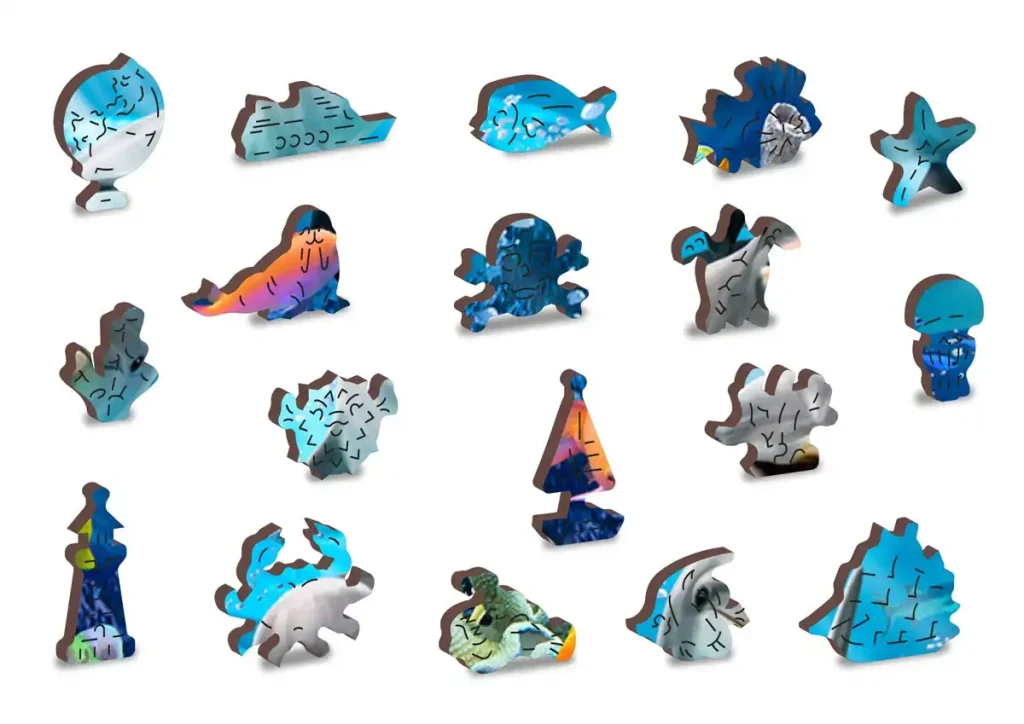 More Than Mere Entertainment
Once completed, the allure of the vibrant marine tableau beckons you to display it. Frame it and let it adorn your wall, turning an entertainment piece into an exquisite decor item.
Cherishing Moments with Family
Engaging with this item provides an excellent avenue for family bonding. As you fit each unique piece, conversations spark, laughter echoes, and memories get crafted. It's an ideal way to strengthen ties and spend quality time with loved ones.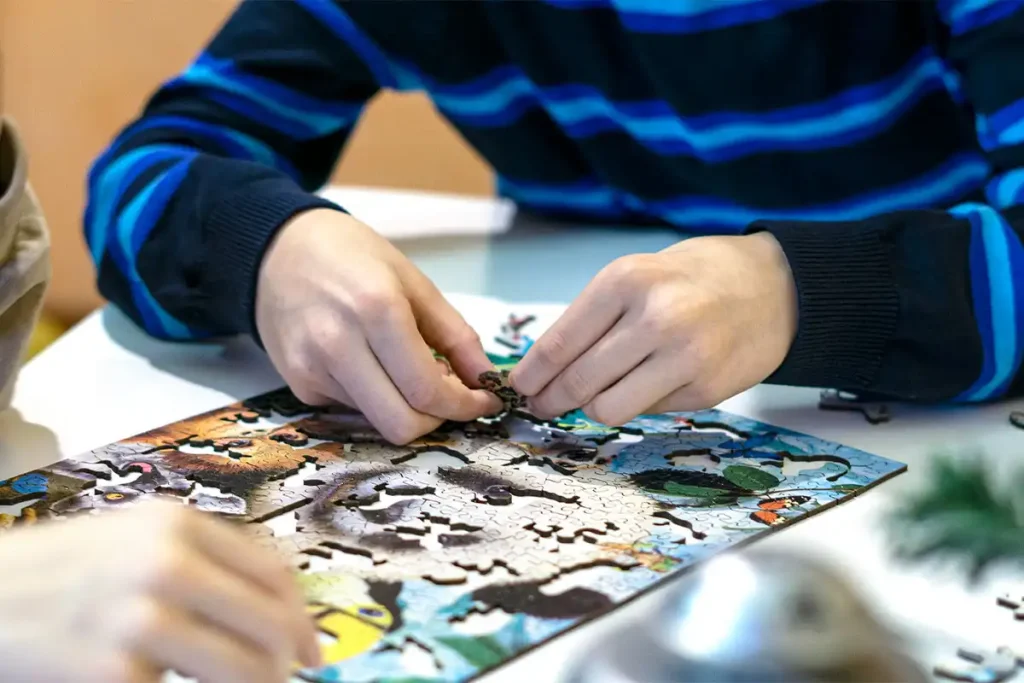 Characteristics
Series/Article
OC 1010-0104-XL
Age
14 +
Number of elements
1000 pcs
Number of whimsies
100 pcs
Assembled size
H: 20.43" (51,9 cm)
W: 14.76" (37,5 cm)
Packaging size
H: 7.87" (20 cm)
W: 6.57" (16,7 cm)
D: 6.57" (16,7 cm)
Packaging weight
1,34 lb (0,61 kg)
Puzzle thickness
0.12″ (0,3 cm)
Assembly time
13h
Artist
Howard Robinson
Type of Cut
Ocean
Back side
In conclusion
The "Happy Dolphins" is more than just an assembly task. It's a journey, an artwork, and a narrative of the aquatic world. Embark on this adventure, let every piece tell its story, and revel in the collective beauty it unveils.