Unravel the Wooden Puzzle Magic
The Wooden Puzzle takes you to a picturesque setting by the sea. Imagine the sun setting, casting a golden hue over the tranquil waters where a sailboat gracefully drifts. The shore, alive with the gentle sounds of seabirds – seagulls to be precise, meandering along the sands. In the heart of this scene, a wooden gazebo stands, housing two inviting sun loungers surrounded by a haphazardly placed hat, towels, and a basket. As if this isn't enchanting enough, a hammock sways gently in the breeze, beckoning one to relax and dream. The foreground blooms with vibrant flowers, a table set with a platter of fresh fruits and two glasses, suggesting a romantic escapade. And for those looking for a splash of adventure, two surfboards are poised by the shore, waiting for their next wave.
Stunning Visuals
Every piece promises vibrant colors that paint a vivid picture of a summer evening, making the assembly process both challenging and visually rewarding.
Unique in Every Way
Crafted meticulously, each piece is distinct in shape. Thematic elements, be they animals or landmarks, are embedded within, turning the jigsaw-making process into an intriguing journey of discovery.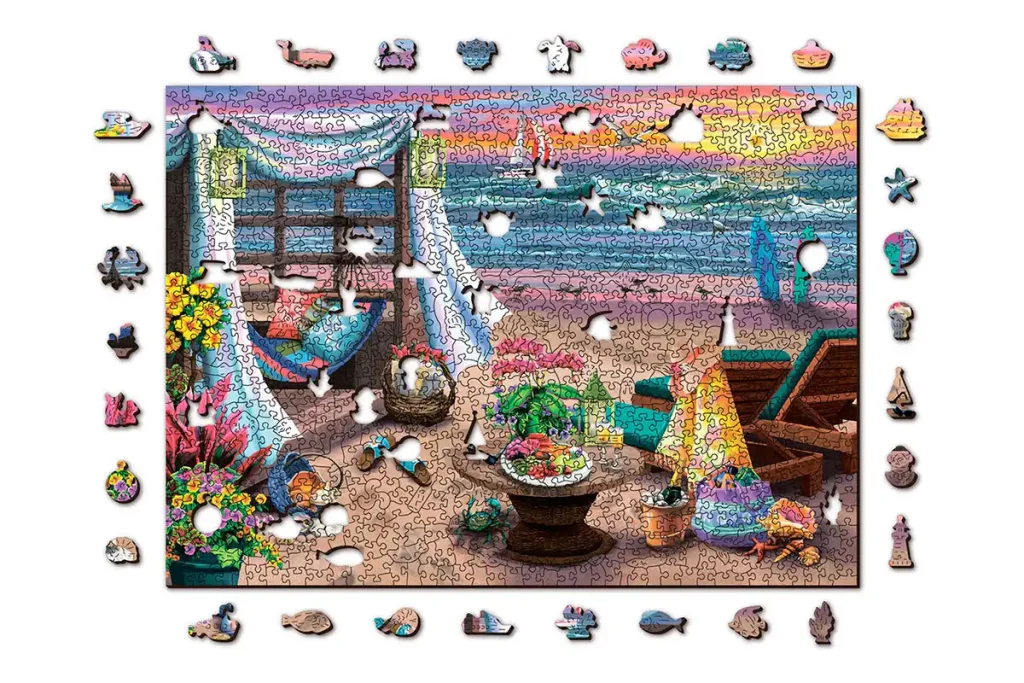 An Ideal Gift
This is the perfect present for those who cherish memories of summer vacations and seek a blend of relaxation and mental stimulation.
More than Just Entertainment
Beyond being an engaging activity, this scene, once completed, stands as a stunning artwork, breathing life into any space it occupies.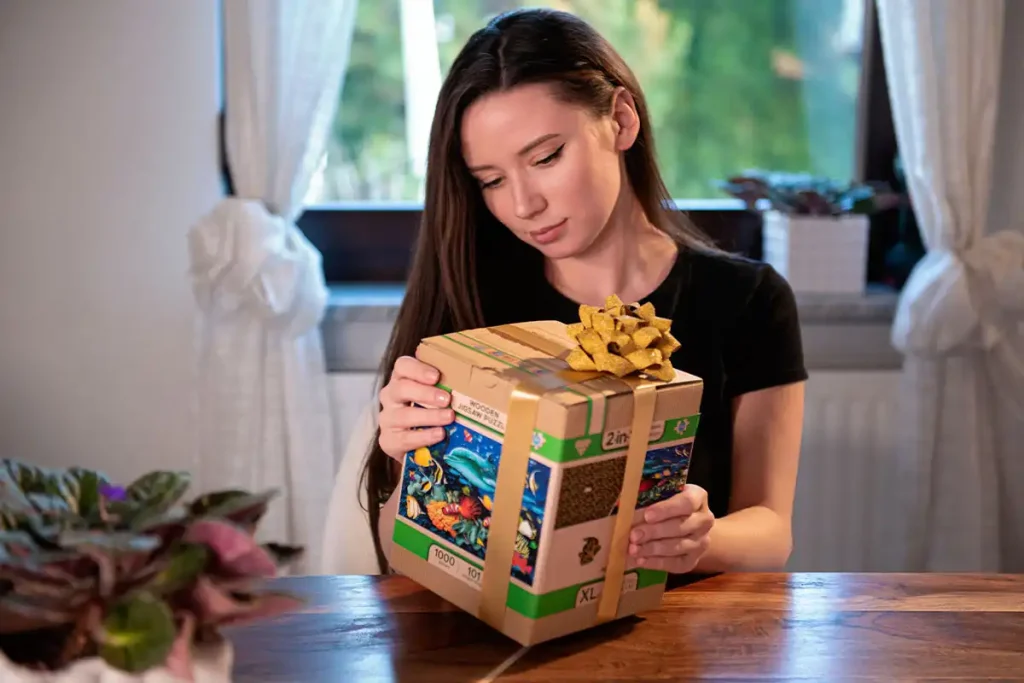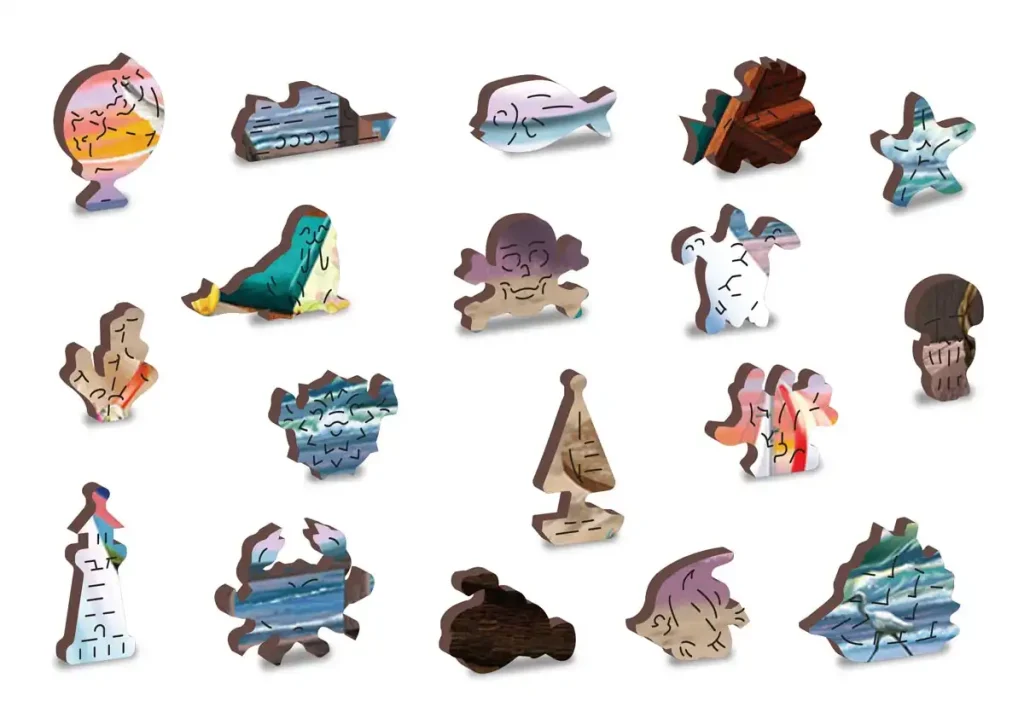 A Family Endeavor
Diving into becomes an excellent way to bond with family, reliving past vacations, and planning future ones.
Two-sided Intrigue
Adding to its allure, every piece boasts patterns on its flip side, aiding in the assembly, making it a unique two-sided treasure.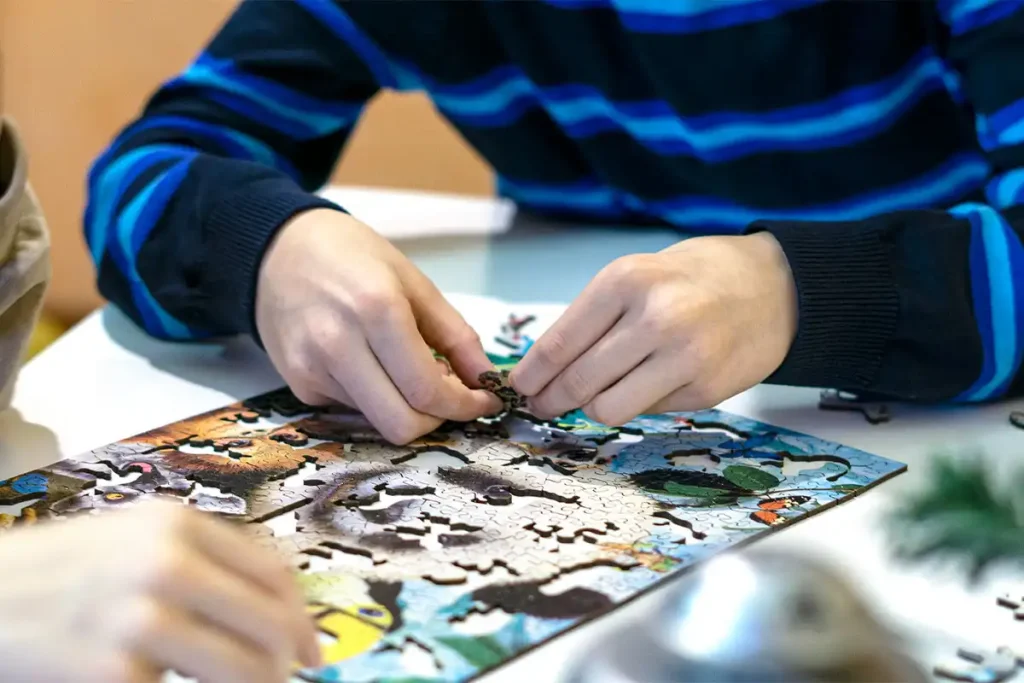 Characteristics
Series/Article
OC W 750-0061-XL
Age
10 +
Number of elements
750 pcs
Number of whimsies
75 pcs
Assembled size
H: 20.43" (51,9 cm)
W: 14.76" (37,5 cm)
Packaging size
H: 7.87" (20 cm)
W: 6.57" (16,7 cm)
D: 6.57" (16,7 cm)
Packaging weight
1,34 lb (0,61 kg)
Puzzle thickness
0.12″ (0,3 cm)
Assembly time
10h
Artist
Nancy Wernersbach
Type of Cut
Ocean
Back side
As a conclusion, the "Summertime 750" transcends beyond being just a game. It's an experience, a memory, a window to countless summer stories waiting to be told. Dive into this picturesque narrative, piece by piece, and let it adorn your walls as a timeless testament to the beauty of summer.