Experience the Wooden Shaped Puzzle Magic
Dive into this Wooden Shaped Puzzle masterpiece that paints an evocative scene of a zebra, leopard, and flamingo against a backdrop of lush jungles. This isn't just a test of cognitive skills but a journey through a vibrant ecosystem.
The Jungle's True Essence
Every piece of the Jungle 155 tells a story. Zebra stripes, the leopard's elusive spots, and the flamingo's graceful curve are just the beginning. As you delve deeper, you'll uncover the majesty of jungles in each unique piece, bringing the forest's whispers right into your hands.
Unique in Every Sense
At the heart of Jungle 155 lies its distinction. Each of its 155 fragments boasts a unique shape, with some even taking on the silhouettes of wild animals or landmarks, infusing the assembly process with added excitement and discovery.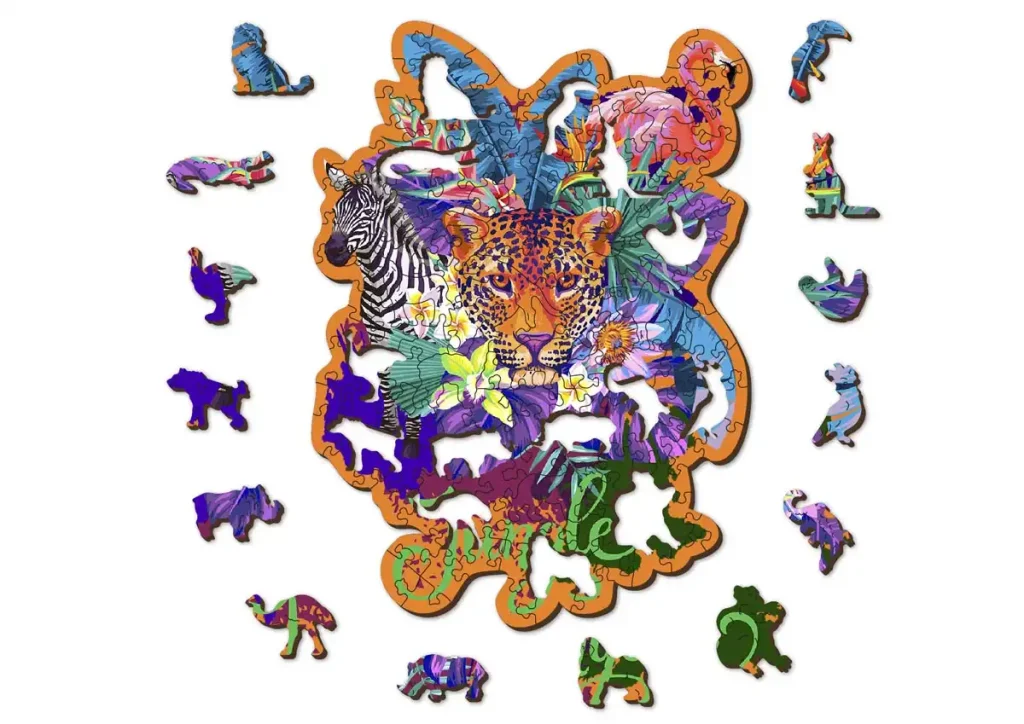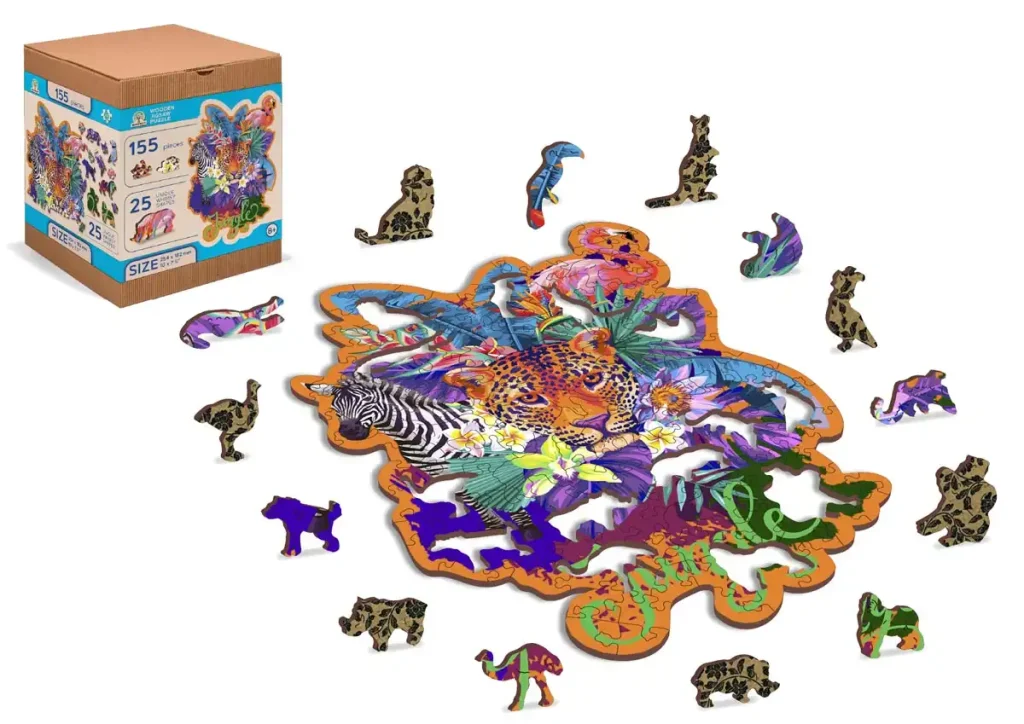 A Journey on Both Sides
With a twist of two-sided intrigue, the reverse of each piece reveals a pattern, acting as a guiding light, an added layer of challenge, or a delightful surprise during the assembly journey.
For All, Young and Old
Tailored for adults and spirited young minds above 8, Jungle 155 is an inclusive experience. An adult can immerse in this journey alongside a child, making it not just a cognitive challenge but a bonding activity.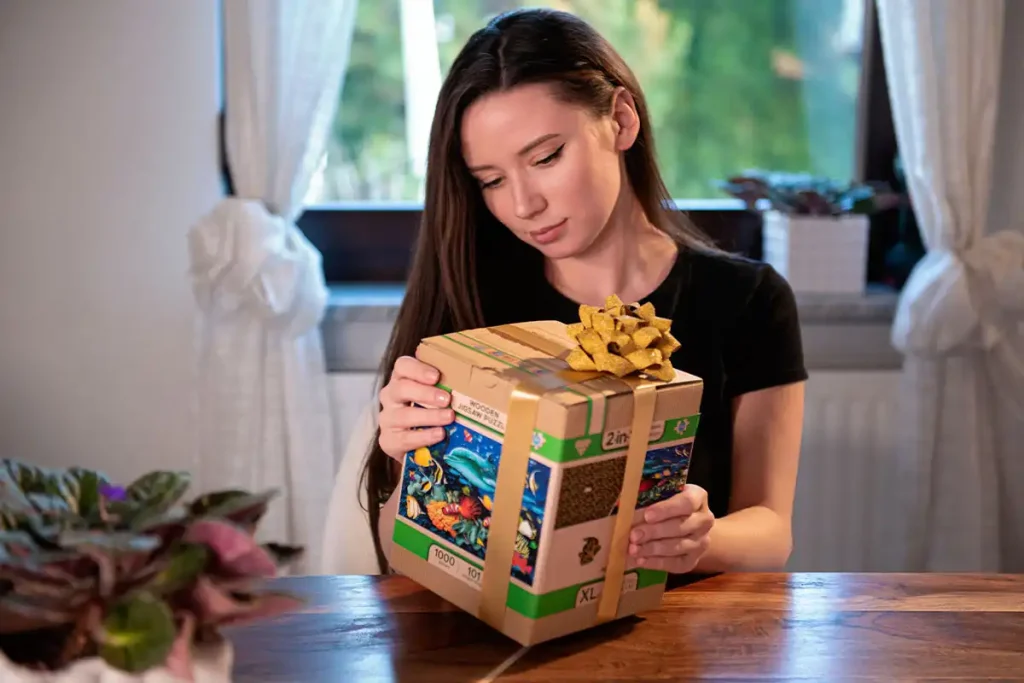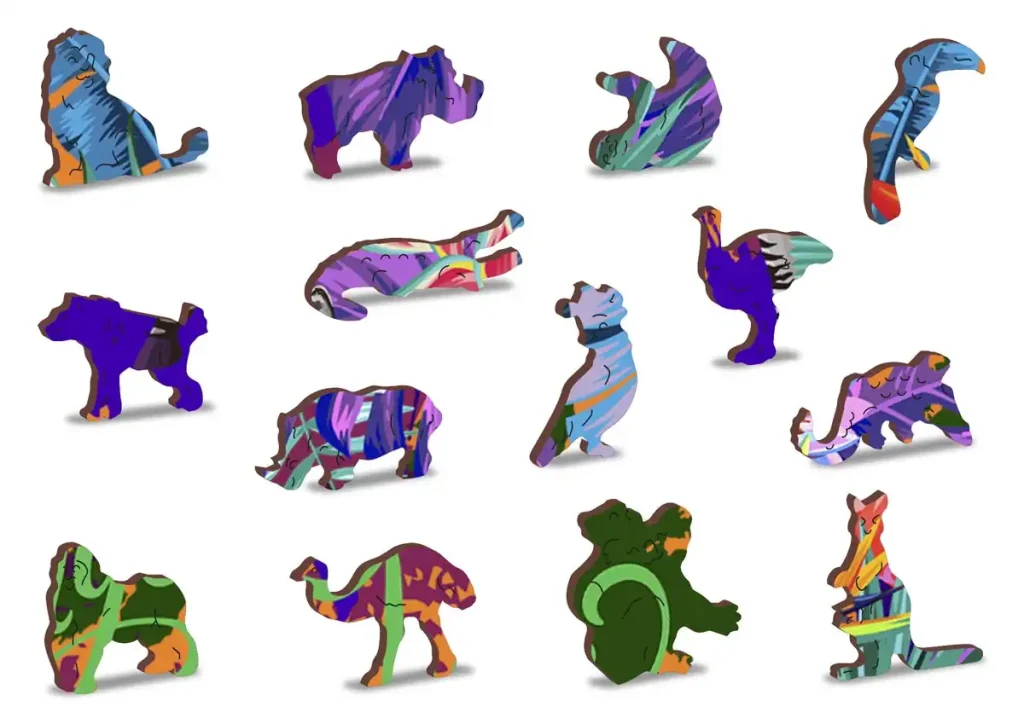 More Than a Keepsake
Beyond its captivating assembly journey, Jungle 155 stands as an emblem of beauty and art. It makes for a thoughtful gift, embodying patience, collaboration, and the allure of nature's wonders.
From Table to Wall
Once the jungle comes alive, don't let it stay hidden. This masterpiece deserves to be showcased, ready to be mounted on a wall, narrating its tale to every onlooker.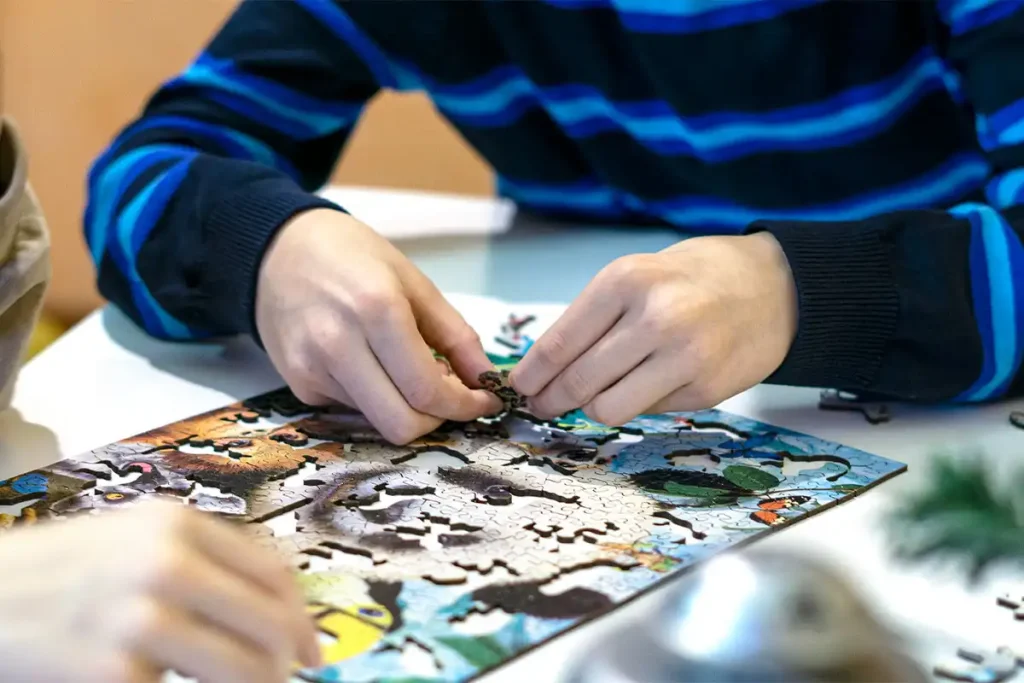 Time Well Spent
Engaging with Jungle 155 is more than a pastime; it's an avenue to foster relationships. Assembling this piece is an excellent way to spend quality time with family, creating memories while piecing together a story.
Characteristics
Series/Article
HE 0038-M
Age
8+
Number of elements
155pcs
Number of whimsies
25pcs
Assembled size
H: 10" ( 25,4cm)
W: 7.16" (18,2cm)
Packaging size
H: 5.98" (15,2 cm)
W: 4.92" (12,5 cm)
D: 4.92" (12,5 cm)
Packaging weight
0,51 lb (0,235 kg)
Puzzle thickness
0.12″ (0,3 cm)
Assembly time
2.5h
Artist
shutterstock
Type of Cut
Animal
Back side

To conclude
Jungle 155 isn't just a product; it's an emotion, an experience, and a testament to European craftsmanship. Dive in, and let this Polish marvel wrap you and your loved ones in its jungle embrace.