Explore the Beauty of Wooden Puzzle: Birds in Love 250
Our Wooden Puzzle is a true work of art and entertainment combined. Comprising 250 meticulously designed pieces, it is suitable for both adults and children aged 10 and above. The vibrant colors and the puzzle's unique elements, each possessing its own distinctive shape, make the assembly process an immersive and engaging experience.
Thematic Precision
What sets our puzzles apart is their thematic precision. Whether you're embarking on an animal-themed adventure or a journey through iconic global landmarks, you'll encounter carefully designed thematic elements that enhance the pleasure of solving.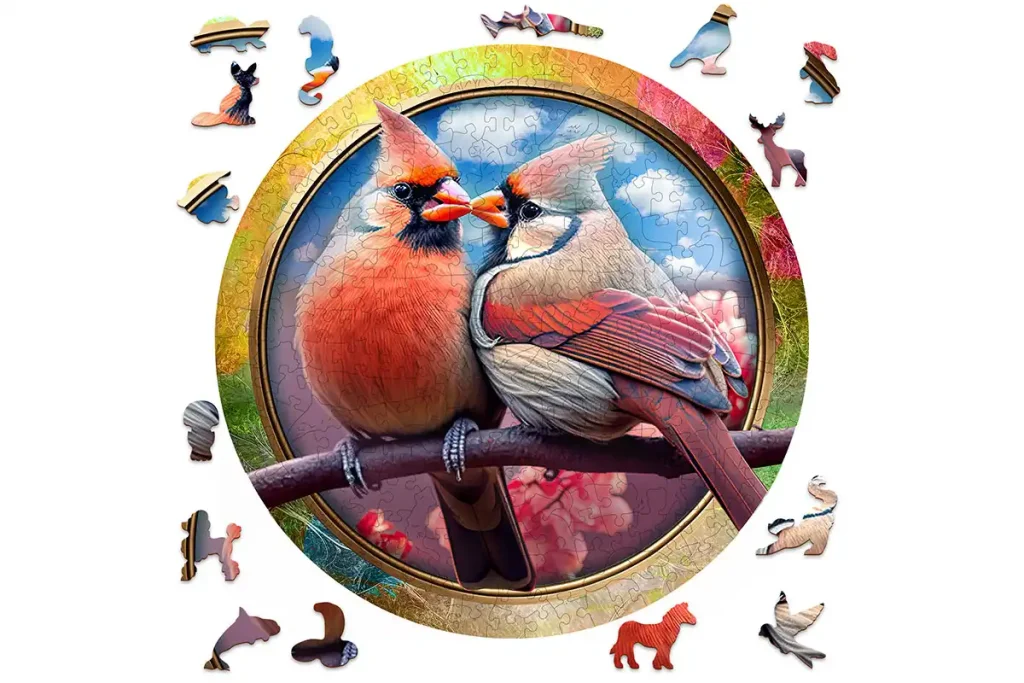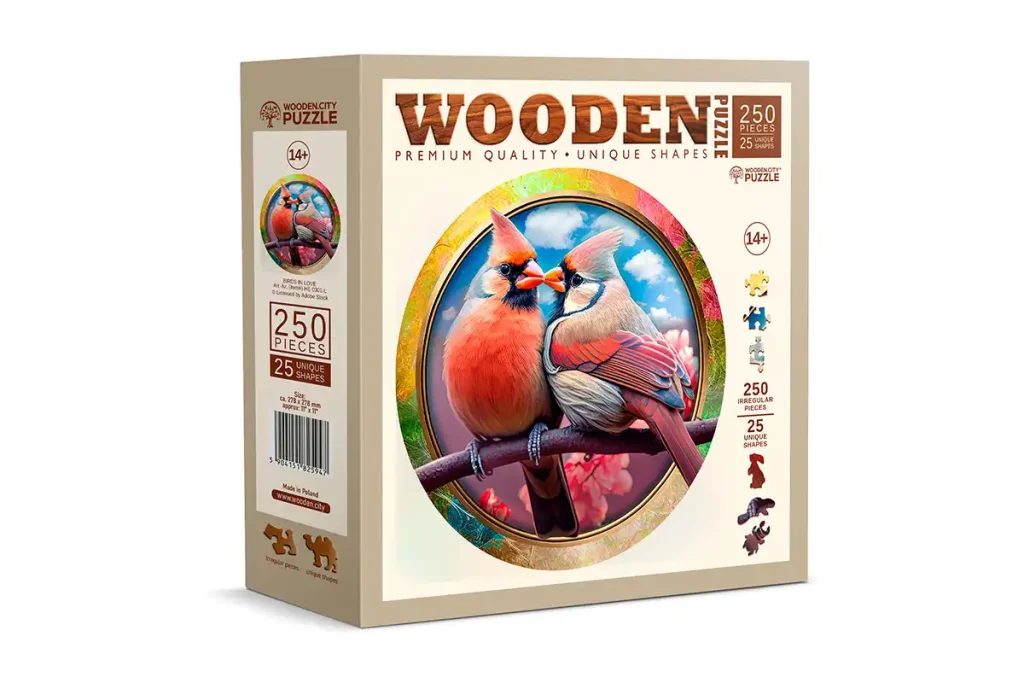 Creative Craftsmanship
Our puzzles are double-sided, featuring an intricate pattern on the reverse side that can assist in the assembly process. This delightful twist adds an extra layer of complexity and intrigue to your puzzle-solving experience.
The Perfect Gift
Looking for a unique and thoughtful gift? Look no further. The Birds in Love 250 Wooden Puzzle is a perfect present for puzzle enthusiasts, nature lovers, or anyone who appreciates the beauty of handmade craftsmanship. It's more than just a pastime; it's a work of art waiting to be revealed.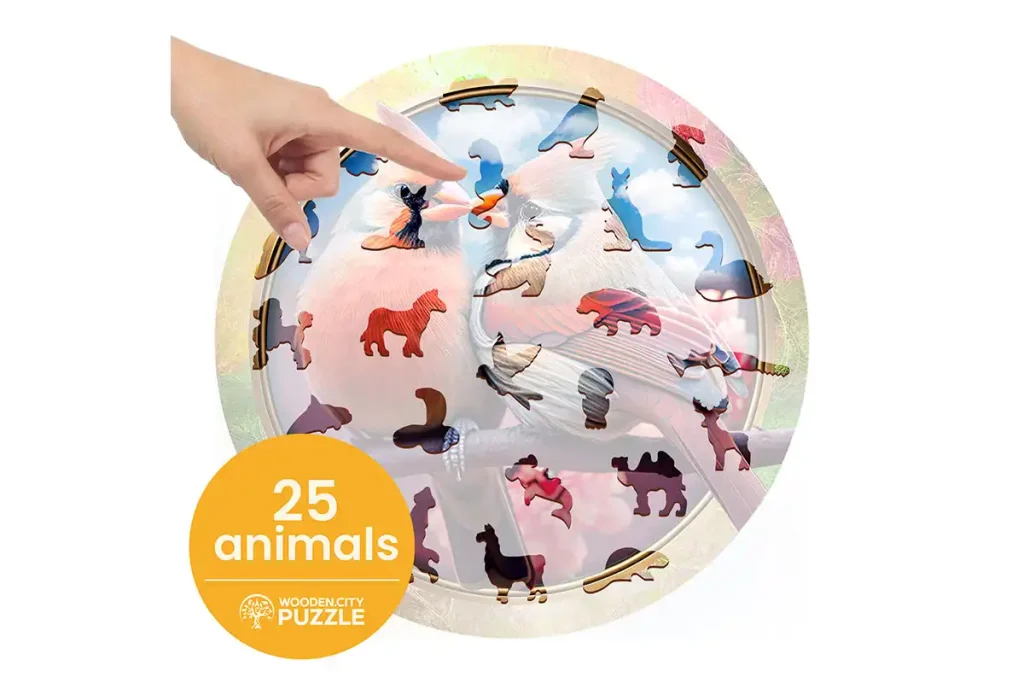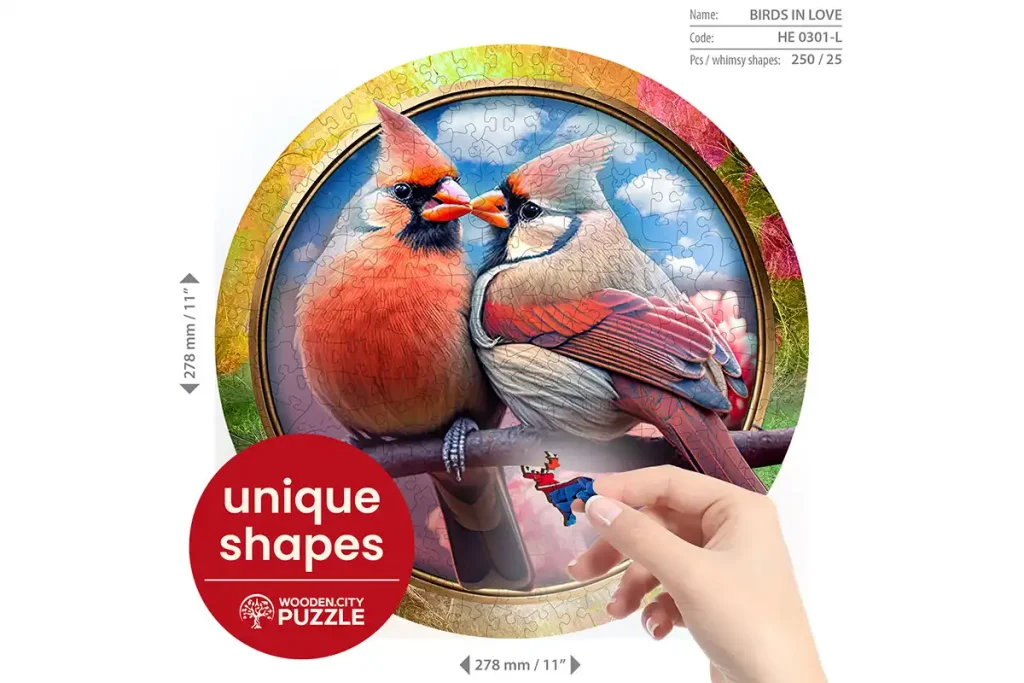 Elevate Your Decor
Once you've completed the challenge, can transcend mere entertainment; it can become a stunning piece of decor. Display it on your wall and let its captivating design become a conversation starter in your home. Assembling our conundrum isn't just a pastime; it's an excellent way to spend quality time with your family. It fosters bonding and teamwork, making it an ideal choice for family game nights and gatherings.
Characteristics
Series/Article
HE 0301-L
Age
10+
Number of elements
250 pcs
Number of whimsies
25 pcs
Assembled size
H: 11'' ( 27,8 cm)
W: 11'' ( 27,8 cm)
Packaging size
H: 7.8'' (20 cm)
W: 7.8'' (20 cm)
D: 2.24'' ( 5,7 cm)
Packaging weight
0,88lb (0,4 kg)
Puzzle thickness
0,12" (3 mm)
Assembly time
4h
Artist
Adobe Stock
Type of Cut
Animal
Each boasts its own thematic intricacies, ensuring that your mind-breaker solving experience is both enjoyable and visually captivating. Immerse yourself in the world of Birds in Love 250 and explore the enchanting scene captured within this circular masterpiece.
Experience the joy of discovery, the thrill of creation, and the satisfaction of completing the Birds in Love 250 . It's more than just a challenge; it's a journey through art and imagination