Embarking on a Celestial Journey with the Blue Zodiac 250 Wooden Puzzle
Welcome to the Blue Zodiac 250 Wooden Puzzle, an experience that transcends the ordinary. Ideal for both adults and kids over 10, this set is more than just an assembly of pieces; it's a voyage into the mesmerizing world of astrology.
Cosmic Exploration
Each step of the assembly process offers a tantalizing glimpse into the world of astrology. Featuring intricate depictions of zodiac symbols, the process becomes an intimate interaction with celestial wonders, offering more than just simple entertainment.
Exceptional Craftsmanship
Every piece in this set has a unique shape, making for an intriguing assembly experience. To heighten the challenge and engagement, some pieces take on forms resembling animals or iconic landmarks depending on the overall theme.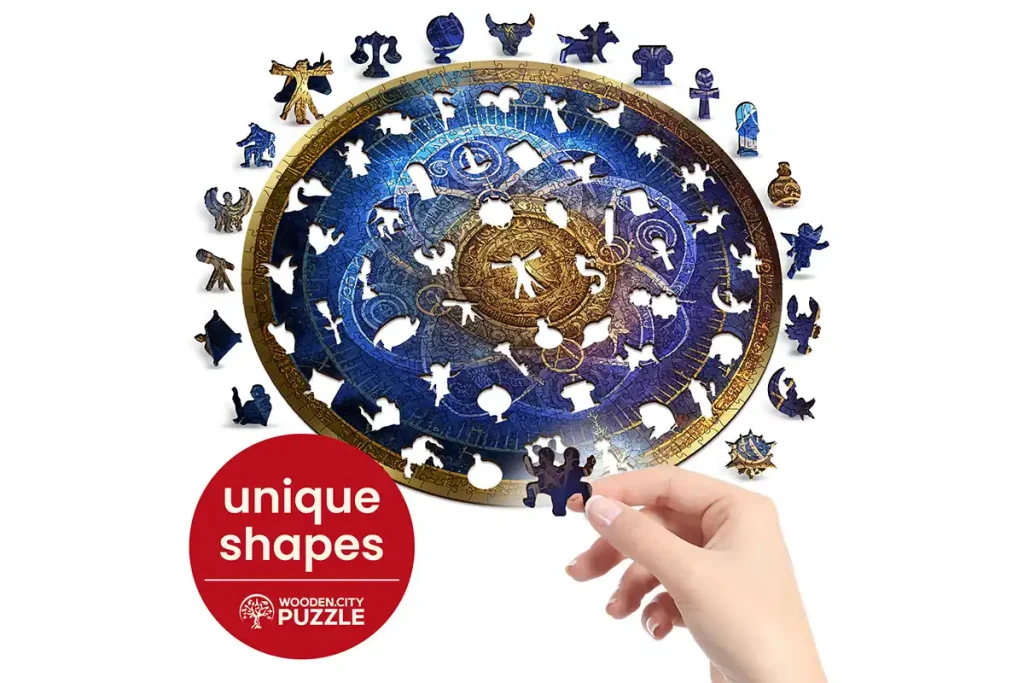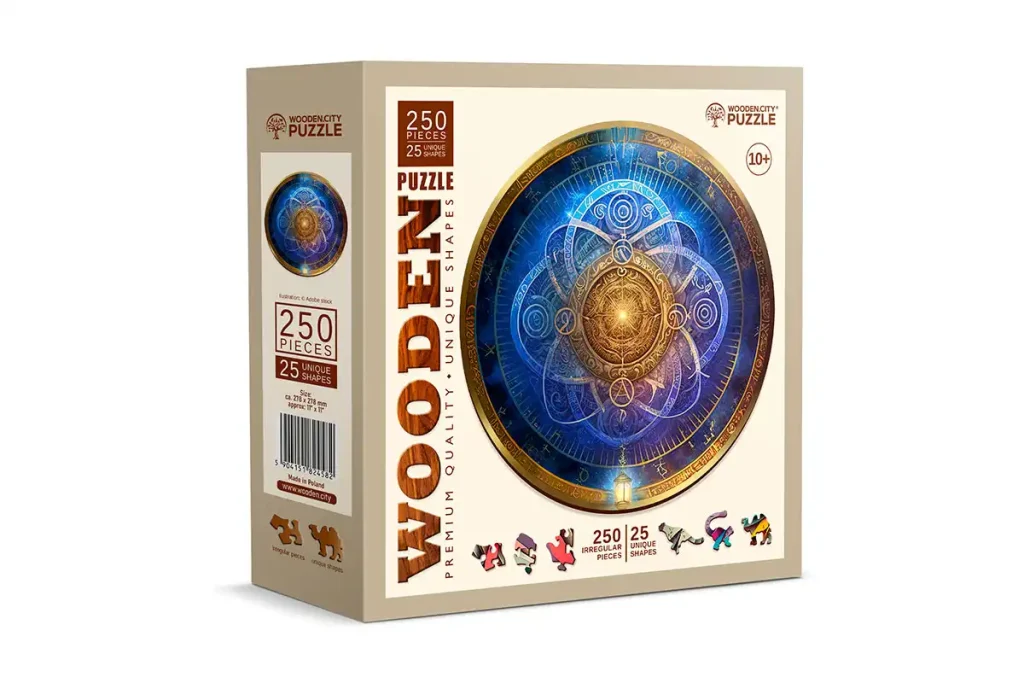 Rich Hues and Tones
The vibrant colors used in this set make the experience not just challenging but visually spectacular. The spectrum of colors is carefully chosen to complement the astrological theme, adding layers of depth to your assembly process.
The Ideal Gift
Looking for a perfect gift? Look no further. This set is a brilliant choice for any occasion, be it birthdays, anniversaries, or just a special day. Its thematic richness and stimulating experience make it a gift that's both thoughtful and engaging.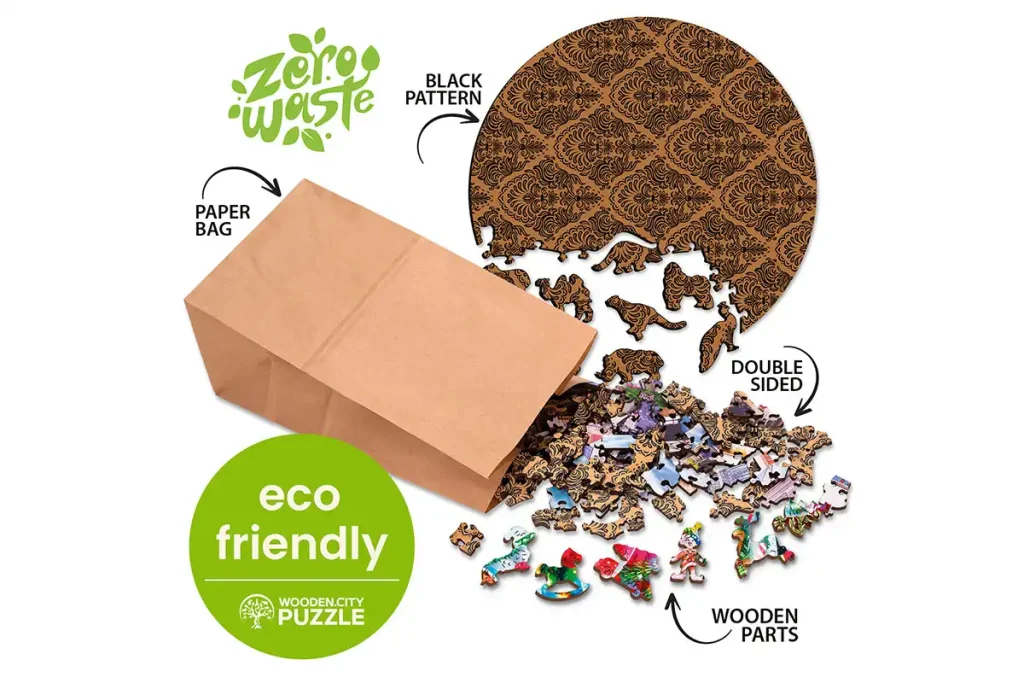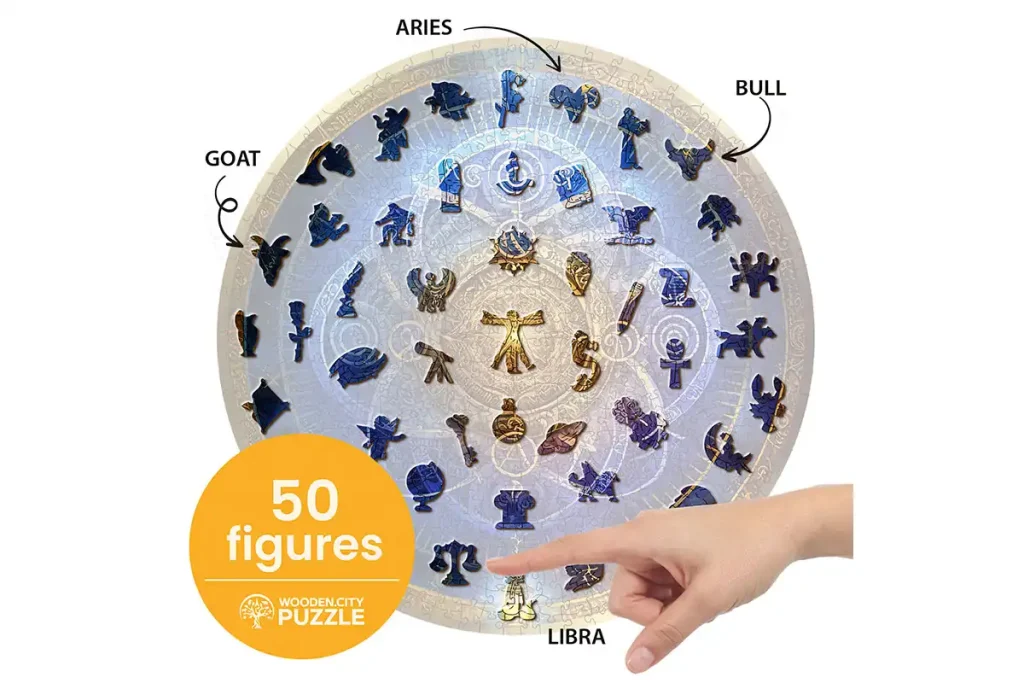 Two Sides to Every Piece
What sets this set apart is its two-sided pieces. The reverse side of each piece features an additional pattern, offering optional clues that can either make the task easier for beginners or offer a different kind of challenge for puzzle aficionados.
Family Time Enriched
This set offers a perfect way to bond with your family. Its assembly becomes a collective endeavor that fosters teamwork, problem-solving skills, and most importantly, lots of fun.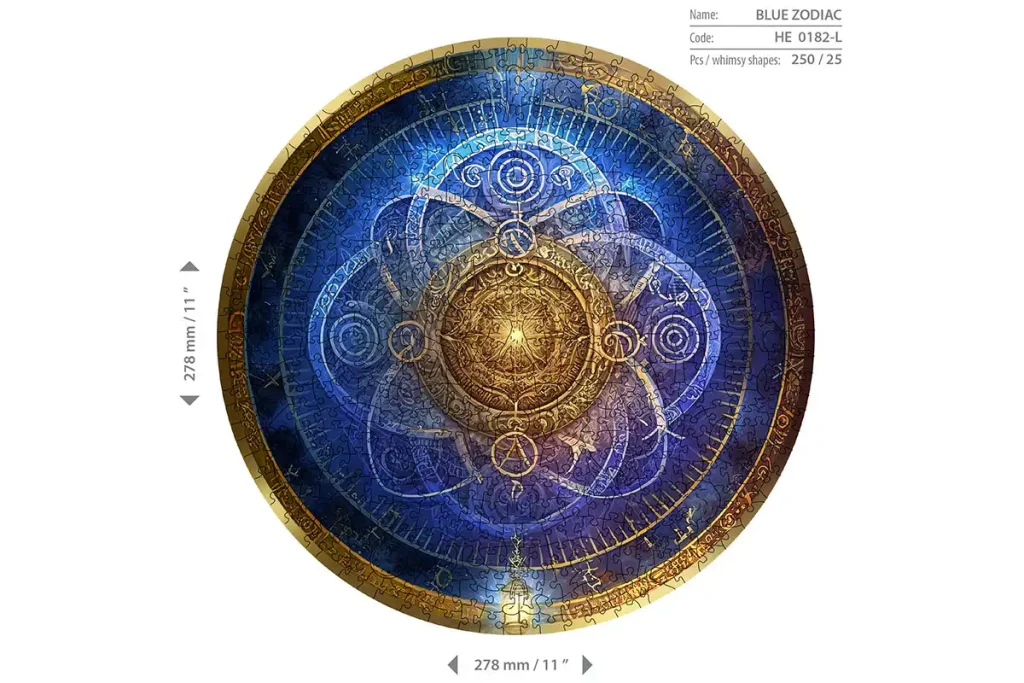 Thematic Consistency
Each set comes with its own theme-specific cuts, adding layers of interest and engagement. For instance, in sets themed around animals, you will find animal-shaped pieces. In sets themed around travel, look out for pieces resembling famous landmarks.
Series/Article
HE 0182-L
Age
10+
Number of elements
250 pcs
Number of whimsies
25 pcs
Assembled size
H: 11'' ( 27,8 cm)
W: 11'' ( 27,8 cm)
Packaging size
H: 7.8'' (20 cm)
W: 7.8'' (20 cm)
D: 2.24'' ( 5,7 cm)
Packaging weight
0,88lb (0,4 kg)
Puzzle thickness
0,12" (3 mm)
Assembly time
4h
Artist
Adobe Stock
Type of Cut
Animal
Completing an Art Piece
Once finished, this celestial creation serves not just as a testament to your skill and patience, but also as a gorgeous art piece. Its unique round form and vivid imagery make it an aesthetic addition to any living space.
In conclusion, the Blue Zodiac 250 offers more than a simple pastime; it offers a transformative experience. From its captivating theme and distinctive craftsmanship to the collective joy it brings, this set is a singular journey into a realm of wonder and beauty.