The Wooden Puzzle: An Experience Beyond Ordinary
Engage with this Wooden Puzzle and find yourself immersed in a uniquely transformative experience. Designed for adults and children above the age of 10, this 250-piece collection is more than just a pastime. The puzzle takes on a circular shape, enhancing the challenge and joy of the assembly process.
Distinct Pieces for Unique Assembly
Each element within the 250-piece set boasts an individual shape, differing from standard sets. As you assemble, you'll find that the uniqueness extends beyond the vivid images to the physical form of every component, making it an exploration rather than a routine activity.
Thematic Elements that Add Excitement
The experience is enriched by pieces shaped like animals or landmarks, depending on the subject of the set. For the Happy Dog 250, expect delightful thematic surprises that make assembly more captivating.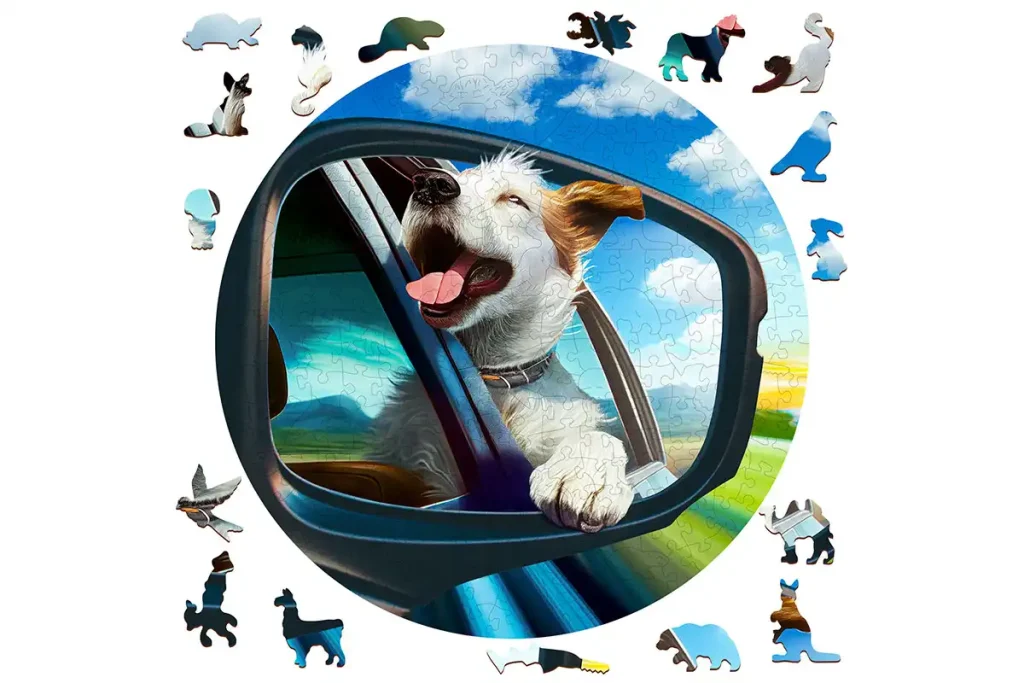 The Ideal Gift Choice
Searching for a gift that transcends the usual? Look no further. This 250-piece experience is an amalgamation of a challenging activity, a shared familial venture, and a potential piece of art, offering both entertainment and aesthetic value.
Double-Sided Versatility
Each piece is designed with a pattern on the reverse side, which can serve as a helpful hint during assembly. This feature adds a fresh layer of challenge and enjoyment, suitable for both newcomers and seasoned enthusiasts.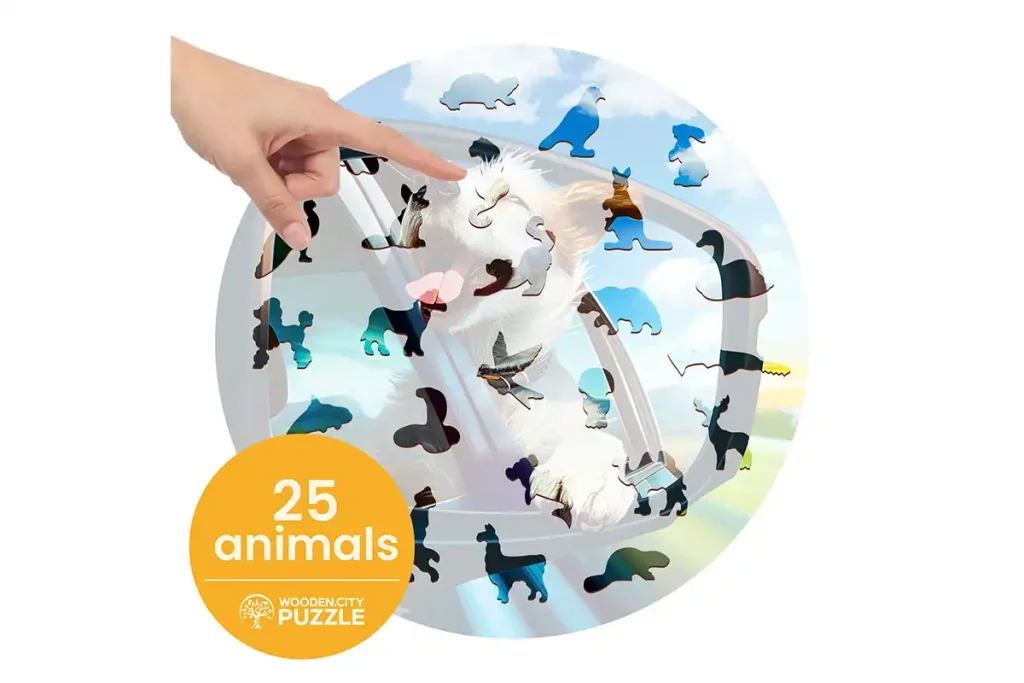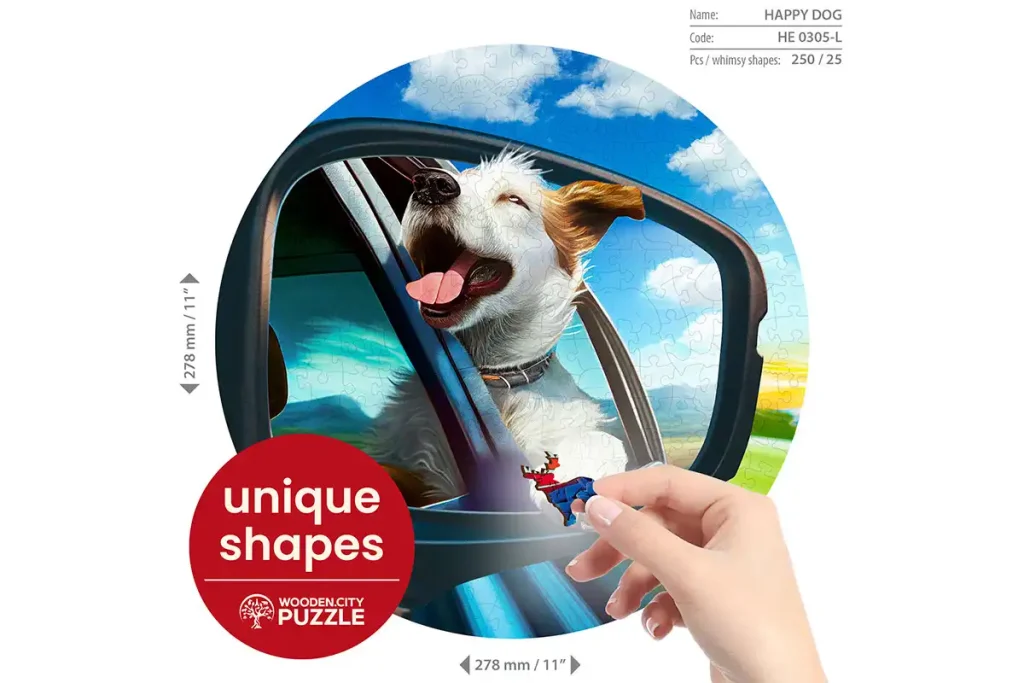 From Activity to Artwork
Once you have put together all the pieces, the completed set serves as an eye-catching work of art. Its bright colors and intricate details make it perfect for framing, enabling you to transform your time spent assembling it into a lasting memento.
Quality Time with Loved Ones
Assembling this 250-piece set is not just an individual accomplishment; it's an opportunity to strengthen familial bonds. As each piece finds its place, you're not only creating a beautiful representation but also building lasting memories.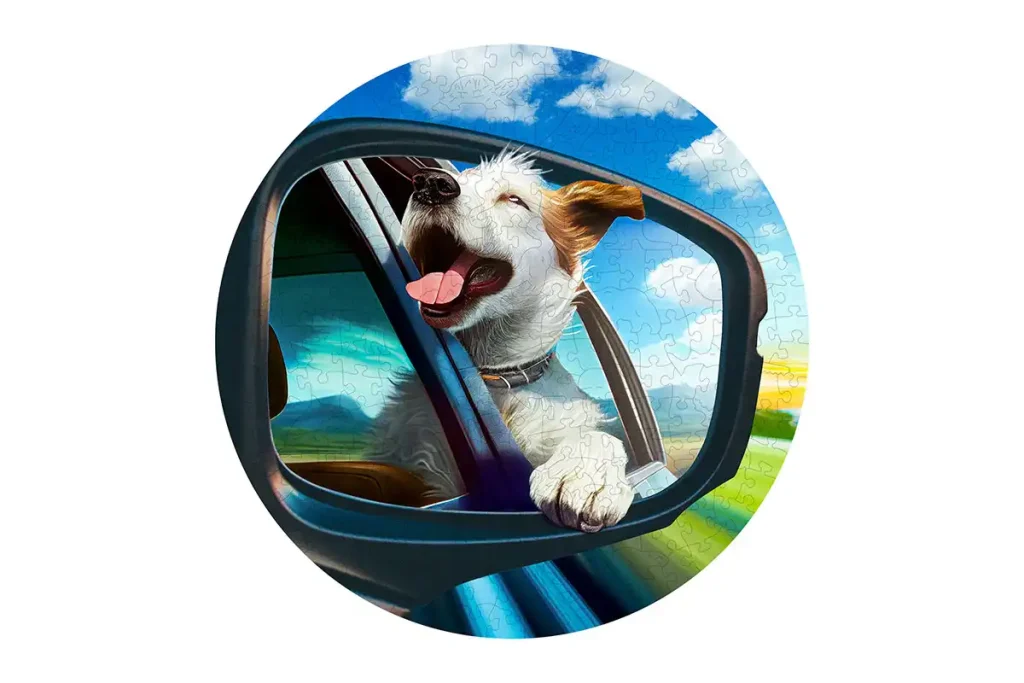 Themed Cutouts for Extra Joy
The sets are cut according to their themes, enhancing the overall experience. Expect unique animal-shaped elements in animal-themed sets and landmark shapes in sets centered on travel.
Characteristics
Series/Article
HE 0305-L
Age
10+
Number of elements.
250 pcs
Number of whimsies
25 pcs
Assembled size
H: 11'' ( 27,8 cm)
W: 11'' ( 27,8 cm)
Packaging size
H: 7.8'' (20 cm)
W: 7.8'' (20 cm)
D: 2.24'' ( 5,7 cm)
Packaging weight
0,88lb (0,4 kg)
Puzzle thickness:
0,12" (3 mm)
Assembly time
4h
Artist
Adobe Stock
Type of Cut
Animal
In conclusion, the Happy Dog 250 transcends the ordinary, offering a multifaceted experience that unites generations. From its colorful pieces and unique thematic elements to its dual-sided pieces, this set is not just a product but a keepsake of meaningful moments spent in good company.