Embark on the Wooden Puzzle Adventure
The Kitten Kitchen Capers 1000 offers not just an ordinary assembly experience but a mesmerizing peek into a lively kitchen scene.
Enter the World of Mischievous Kittens
Journey into a kitchen where little felines create delightful chaos. Vivid colors leap from each piece, painting a vibrant scene of kittens causing adorable mayhem amidst pots, pans, and pastries.
Distinct and Diverse Pieces
No two pieces are alike. Each one boasts its distinct shape, making the process both challenging and engaging. Thematic cuts set this creation apart. With animal-themed sets, unique animal silhouettes captivate the assembler's attention, while travel-themed editions are adorned with iconic landmarks, enhancing the overall experience.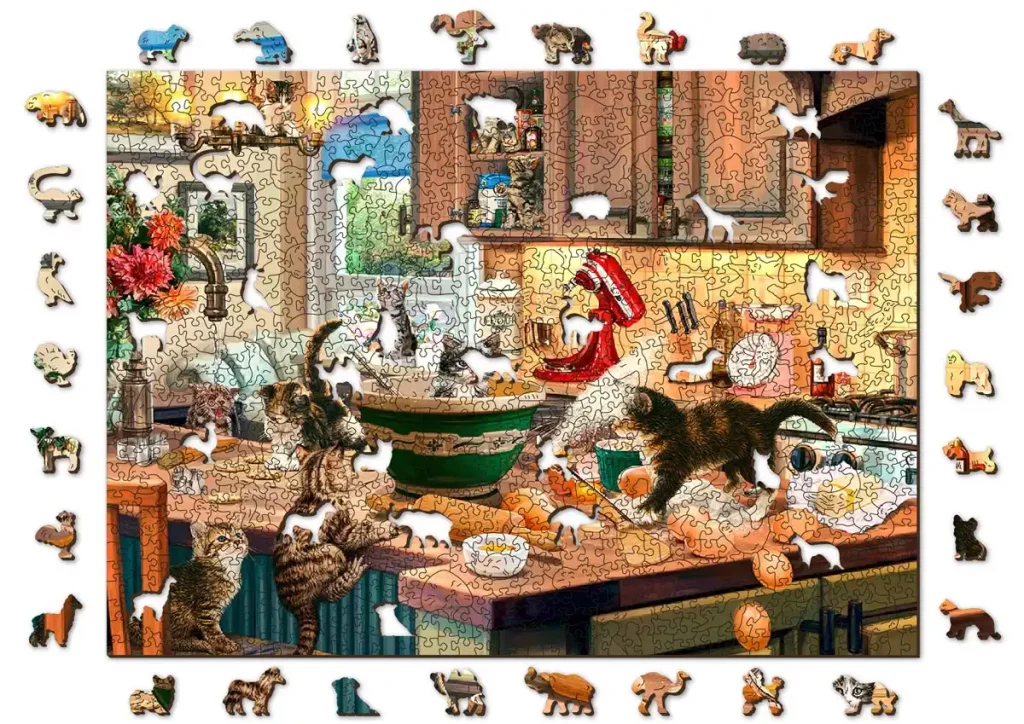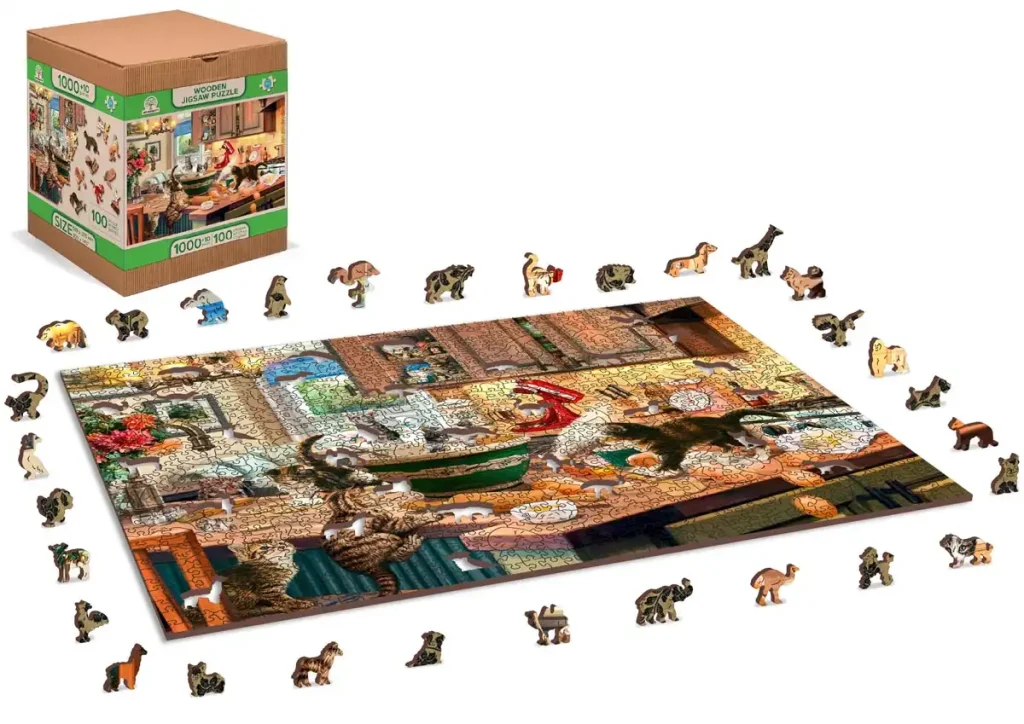 The Ideal Gift Choice
Searching for a memorable present? The Kitten Kitchen Capers is not merely a challenge but a journey through vibrant scenes, suitable for both adults and youngsters above 14. It's more than a gift; it's a captivating tale waiting to be unfolded.
Transform It into Artistic Décor
Once assembled, this intricate masterpiece needn't be hidden away. Its captivating imagery serves as a splendid decorative piece, poised to adorn your wall, ensuring your endeavors are consistently showcased.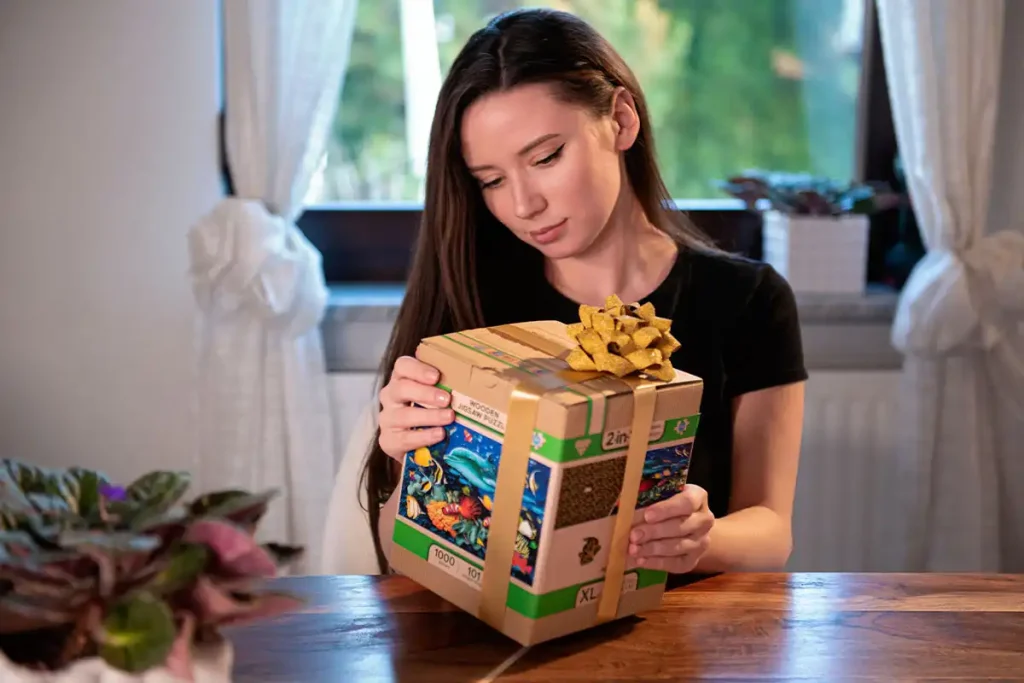 Family Bonding at Its Best
Engaging in this activity is an excellent way to bond with loved ones, offering a space for collaboration, conversation, and cherishing memories. The sheer joy of placing the last piece can become a moment to remember for all participants.
Discover Dual-sided Details
Adding to its uniqueness, each piece has details on both sides. The reverse side showcases patterns designed to aid in your assembly journey, ensuring every step is full of surprises.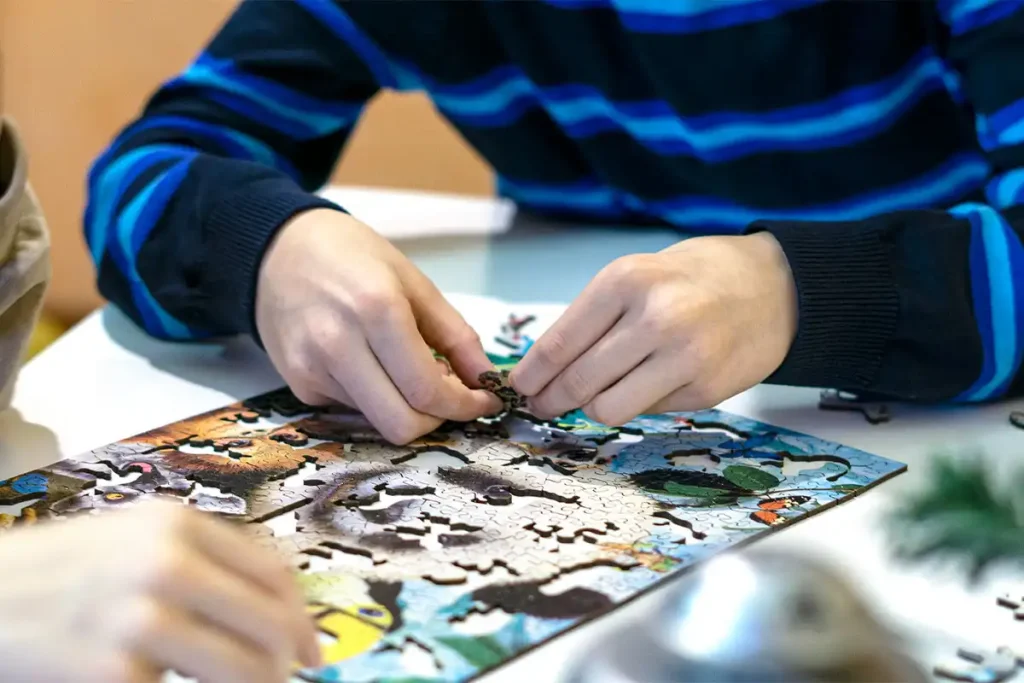 Characteristics
Series/Article
AN 1010-0139-XL
Age
14 +
Number of elements
1000 pcs
Number of whimsies
100 pcs
Assembled size
H: 20.43" (51,9 cm)
W: 14.76" (37,5 cm)
Packaging size
H: 7.87" (20 cm)
W: 6.57" (16,7 cm)
D: 6.57" (16,7 cm)
Packaging weight
1,34 lb (0,61 kg)
Puzzle thickness
0.12″ (0,3 cm)
Assembly time
13h
Artist
Steve Read
Type of Cut
Animal
Back side
In conclusion
The Kitten Kitchen Capers takes you on an enchanting adventure of colors, narratives, and shared moments. Whether assembling solo or with family, it promises an unforgettable experience, urging you to delve in, piece by piece, and relish every enchanting detail.