A Mesmerizing Wooden Puzzle Experience
This Wooden Puzzle brings forth the intricate charm of yesteryears, set against the backdrop of an American street brimming with holiday cheer. With every piece you place, you'll uncover stories of people bustling with their holiday shopping, the sparkling lights of the towering Christmas tree, and the vibrant colors of the season.
A Unique Assembly Awaits
Each puzzle piece boasts a distinct shape, ensuring a thrilling yet challenging experience. What sets our puzzles apart is the thematic cut in every set. With animal-themed puzzles, you'll find pieces uniquely shaped like the creatures they represent. Likewise, travel-inspired puzzles will surprise you with landmarks from around the world. To assist you further, the back of each two-sided piece features a pattern, serving as a helpful hint in your assembly journey.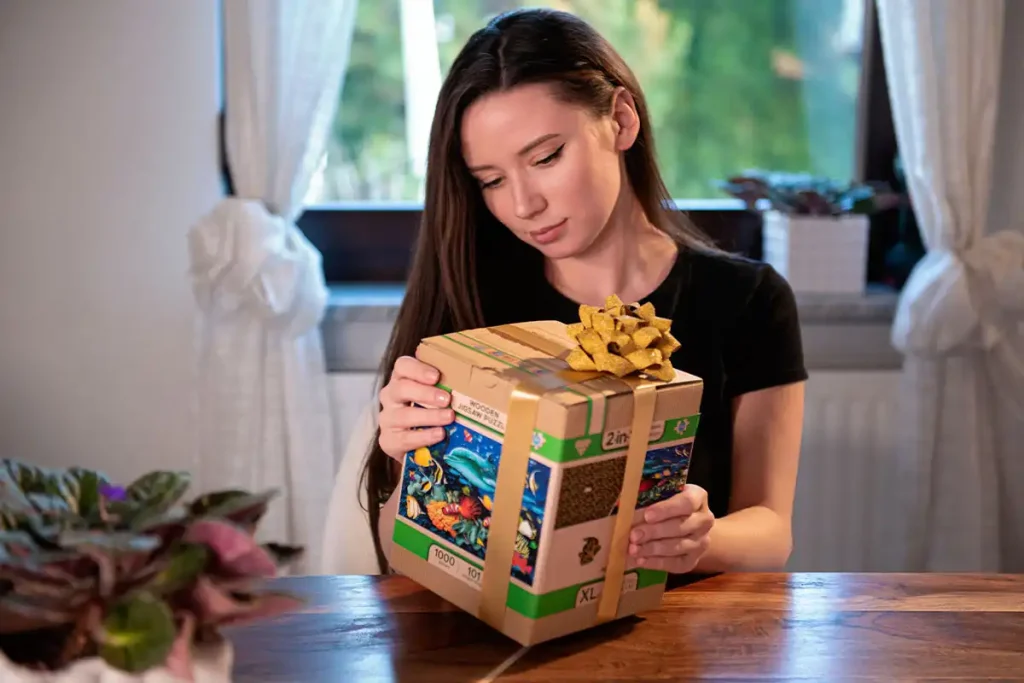 The Perfect Gift
Looking for an exceptional present that resonates with both heart and soul? The "Christmas Evening 1000" is not just a puzzle but a bridge to treasured memories. Assembling it is a delightful way to bond with family, fostering closeness and shared accomplishment. It's a gift of time, togetherness, and the joy of the season.
Characteristics
Series/Article
XM 1010-0164-XL
Age
14+
Number of elements
1010 pcs
Number of whimsies
100 pcs
Assembled size
H: 20.43" (51,9 cm)
W: 14.76" (37,5 cm)
Packaging size
H: 7.87" (20 cm)
W: 6.57" (16,7 cm)
D: 6.57" (16,7 cm)
Packaging weight
1,34 lb (0,61 kg)
Puzzle thickness
0.12″ (0,3 cm)
Assembly time
13h
Artist
D. Pirola
Type of Cut
Christmas
Back side
More Than Just Entertainment
Beyond the joy of assembly, this artwork transcends its form. Upon completion, it emerges as a stunning piece of decor. Proudly showcase it on your wall, letting it serve as a testament to your patience, skill, and the timeless allure of Christmas.
In conclusion, our puzzles offer more than a pastime; they invite you into a world of stories, challenges, and beauty. Let the "Christmas Evening 1000" be your gateway to festive enchantment, and a beautiful testament to cherished moments spent with loved ones.