Discover the Magic of a Wooden Puzzle
This Wooden Puzzle is a masterpiece of craftsmanship. Made in Poland, within the European Union, it represents the pinnacle of puzzle-making artistry.
Celebrate the holiday season with Santa's Joyful Journey 1000. Every piece of this puzzle tells a story of festive joy and winter wonder. The vibrant colors and detailed imagery will transport you straight to a Christmas village, creating a captivating experience for all.
Unique Puzzle Pieces for an Engaging Experience
Each piece of this puzzle is a work of art in itself, boasting a unique shape that challenges and delights. The inclusion of larger, thematic pieces such as animals and landmarks related to the puzzle's theme adds an extra layer of excitement to the assembling process.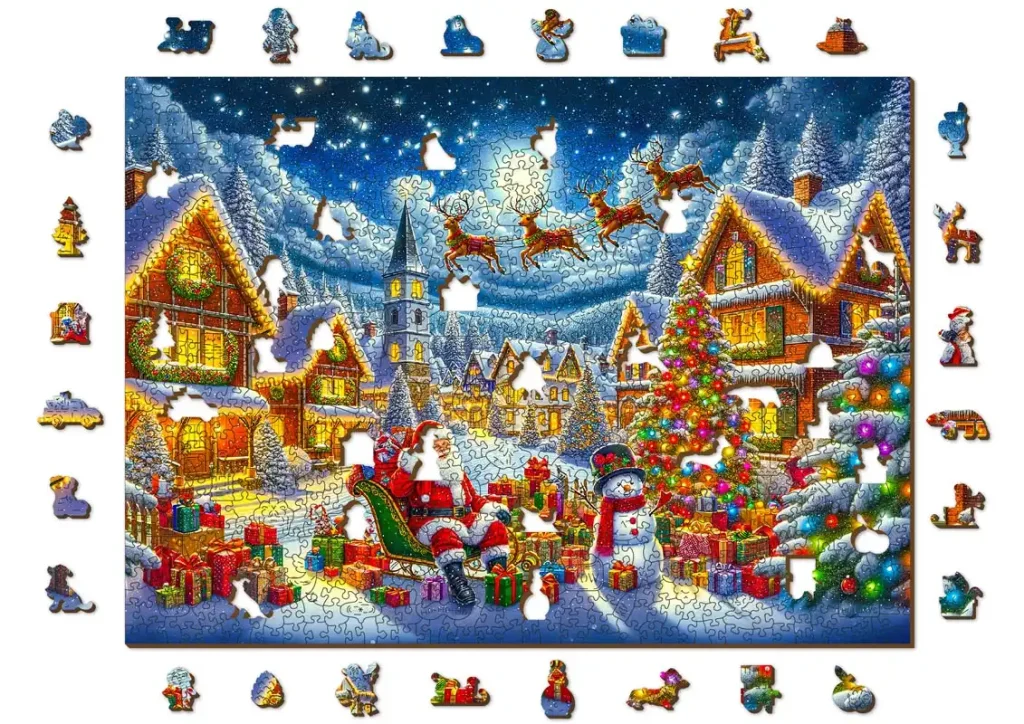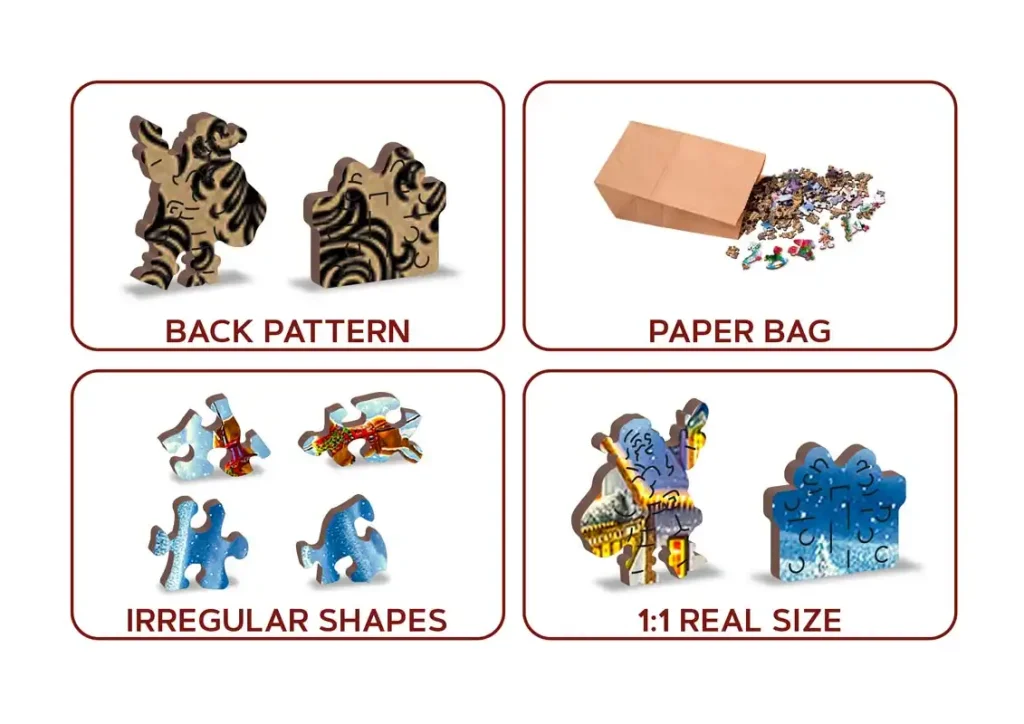 Perfect for Families and Puzzle Enthusiasts
Designed for adults and teenagers over 14 years, this puzzle offers a great way to spend quality time with family. The joy of fitting each unique piece together creates a memorable bonding experience for all.
An Ideal Gift
This puzzle is not just a game; it's a potential gift that brings people closer. Its captivating theme and design make it a perfect present for puzzle lovers and those who appreciate the art of puzzles.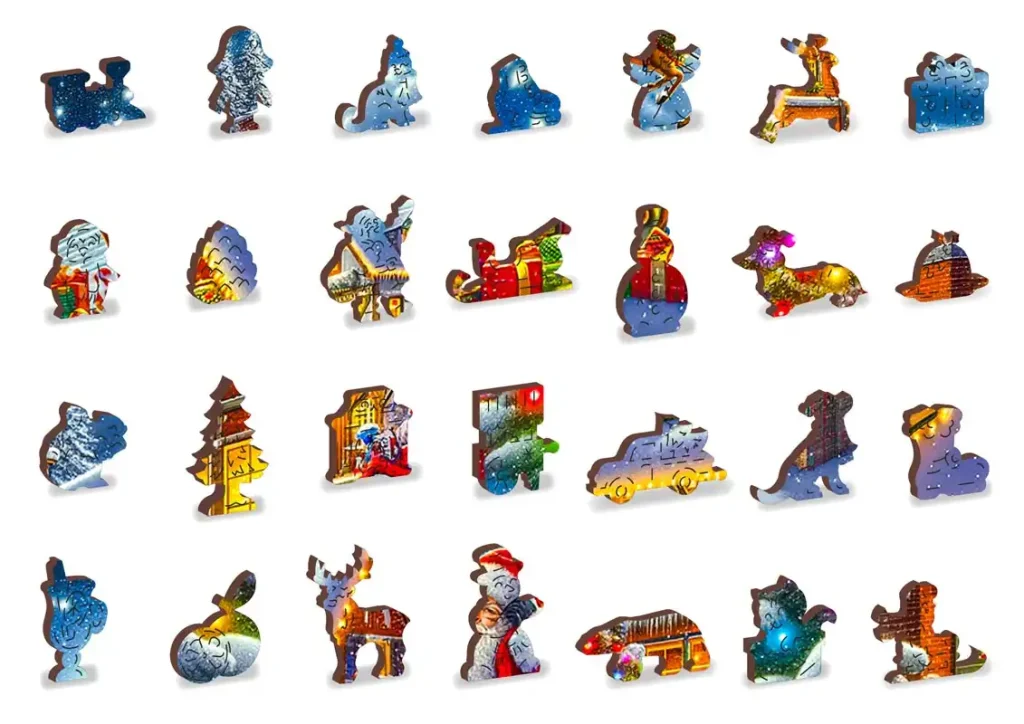 Elegant Home Decor
Once completed, Santa's Joyful Journey 1000 can be transformed into a charming wall decoration. Its captivating design and vivid colors make it an ideal piece to enhance the aesthetics of any room.
Theme-Centric Cut Pieces
Each puzzle in our collection features thematic cut pieces. For instance, puzzles with an animal theme will include unique animal-shaped pieces, while travel-themed puzzles will contain pieces shaped like famous landmarks.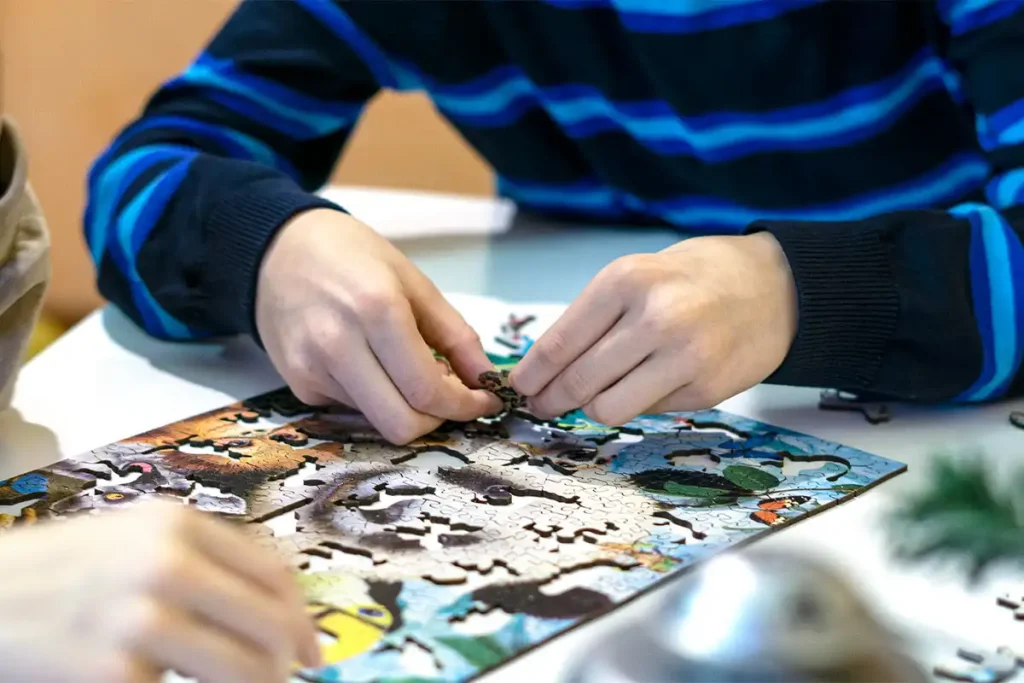 Two-Sided Puzzle for Added Challenge
Our puzzles are designed with a pattern on the back, aiding in the assembly process. This two-sided nature adds a new dimension to the puzzle-solving experience.
Characteristics
Series/Article
NB 0802-XL
Age
14+
Number of elements.
1010 pcs
Number of whimsies
100 pcs
Assembled size
H: 20.43" (51,9 cm)
W: 14.76" (37,5 cm)
Packaging size
H: 7.87" (20 cm)
W: 6.57" (16,7 cm)
D: 6.57" (16,7 cm)
Packaging weight
1,34 lb (0,61 kg)
Puzzle thickness:
0.12″ (0,3 cm)
Assembly time
13h
Type of Cut
Christmas
Back side
In conclusion, Santa's Joyful Journey 1000 is more than just a puzzle; it's an immersive experience that brings joy, challenges the mind, and serves as a beautiful piece of art. Perfect for family gatherings, it's a delightful way to spend time together and create lasting memories.