Unveiling the Magic of the Wooden Shaped Puzzle
Crafted with precision, the Wooden Shaped Puzzle presents a picturesque depiction of two dolphins embracing the depths of the ocean. Within these aquatic mammals, one can witness the intricate beauty of the ocean's abyss – a myriad of tiny fish darting through the water, turtles gliding gracefully, a sunken ship lying in its silent slumber, and a treasure chest overflowing with the riches of the sea.
A Whimsical Experience Awaits
This two-sided assembly is unique, with each piece boasting a pattern on its reverse, aiding enthusiasts in their assembly journey. The pieces are no ordinary cuts; they're tales in themselves. Depending on the theme, some narrate stories of wildlife or celebrate the iconic landmarks of diverse countries, ensuring each assembly experience remains unparalleled.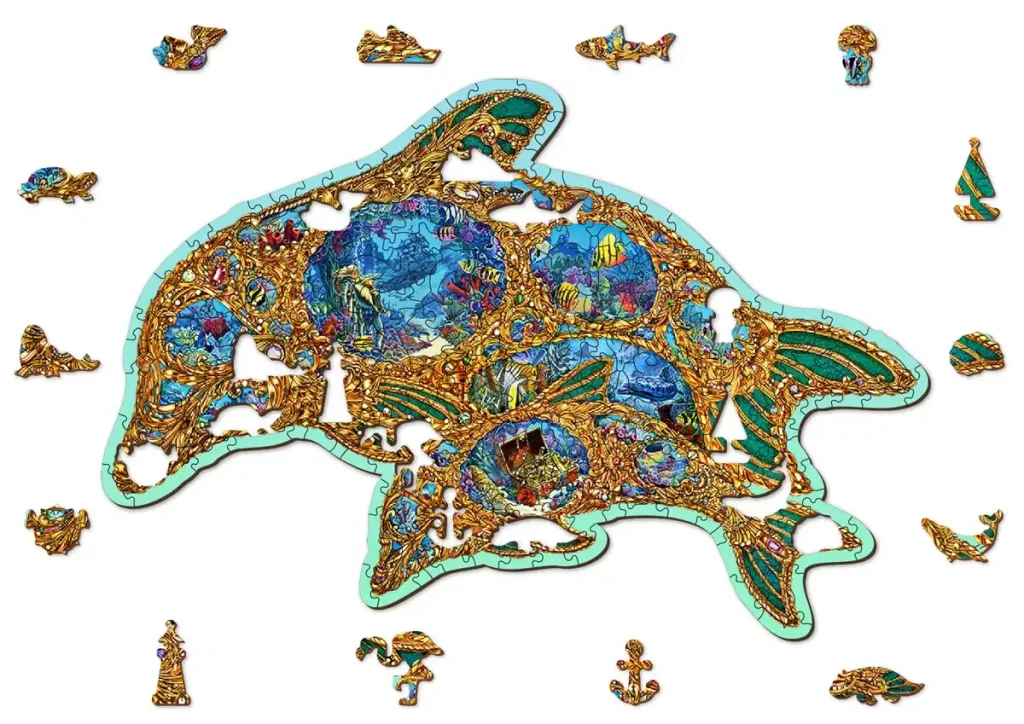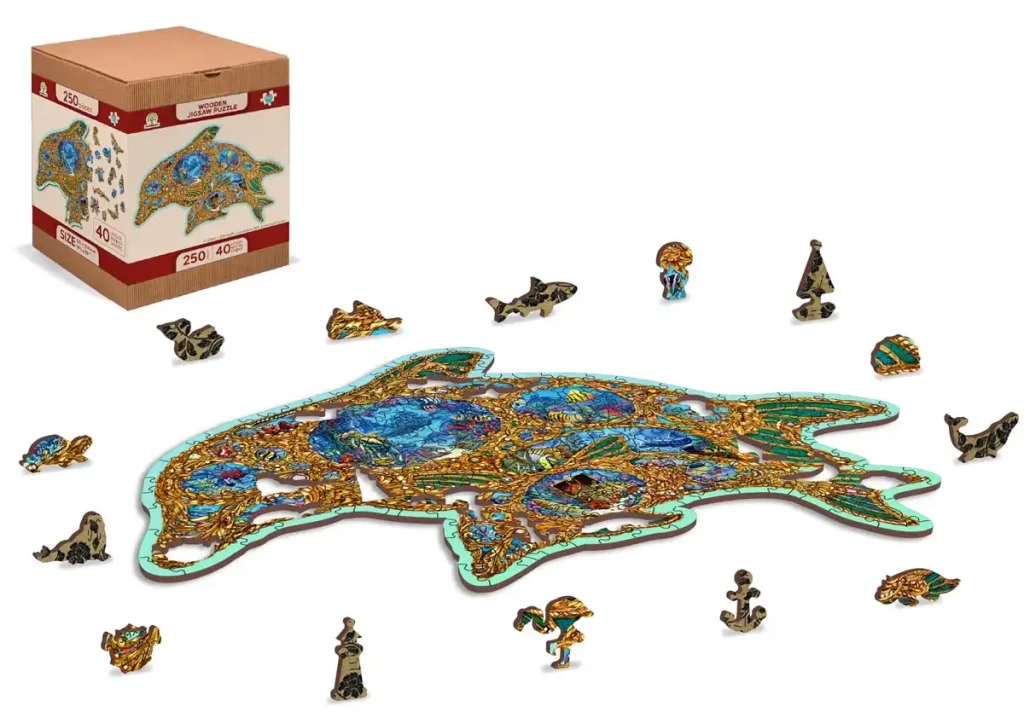 A Memorable Gift for Loved Ones
Seeking the perfect present? "Jewels of the Sea" is more than just a collectible. It's a beautiful token of time well-spent, promising hours of bonding. Ideal for both adults and children above ten, this assembly offers a delightful challenge that binds generations together.
Perfect for Home Decor
Beyond the joy of assembling, the completed depiction stands as a testament to the artistry and craftsmanship behind its creation. It serves not just as a testament to one's patience and skill but evolves into an elegant piece of decor, ready to adorn any wall with its mesmerizing allure.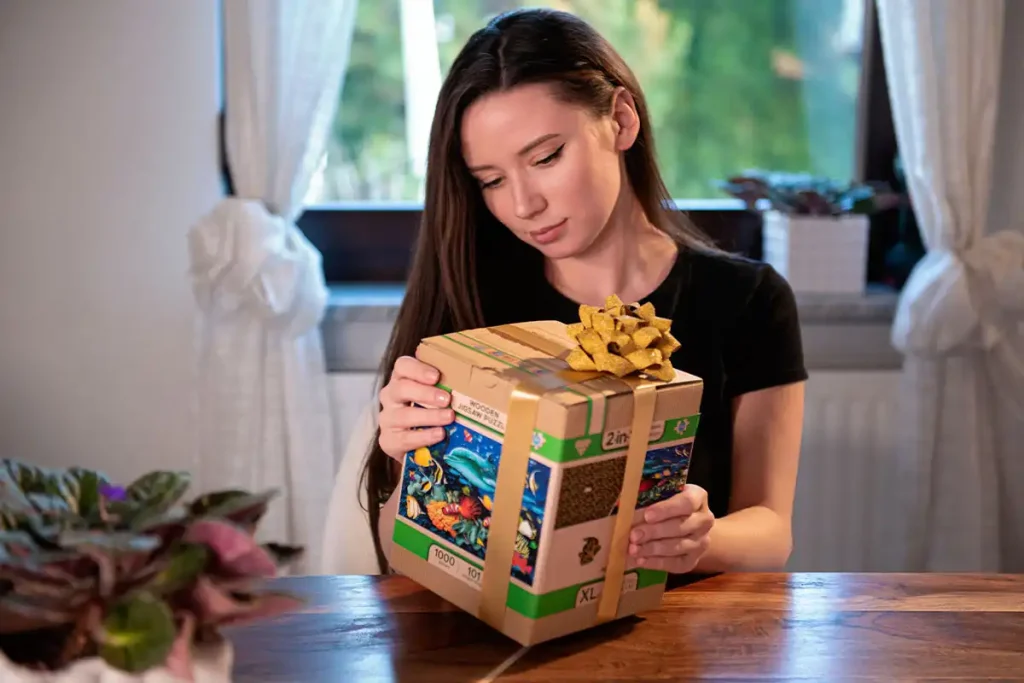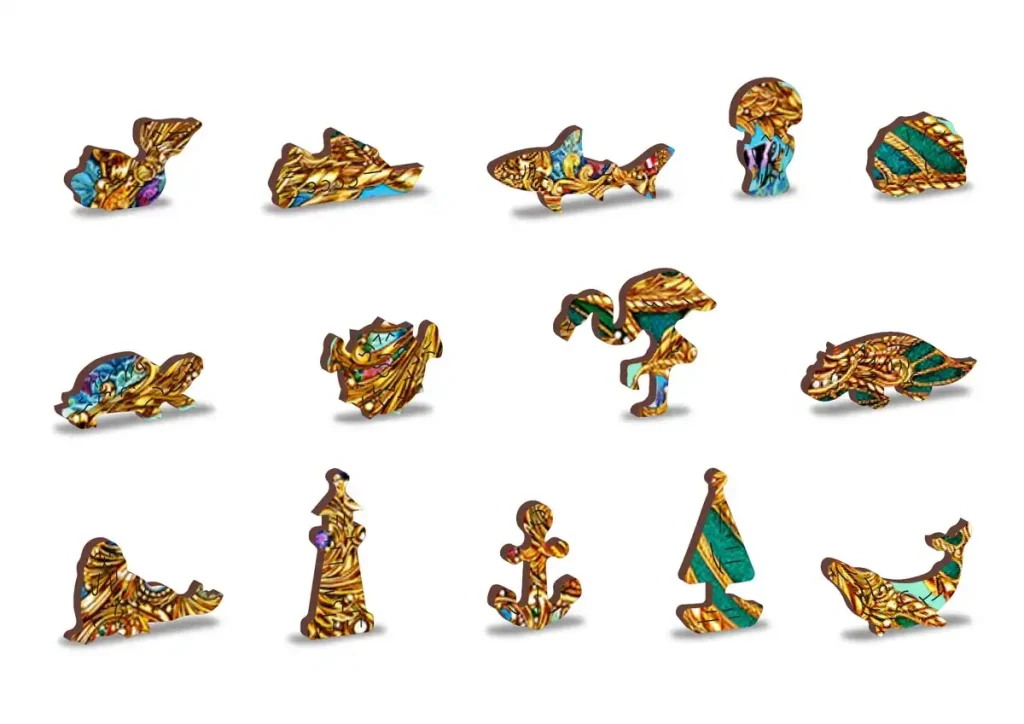 Bonding Beyond Pieces
Engaging in this assembly is a heartwarming way to weave memories with family. It's not merely about joining pieces; it's about joining hearts, sharing stories, and cherishing the time spent together.
Thematic Mastery in Every Piece
Each assembly carries its theme vividly. In animal-themed assemblies, find pieces carved in the silhouettes of creatures. In travel-themed ones, behold cuts resembling world-famous landmarks. Each, a reflection of its inherent theme.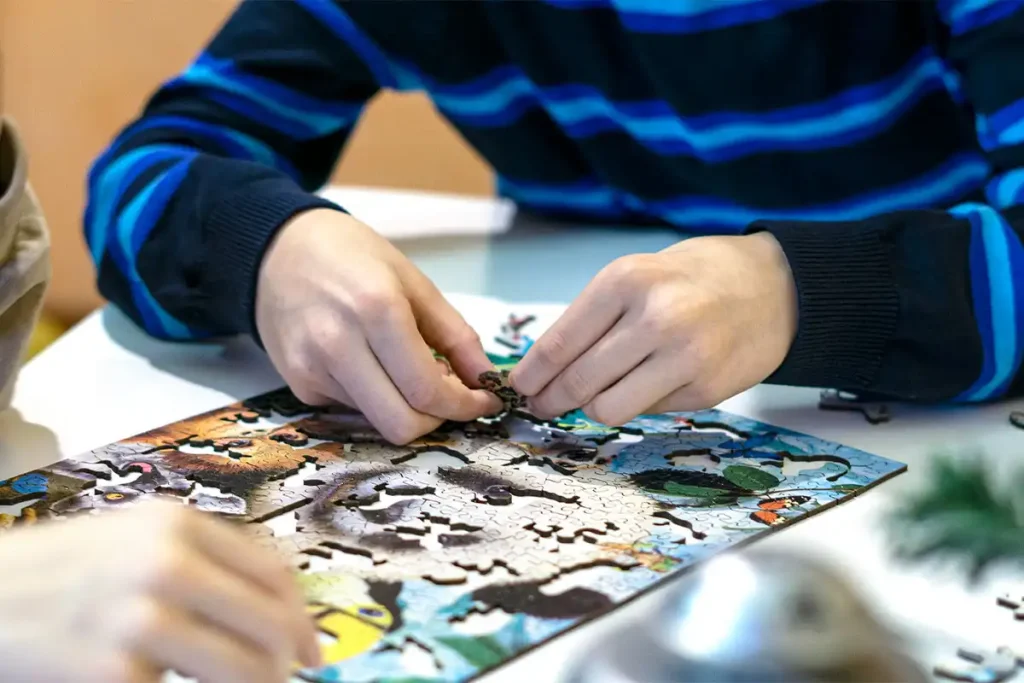 Characteristics
Series/Article
HE 0152-L
Age
10+
Number of elements
250pcs
Number of whimsies
40pcs
Assembled size
H: 14.76" ( 37,5cm)
W: 10" ( 25,4cm)
Packaging size
H: 5.98" (15,2 cm)
W: 4.92" (12,5 cm)
D: 4.92" (12,5 cm)
Packaging weight
0,89 lb (0,405 kg)
Puzzle thickness
0.12″ (0,3 cm)
Assembly time
3h
Artist
Lewis T Johnson
Type of Cut
Animal
Back side
In conclusion
The "Jewels of the Sea 250" isn't just an assembly; it's an adventure waiting to be embarked upon, an art piece waiting to be admired, and a memory waiting to be crafted. With each piece, you don't just build an image, you build an experience to cherish